1. Visit Cat Ba Island
Cat Ba Island from above
Cat Ba Island is one of the most popular tourist destinations in Halong Bay and the biggest island in Northern Vietnam. Once a busy fishermen's port, Cat Ba is now a sleepy island where many find refuge from the stress of daily life. The island has a beautiful and varied landscape with hills, caves, waterfalls and lakes and is also home to the critically endangered Cat Ba Langur. A type of monkey endemic to the island.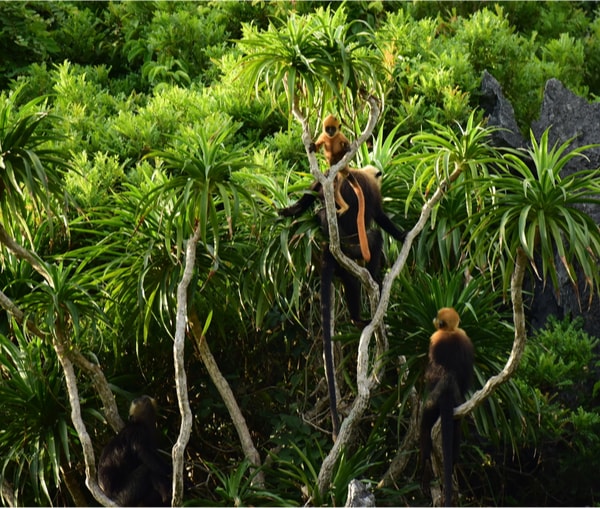 Limestone Langur in Cat Ba National Park.
The best way to explore Cat Ba Island itself is by foot or bicycle (which can be rented locally). Many tourists love to cycle from beach to beach, stopping to take a dip at each destination. Snorkeling is also highly recommend to explore Cat Ba's coastline!
If you choose to travel by foot, hiking one of Cat Ba's many trails is a great way to explore the island's national park, although it is recommended to hire a guide who can help you learn more about the flora and fauna you cross. Who knows, maybe you'll even spot the Cat Ba Langur!
Due to its location Cat Ba Island is a great base for those who wish to visit Halong Bay without taking a cruise, and from here you can also take a short boat tour to many other parts of the bay.
Tips: Cat Ba's tourist facilities are quite well developed and so there are many small hotels, homestays and airbnbs available on the island for those who wish to stay overnight.
2. Go Kayaking
If you want an unforgettable experience in Vietnam, you should try your hand at kayaking through Halong Bay's garden of islands. It's the perfect way to discover Halong Bay on your own terms and it's so simple: you rent a local boat to take you to the bay and once there, rent a kayak at around 50.000 VND for two people. Just ask around in tourist areas for people to point you in the right direction.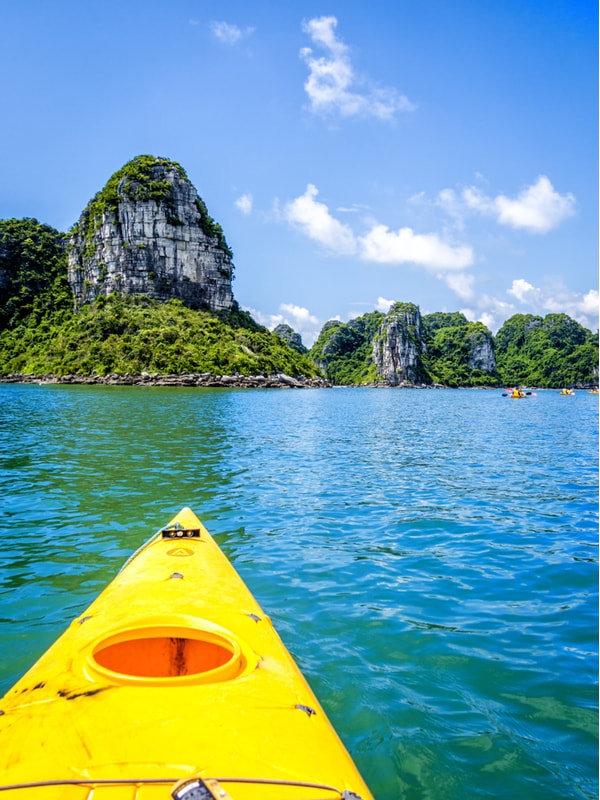 Kayaking is one of the most popular activities in Halong bay.
If you visit Halong Bay on a cruise this activity will already be included in your itinerary. The three most popular places for kayaking in this area are Luon Cave, Ba Ham Lake and Ba Trai Dao Islet.
3. Visit Floating Villages
There are about 4 floating villages in Halong bay.
Halong Bay is home to four floating villages, each a microcosm of an ancient way of living that is local to the area. The floating villages are named: Cua Van, Vung Vieng, Ba Hang and Viet Hai. The inhabitants of these villages live a simple existence, subsisting on daily fishing and harvesting rice, and whilst there you may be invited to join in with some of their daily activities. Visiting the floating villages will truly help you to gain a valuable insight into Halong culture that you may miss out on if you stay with a cruise!
4. Take a Seaplane Tour
Panoramic flight over Halong bay (Photo: Shutterstock)
If you wish to see spectacular aerial views of Halong Bay then a tour by seaplane is a great choice for you! Journey by seaplane is a unique way to see all of Halong Bay's highlights in a quick, comfortable and fun way. The seaplane departs daily from Hanoi's Noi Bai airport and it takes 45 minutes to get to Halong Bay from Hanoi. Once the plane has arrived at Halong Bay it spends a further 15 minutes giving a scenic tour of the bay before ending with a water landing in Tuan Chau marina.
5. Go Snorkelling
Snorkelling is a not-to-miss things to do in Halong bay.
Snorkeling in Halong Bay is mainly focused in the area surrounding Cong Do Island and Van Gio Island, these areas have the best snorkeling spots. Here the waters are shallow, visibility is usually good and there's a high concentration of coral reefs. Halong Bay's coral reef ecosystems are impressive, colourful and populated by many different species of fish, crustacean and mollusc. Coral reefs stretch across the ocean floor while above the water there are towering limestone karsts and beautiful unspoiled islands. Snorkeling in such beautiful surroundings may be a once in a lifetime opportunity, don't pass it up.
6. Become A Fisherman For A Day
Aerial View Of Vung Vieng Fishing Village
Go to Vung Vieng if you wish to immerse yourself in traditional Halong culture and watch life unfold as the local people go about their everyday business, all the while surrounded by unrivaled natural sceneries. In Vung Vieng fishing village, observing local culture is not the only way to go: visitors are encouraged to go for the full fishing village experience! Become a fisherman for a day: hire a boat, go to a nearby fishing spot and have a go at fishing. Whatever you catch will be served for dinner!
7. Take A Speedboat Tour
Speedboat tour is available at Bay Chay Pier, Halong bay (Photo: Shutterstock)
A speedboat tour is a great option for those who have little time to explore Halong Bay. Speedboats can be taken from Bai Chay pier, seating either 16, 18 or 24 people.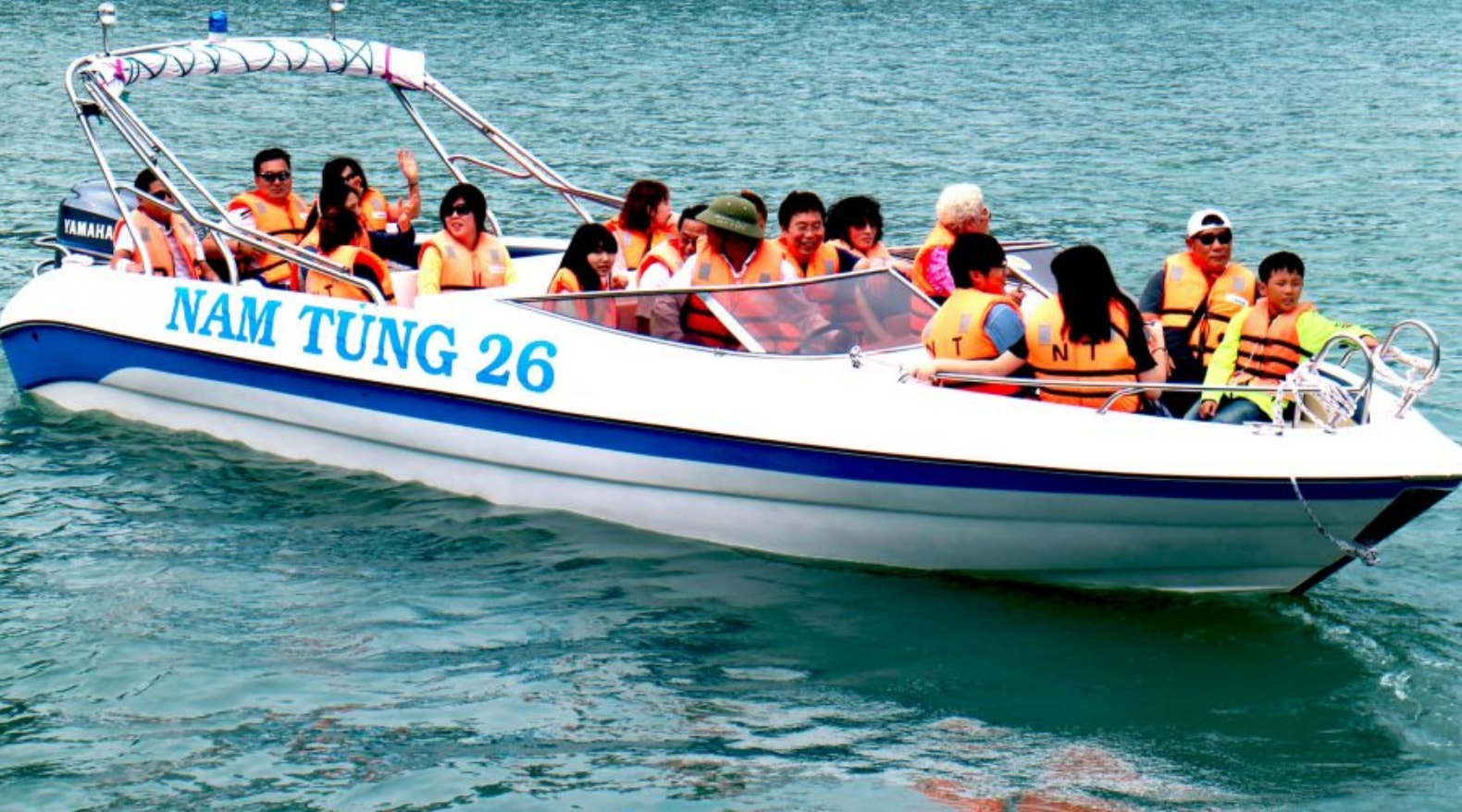 Speedboat is an also a great alternative to discover Halong bay (Photo: Namtungtravel.vn)
There are currently three available routes:
To book your tour: 02033825566, namtungtravel@gmail.com
8. Conquer Bai Tho Mountain
View from Bai Tho Mountain to Halong bay!
If you're looking for an adventure we recommend you go for gold and climb Bai Tho Mountain. The climb itself is fairly easy and the rewards for doing so are high. The panoramic views of Halong Bay from the top of the mountain are phenomenal. Many people time their visit for sunrise or sunset when the experience is particularly magical.
9. Visit Pearl Farms
Pearl Farms in Halong bay (Photo: Shutterstock)
According to a legend, the bay was created by ancient dragons who breathed jewels, emeralds and jade to form thousands of islands and islets. This legend perhaps gives an insight into why pearls are so easily farmed in Halong Bay.  At Halong Bay's floating Pearl Farm visitors can tour the farm, visit the museum and learn about the cultivation of cultured pearls, and maybe even buy a pearl for a souvenir!
10. Visit Sunworld Halong Park
Cable car at Sunworld Complex (Photo: Facebook/SunWorldHalongComplex)
Sunworld Halong Complex is a winning combination of fantasy amusement park, ferris wheel, water park and cable car. It's a wonderful place for both kids and adults and an ideal destination on a hot day. Admission fees and crowds depend on the time of year and time of day but currently the admission fee stands at 300.000 VND for admission to all areas.
To get stunning views of Halong Bay you should make a beeline for the Sunwheel ferris wheel or the Queen Cable Cab. The Sunwheel is a wonderful option for couples as it creates a romantic atmosphere, whereas the Queen Cable Cab is a good option for families. Whichever you choose, make sure you take your camera to get some memorable holiday snaps.
11. Explore Cat Ba National Park
Trekking in Cat Ba National Park
Cat Ba National Park offers wonderful trekking opportunities for aspiring explorers. From the center of the National Park trekkers can opt for one of five possible routes. Each trekking route can take between 2 and 8 hours from start to finish and will take you on an adventure through forests, limestone caves and streams. Cat Ba National Park is home to 32 different types of mammal, including the critically endangered golden-headed langur (a type of monkey), and 70 species of bird.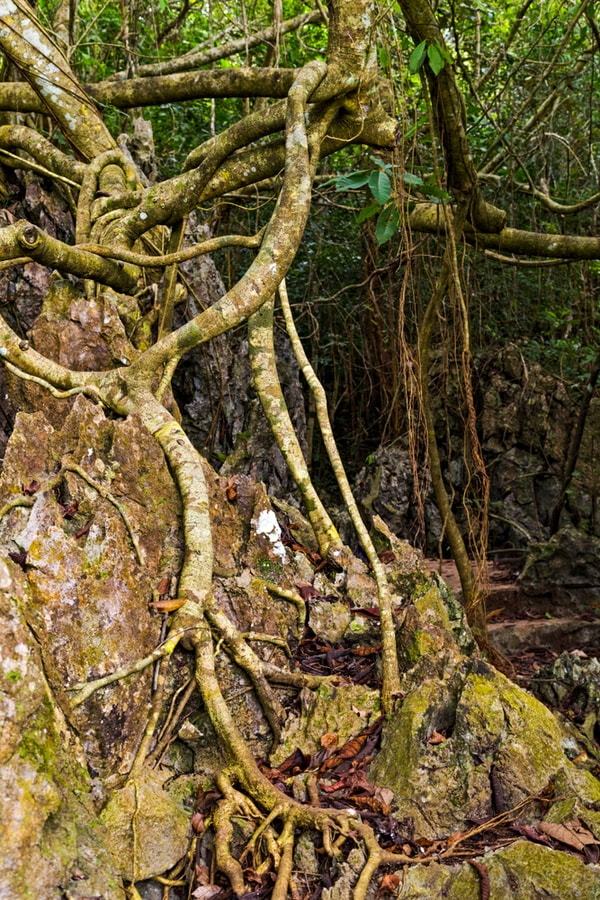 Trekking path

To trek Cat Ba, it is possible to either hire a guide or book an organized tour which can help take some of the pressure off of you in terms of organizing and preparing. Cat Ba Ventures are a highly reputable company that offer day tours of the National Park.
Travel Tips:
If you choose to go hiking make sure you take proper hiking shoes and plenty of water!
Be careful if you trek after a rain, as the paths can be slippery and more dangerous.
You can find snacks and refreshments at Viet Hai village, just outside the park.