Dalat is one of the most famous tourist cities in Vietnam which welcomes a number of foreign tourists every year. In addition to the beautiful natural scenery, this city also has a variety of vibrant entertainment activities. Let the Localtravelidea quickly point out top Dalat things to do for travelers on the article below.
I – Top 7 best things to do in Dalat 
1 – Flowers admiring
Located at an altitude of 1,500 meters above sea level on Lam Vien plateau, Dalat is favored by the mother of nature for cool weather all year round with the average temperature fluctuates between 18°C and 21°C. With such favorable climatic conditions, this place becomes an ideal land for hundreds of types of flowers blooming all year round.
Therefore, if you have a chance to wander in this city, one of the must-try experiences that you should not miss is watching the flowers. There are some beautiful flowers in Dalat you must definitely enjoy once, such as large white hydrangeas with full colors, shining sunflowers, wildflowers with strong vitality, lavender flowers, violet,…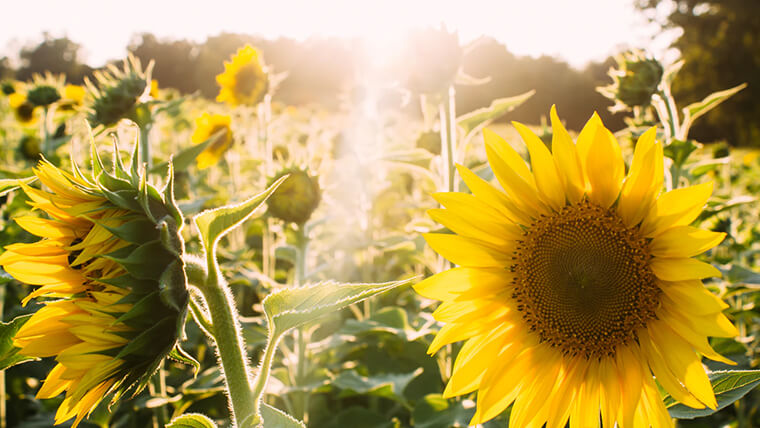 Dalat flower – Source: Elijah Hail
To fully enjoy the beauty of the flowers in Dalat, you can visit famous flower villages such as Van Thanh Flower Village. Located in the West 3km from the city, Van Thanh Village does not only offer tourists the experience of admiring hundreds of different varieties of flowers but also witnessing firsthand the meticulous care of the farmer for the flowers. 
Furthermore, there are also many attractive flower farms namely the Trai Mat hydrangea flower garden, the sunflower field of DalatMilk dairy factory, or the Dalat flower garden located right downtown. In addition, the flower festival in Dalat held every 2 years is also one of the very interesting activities for any travelers to admire the unique flowers and ornamental plants there.
2 – Hiking and trekking in Dalat
So what to do in Dalat next? It must be the hiking and trekking activities. If you are a nature lover who wants to immerse yourself in the natural scenery, you should not miss Dalat hiking and trekking activities. Located at an altitude of 1,500 meters above sea level, this city has many unique climbing spots. There are some suitable areas selected by many tourists such as: Langbiang Mountain, Bidoup National Park, Samson Mountain. 
Langbiang moutain – Source: Internet
Langbiang Mountain
Langbiang Mountain has Mount Ba with about 2,167 m height and Ra Da Hill with 1.929m height above the point water level, which are the two most popular destinations explored by tourists. The most ideal time to climb Langbiang mountain is the spring or dry season from November to the end of the year when the weather is dry and less rainy. 
To reach the foot of the mountain from the city center, you can easily ride a motorbike or a bus from Dalat following the Lac Duong route. To move from the foot of the mountain to the top of the mountain there are 2 options. If you are not strong enough to climb up the mountain, you can choose to take a Jeep with a fee of about 100,000 VND – 120,000 VND / 1 round-trip ticket, each trip will take about 15 minutes.
If you are in good health and passionate about exploring, hiking and trekking might be perfect choices. You can walk along trails, through old forest canopies, and narrow paths. It may take about 2 hours to reach Ra Da hill and 3 hours to reach Ba mountain.
Bidoup National Park
The second suitable place to do the hiking and trekking is Bidoup National Park – one of the 28 special-use forests of Vietnam. Located on the territory of Lac Duong district and part of Dam Rong district, Bidoup National Park has a very rich flora, with 1933 species of which 62 species of rare plants are listed in the Red Book of Vietnam such as Bach Xanh, Red Pine, Thong Hai La Det, and 250 forest orchid varieties. It also preserves 56 rare animal species. As a result, if you choose this place to explore, you will have many interesting and memorable memories.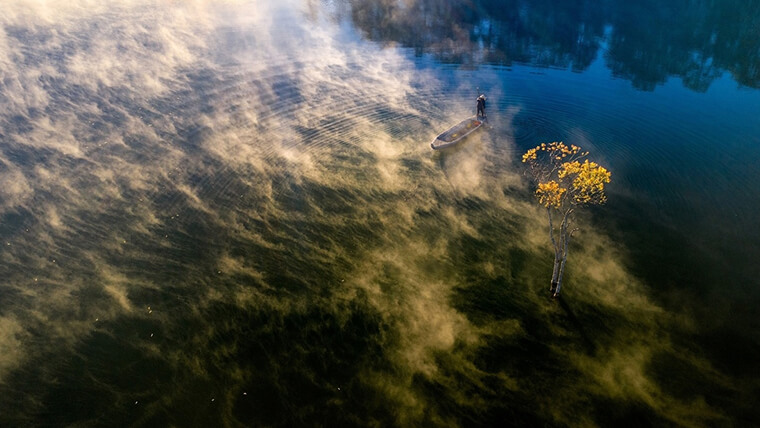 Tuyen Lam Lake – Source: VnExpress
Samson Mountain
Located at an altitude of about 1,700 meters above sea level, Samson Mountain – Tuyen Lam Lake can be considered as one of the most wonderful places for a Dalat hiking and trekking tour. To reach the top of the mountain, you will have to hike about 12km. Along the way, you can discover a lot of interesting scenes and take many beautiful pictures with maple leaves, especially in November. At the top of the mountain, visitors can admire the panoramic view of Dalat from above, which looks like miniature Ha Long. 
After those activities in Dalat, you might continue your journey through the old forest area with hundreds of years old trees or romantic chestnut forest to reach the romantic and poetic Tuyen Lam Lake. Otherwise, you can take a walk to strawberry farms or interesting artichoke fields. Before finishing the trip, you should visit Truc Lam Zen Monastery – a sacred place worshipping Buddha to refresh your soul and relax your heart.
3 – Shopping in Dalat
One of the must-do things for visitors who arrive in Dalat is shopping. Best shopping locations could be mentioned as Dalat market, Dalat Night Market àn XQ Su Quan.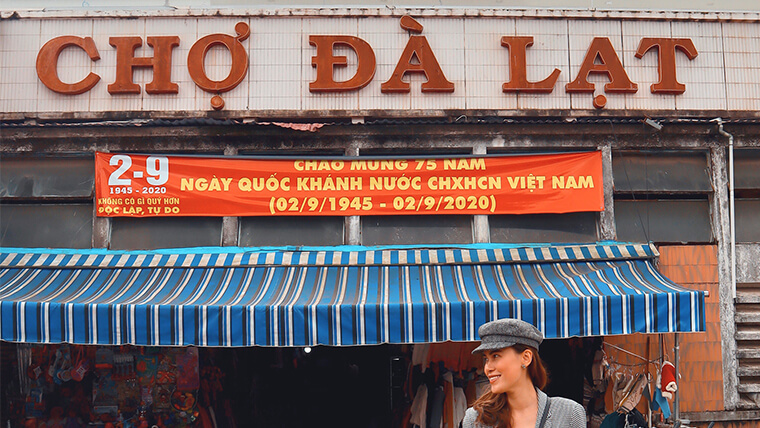 Dalat Market – Source: VnExpress
Dalat market
Located on Nguyen Thi Minh Khai street, ward 1, Dalat city Dalat market is the largest and most popular one of its kind in the city. It opens all day from morning to early morning. Items sold in this market are very diverse ranging from agricultural products such as vegetables, strawberries, persimmon, apricots, to souvenirs namely food products, garments (hand wool, woven wool), and so on. 
Dalat Night Market
Dalat Night Market, also known as Am Phu Market, is located on Nguyen Thi Minh Khai Street, Ward 1. It sells a lot of hot foods and typical specialties that can get any tourists' attention within a glimpse. In addition, the market also sells a variety of clothes such as coats, shirts, or sweaters. The market is open until about 3 am – 4 am so you can take your time to enjoy shopping.
XQ Su Quan
Located on 80A Mai Anh Dao Street, Ward 8, Dalat city, XQ Su Quan purchases embroidery artworks bearing traditional Vietnamese values as souvenirs. Visitors also have the opportunity to learn about this beautiful and delicate traditional craft of Vietnamese people when coming there.
4 – Enjoying local cuisine
Besides having a favorable climate, Dalat also offers a number of unique specialties that can be used as souvenirs. In particular, this place is famous for jams, dried fruits of all kinds such as sweet potato jam, dried persimmon, persimmon jam and so on. Those are most sold at Dalat market. The price ranges from 50,000 VND to 150,000 VND/330g depending on the type.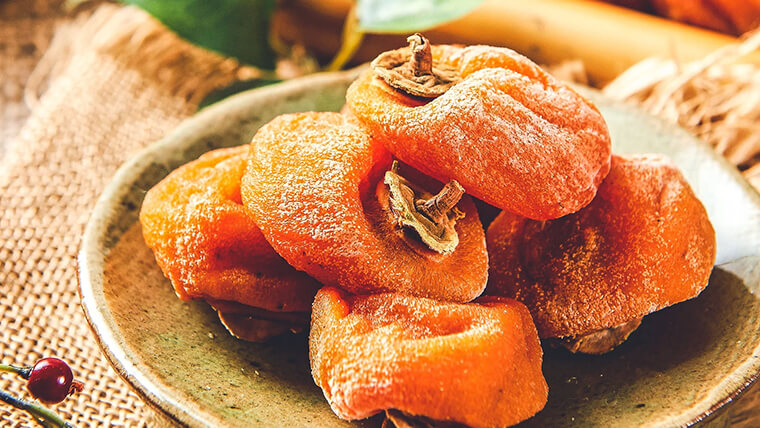 Dried persimmon jam – Source: Langfarmstore
Not only famous for jam or dried fruit, Dalat is also known as a famous wine producer. The main material used for Dalat wine is mulberry, which is very delicious and mild. You can go to the Dalat wine showroom at Le Hong Phong street or Nam Ky Khoi Nghia street to buy genuine goods. Wine prices vary from 85,000  to 650,000 VND depending on the type of wine.
In addition, Dalat also has many other typical dishes such as banh can at 13 Nha Chung Street, Banh Uot Long Ga at 68 Phan Dinh Phung street, banh mi at 26 Tran Nhat Duat street, and so on. The extremely characteristic taste of the dishes there might surprise you.
5 – Canyoning – top things to do in Dalat
Dalat is immensely famous for its large number of waterfalls with different heights which are very suitable for adventure sport. One of the famous places, most suitable for organizing this activity is the Datanla waterfall area. There, you can experience 5 levels with increasing difficulty.
The first level is swinging over the cliff of death 18m high. At this level, you need to have enough swinging skills and speed control to ensure absolute safety. At the second level, you will be able to slide water, which means drifting along the water thanks to the power of the flow and abrasive rocks.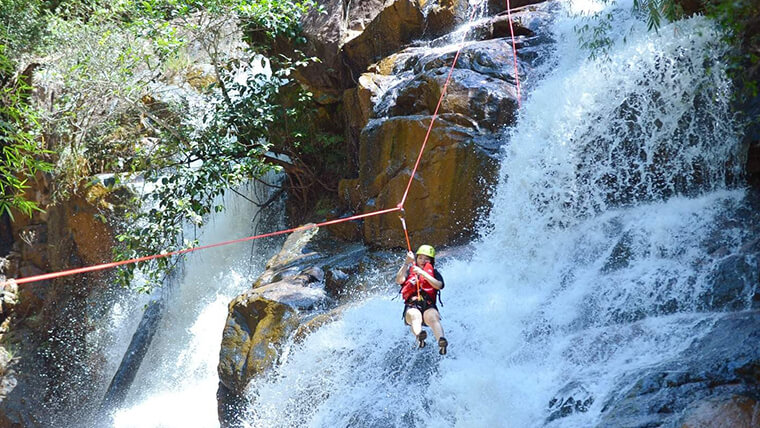 Datanla waterfall – Source: Klook
The third level is crossing the waterfall with a height of 25m. This is the most difficult and dangerous one not only because of the altitude but also because of the huge amount of water pouring from the top. At level 4 you will experience with a jump of 11m. You need to breathe deeply and jump decisively to feel the harmony between you and nature. The last level is the 5th one with the "Washing Machine" Challenge. Joining it means you will swirl with the waterfall in about 10 seconds which might be an extremely interesting memory that will never be forgotten.
There are many agencies providing trapeze service for Datanla waterfall with quite similar prices. To book a Dalat canyoning tours, you can consider:
– Highland Sport Travel
+ Phone: 036 731 4570
+ Tour price: 1,100,000 VND/pax. 
– Dalat Trip
+ Phone: 0974921379 
+ Tour price: 1,600,000 VND/pax.
6 – Sightseeing activities
Dalat is not only famous for flowers but also beautiful landscapes. If you want to visit spiritual attractions, you can visit pagodas such as Linh Phuoc Pagoda (120 Tu Phuoc street, Trai Mat); Truc Lam Zen Monastery (Hoa Cam Tu Cau street, Ward 3, Dalat City); Linh Quang pagoda (No. 146 Ngo Quyen street, ward 6, Dalat city); or Lam Ty Ni Pagoda (No. 7a Thien My street, Ward 4, Dalat City). Visiting those places, you can admire the religious beauty as well as enjoy the peaceful and gentle atmosphere which is rarely found in big cities.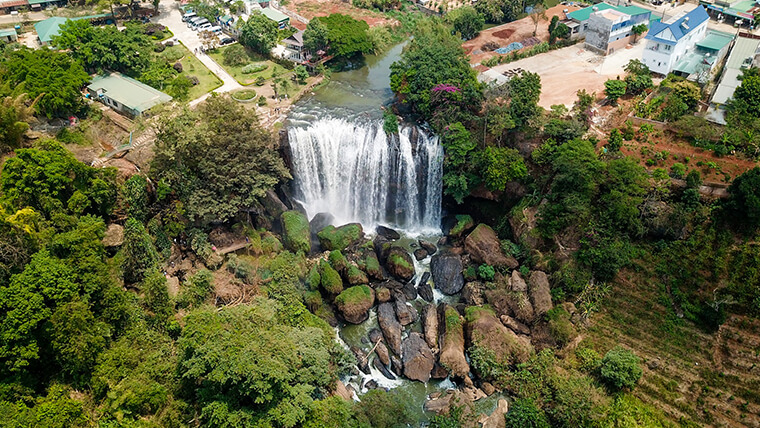 Elephant waterfall – Source: VnExpress
Located on a highland terrain, Dalat has many famous beautiful waterfalls. If you want to enjoy the white foam of the stunning waterfalls with your own eyes, go to Elephant waterfall, Prenn waterfall, or Pongour waterfall. You will be amazed at the unique natural scenery of Dalat.
In addition, there are many other impressive attractions to visit such as peaceful Cu Lan village in the valley, or Bao Dai palace full of historical traces.
7 – Nightlife in Dalat
Dalat at night has an extremely impressive beauty with several interesting activities such as wandering around the night market and enjoying the hot specialties of the city. Baked eggs, baked sweet potatoes, popcorn, Banh Trang, soy milk, snails, porridge, vermicelli, and so on will definitely help to satisfy your stomach's cravings in chilly weather. In addition, the night market also sells a lot of winter clothes such as wool towels, wool hats, and coats.
There is a very interesting place that you should come to at night in Dalat called the "capital of light" – Thai Phien flower village. The vibrant lights lit overnight there have attracted a large number of young people coming to check-in.
In addition, visitors can participate in the festival of gongs in the Central Highlands of Langbiang Mountain. Going there at night, you can not only immerse yourself in the lives of ethnic minorities but also learn about the typical cultural features of the people of the Central Highlands.
II – Other things to do 
1 – Staying at the Crazy House: a quirky thing to do in Dalat
Located at 3 Huynh Thuc Khang Street, Ward 4, Dalat city, Hang Nga Villa is an extremely peculiar and unique architectural complex with a campus of up to 1,900m2 built in the 1990s. Its entire exterior and interior design are created by the owner spontaneously without any rules, but overall, it looks very harmonious and natural.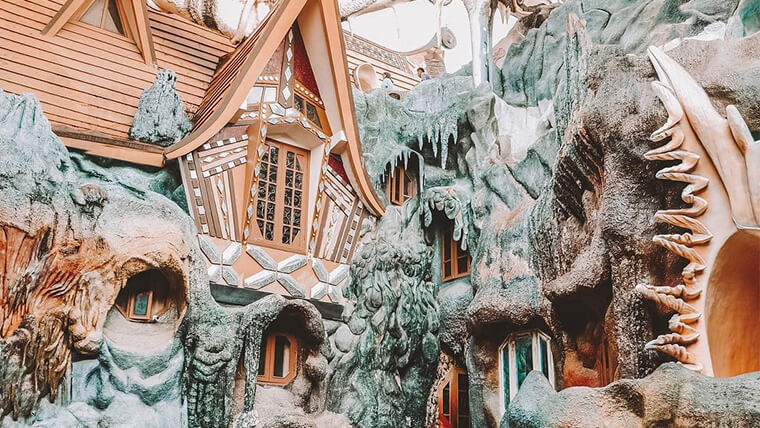 Hang Nga Villa – Source: Kenh14
The entrance is winding small roads with monstrous shapes on both sides. From a distance, the entire castle looks like an old tree stump or a part of the body of wild animals hidden in the jungle. Going deep inside, the simulated rooms look like ancient trees but are actually extremely clean and comfortable. The windows are arranged convex with a very strange shape that also makes visitors very curious.
With this unique architectural design, the owner of the villa – Ms. Dang Viet Nga wants to convey the message of joining hands to protect nature, prevent deforestation, and illegal animal hunting. The ticket price to visit the Hang Nga villa is 50,000 VND / night. The villa also has an overnight room rental service available. The cheapest 1 night rent here is about 1,000,000 VND/night /room.
2 – Enjoying coffee at Train Station coffee shop (Nha Ga Xe Lua coffee shop)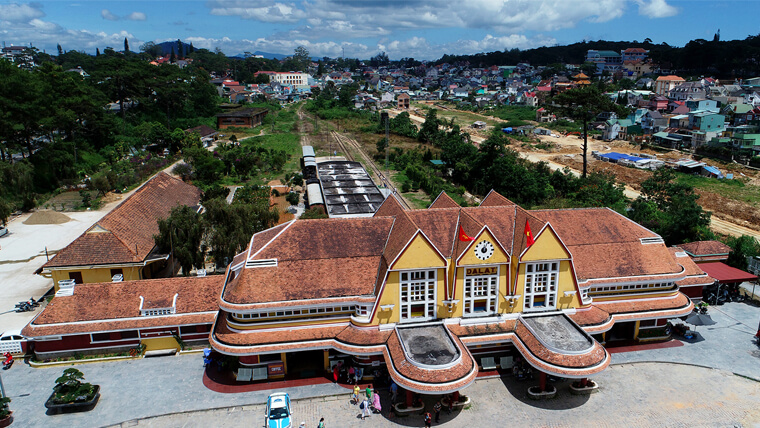 The train station coffee – Source: Kenh14
Located at 1 Quang Trung Street, Ward 9, City. Dalat, Nha Ga Xe Lua coffee shop is held inside an old villa built by the French around 1932. The wagons use warm yellow tones in vintage style and wooden furniture creating an elegant and cozy space. Furthermore, it is also decorated with simple pictures, paintings, and unique stamps collected from many countries around the world such as Vietnam, India, the United States, and so on.
Coming there, visitors will have the opportunity to enjoy the beautiful view of the Lycée Yersin school and the romantic Langbiang mountain range. The menu of the restaurant is also quite diverse, especially European dishes. You can enjoy many unique dishes such as Pizza, Hamburger, Spaghetti while sipping famous wines from Vietnam, Chile, France … Food prices there are also quite reasonable. Only from 25,000 VND – 40,000 VND, you have a fresh and delicious juice for yourself.
3 – Horse riding and elephant riding in Dalat
Horse riding is an interesting thing to do in Dalat. There are always beautiful horses available, inviting you to take pictures or test rides in Datanla waterfalls, Cam Ly, City Flower Gardens, or Prenn. The price of a carriage carrying 4 or 5 people around Xuan Huong Lake is about 300,000 VND / 1 tour. Horse riding price is about 70,000 VND / hour.
In addition to horseback riding, elephant riding also interests many foreign tourists. This is a truly memorable and impressive experience bearing the identity of the Central Highlands people. You will both enjoy interesting things on the unique local type of transportation while enjoying the very beautiful and peaceful natural space there. The famous places for this service are in Da Tien, the Southern picnic area, the Prenn waterfall,… The price of elephant riding within 15 minutes fluctuates around 300,000 VND / person.
4 – Cable car tour
Dalat cable car is located on Robin Hill with an altitude of about 1,500 meters above sea level. The cable car system was built in 2002 and officially put into operation in 2003. Up to now, it has a 17-year history but its attraction with domestic and foreign tourists seems never to decline making it become one of the most popular attractions in Dalat.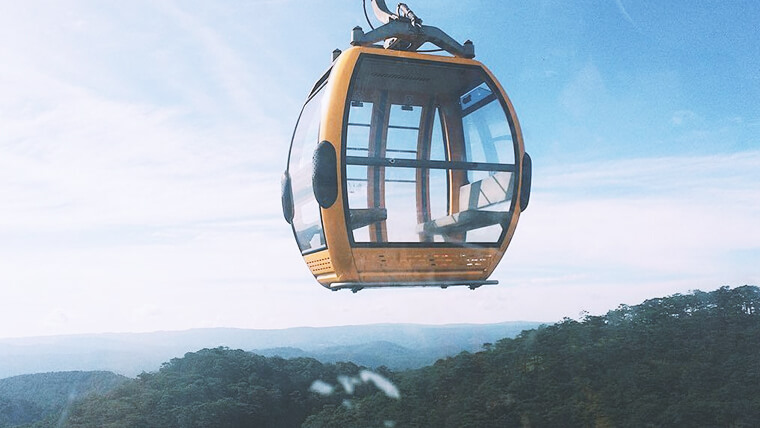 Cable car tour Dalat – Source: Internet
The exact address of the cable car is at 1 Dong Da street, ward 3, Dalat city. If you arrive from the city center, you should cross Ong Dao Bridge, then head to Tran Quoc Toan street, go straight to the roundabout, turn to Ho Tung Mau Street then go to the end of April 3 Street where you would reach a slope. Right at the top of the slope, you will see the signboard indicating the Dalat cable car tourist area.
Cable car ticket price for adults is 80,000 VND /round-trip ticket, 60,000 VND/ one way ticket and for children is 50,000 VND/ round-trip ticket, and 40,000 VND / one way ticket.
The cable car is up to 2,267m in length with 10 pillars and 50 colorful automatic cabins. The cable line starts from the gateway of Dalat City to Truc Lam Zen Monastery. Experience the cable car ride, visitors will have the opportunity to admire the beautiful landscape of nature there from above as well as enjoy the very airy space and be immersed in the scenery of Dalat in a very unique and interesting way. Note that on holidays or weekends, it's best to come early to avoid waiting too long.
Above is all the main information about the best things to do in Dalat Vietnam. Hope it will be helpful for you to explore this wonderful land. Dalat might bring countless memorable memories for you on your journey to discover this beautiful S-shaped strip of land.