Today Vietnam has rapidly gained popularity among golf enthusiasts as a premier destination, boasting a diverse and enticing selection of golfing experiences. From majestic mountains to sprawling plains and stunning coastlines, Vietnam's diverse geography and favorable climate create ideal conditions for the green. Over the past decade, the number of golf courses has multiplied, presenting golfers from around the globe with an extensive selection of world-class venues. With constant enhancements and upgrades, the quality and challenges posed by each golf course have reached new heights. As Vietnam's economy flourishes, an expanding middle class has embraced golf, fueling its growing popularity across the country. Below, we present a handpicked collection of 13 Best Golf Courses in Vietnam, inviting international visitors to embark on an unforgettable golfing adventure amidst the splendor of Vietnam's landscapes.
Top-Rated Golf Courses in Vietnam
1. BRG Kings Island Golf Resort (Hanoi)
Escape the exciting city of Hanoi, come relax and enjoy yourself at Kings Island Golf Resort, only 36 km from the city centre, at Dong Mo, Son Tay, Hanoi.
Inspired from the Legend of Son Tinh (Mountain Spirit) – Thuy Tinh (Sea Spirit) & Tan Vien Mountain, the complex exists of 36 holes situated on 350 hectares of land and 1500 hectares of waterfront. The Lakeside course was designed in 1993 by a gentleman named Robert McFarland of the United States, with 14 holes bringing water in play. The Mountainview course was designed in 2004 by Pacific Coast Designs (PCD) based out of Australia, leaving you with images you will never forget.
With a lot of awards from 2008 – 2013, this destination is good choice for golfers in North Vietnam.
2. Chi Linh Star Golf & Country Club (Hai Duong)
Located in Chi Linh City, Hai Duong Province, in the North of Vietnam, Chi Linh Star Golf & Country Club set in a wooded valley about 90 minutes away from Hanoi, and also a popular stopover when travelling between Hanoi and Halong Bay.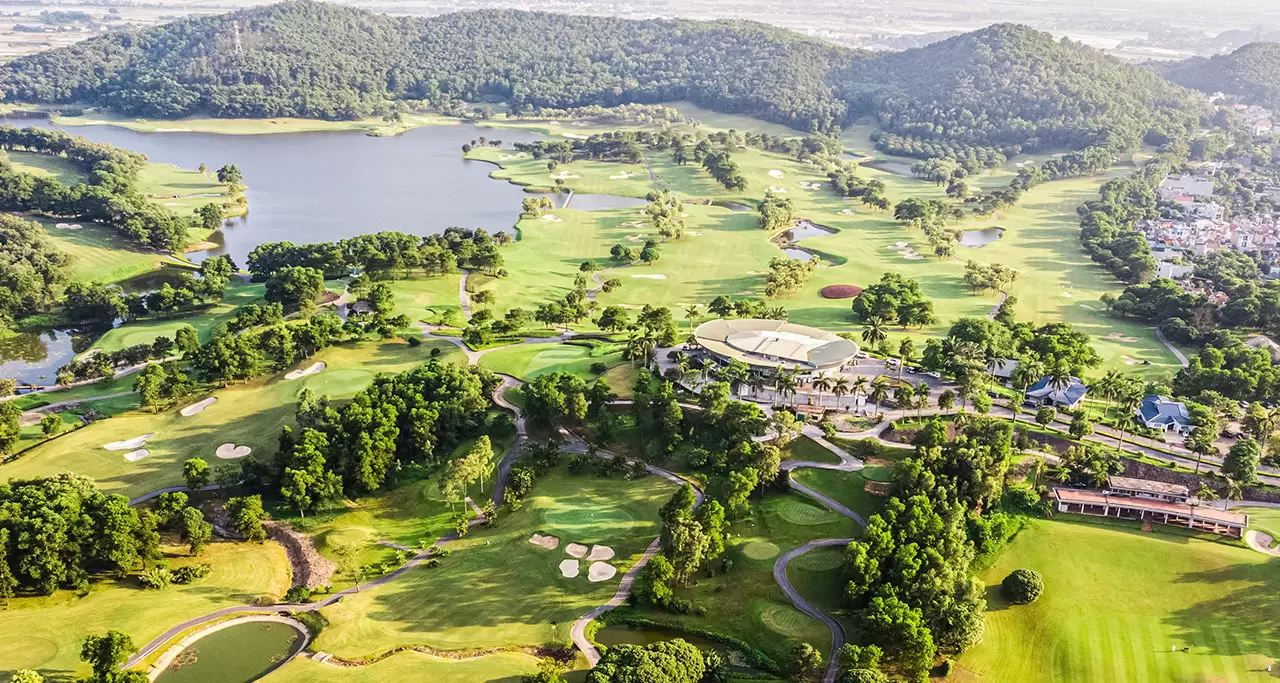 Chi Linh Star Golf features a 27-hole golfing challenge, with every holes constructed and designed with international AAA standard. The site on which the course is being constructed lies within a beautiful valley, surrounded by rolling forest hills, and nestles beside a large lake complete with rolling creeks and natural water flowing from the surrounding area.
Knowing as "One of the most challenging golf courses in Vietnam", this site will definitely attract professional and amateur golfers comes to conquer this finest International Golf facility in Vietnam.
3. Vinpearl Golf (Hai Phong)
Vinpearl Golf Hai Phong is situated in the heart of the beautiful island Vu Yen, located just off the city of Hai Phong – the third largest city in Vietnam and northern Vietnam's most important seaport, positioned 120 km from Hanoi.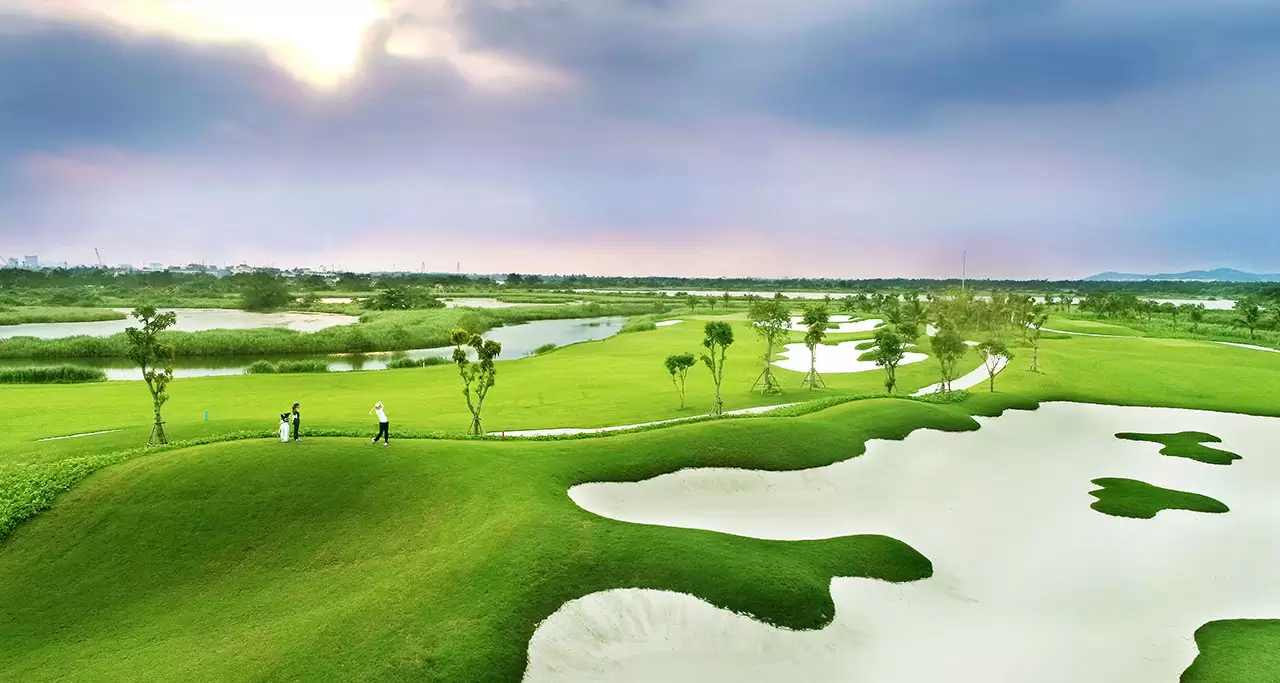 Designed by IMG Worldwide, the 36-hole championship golf course features two Lakeside and Marshland courses, challenging players at all levels.
Lakeside, a scenic resort-style course with a plethora of interconnected lakes, coming into play on 12 holes. Challenging Marsh-land provides a champion golf course specifically designed in harmony with the well preserved open wetlands.
Besides, this place consists of 14 villas with private swimming pool which can be great idea for those who wish to play golf combined with vacation with family, friends.
4. FLC Ha Long Bay Golf Club (Ha Long)
Belong to top golf course resorts of the legend Schmidt – Curley Design Company, FLC Golf Club Ha Long was voted by Vietnam Golf Magazine as the most beautiful golf course in Vietnam in 2019. This 18-hole course is located on the high hills, 20 minutes far from Ha Long City and offers the beautiful view of Ha Long Bay, of which, 8th & 12th holes are the best ones with its breathtaking scenery of this UNESCO Heritage Site.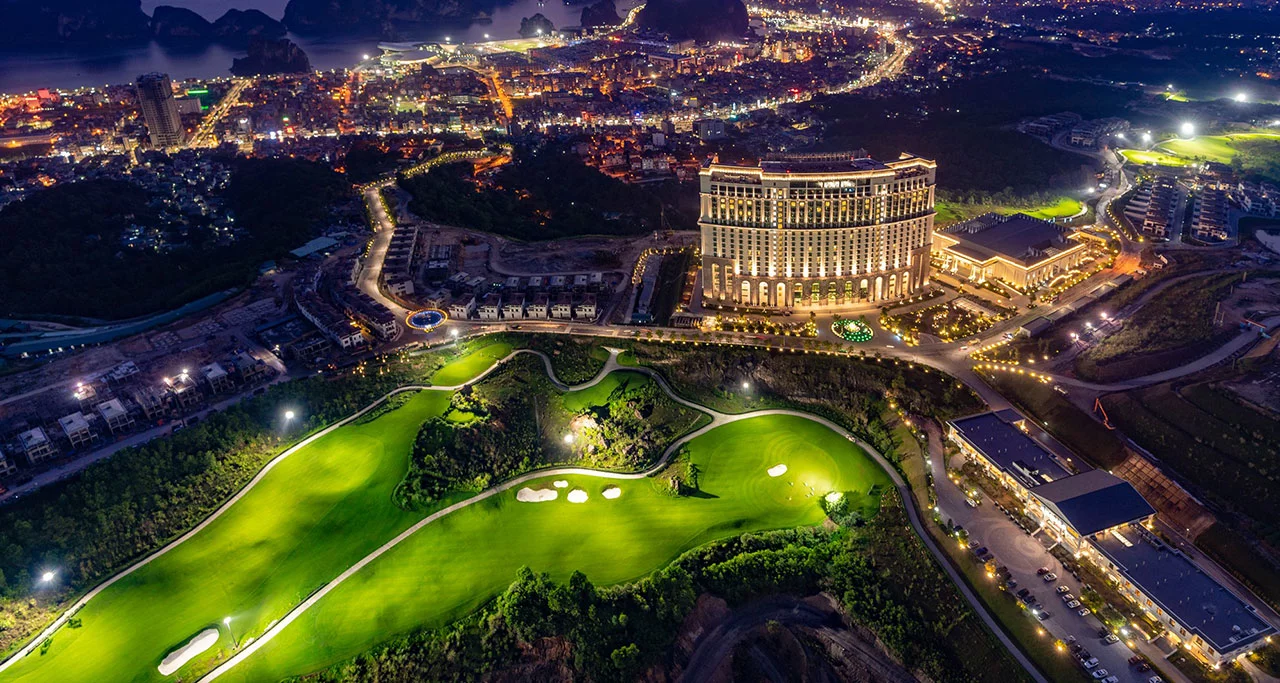 Recently, FLC Golf Club Ha Long has been broadcasted on CNBC –  American pay television business news channel – with the introduction of former world number one golfer Greg Norman as the top list of great experience to golf-lovers around the world.
5. BaNa Hills Golf Club (Da Nang)
Designed by Luke Donald and managed by IMG, BaNa Hills Golf Club is a world class facility located at the foothills of the famed BaNa Hills on Vietnam's central coast, located 25 minutes from downtown Da Nang.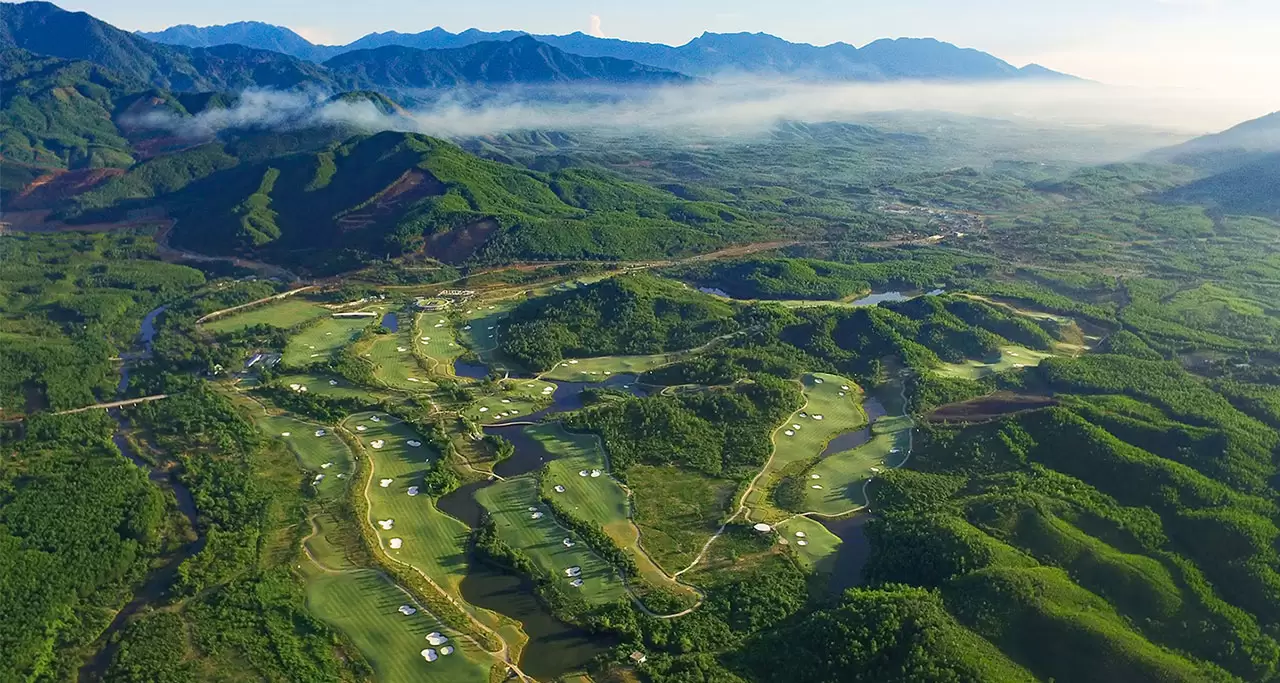 This stunning property is set amongst some of the most impressive mountain ranges in the region. The par 72, 18-hole Championship golf course provides a balance of challenge, enjoyment and excitement to golfers of all levels and abilities with 5 sets of tees to ensure golfers of all standards a pleasurable round of golf. Ranging from 7,857 yards from the Professional tees to 6,022 yards from the white, friendlier tees, a good variety and mixture of playing lengths makes every hole feel unique.
6. Montgomerie Links (Da Nang)
Located along the main road between Danang and Hoi An, within Quang Nam Province, Montgomerie Links Golf Course is an easy 20 minute drive from Danang International Airport and 15 minute drive to Downtown Danang.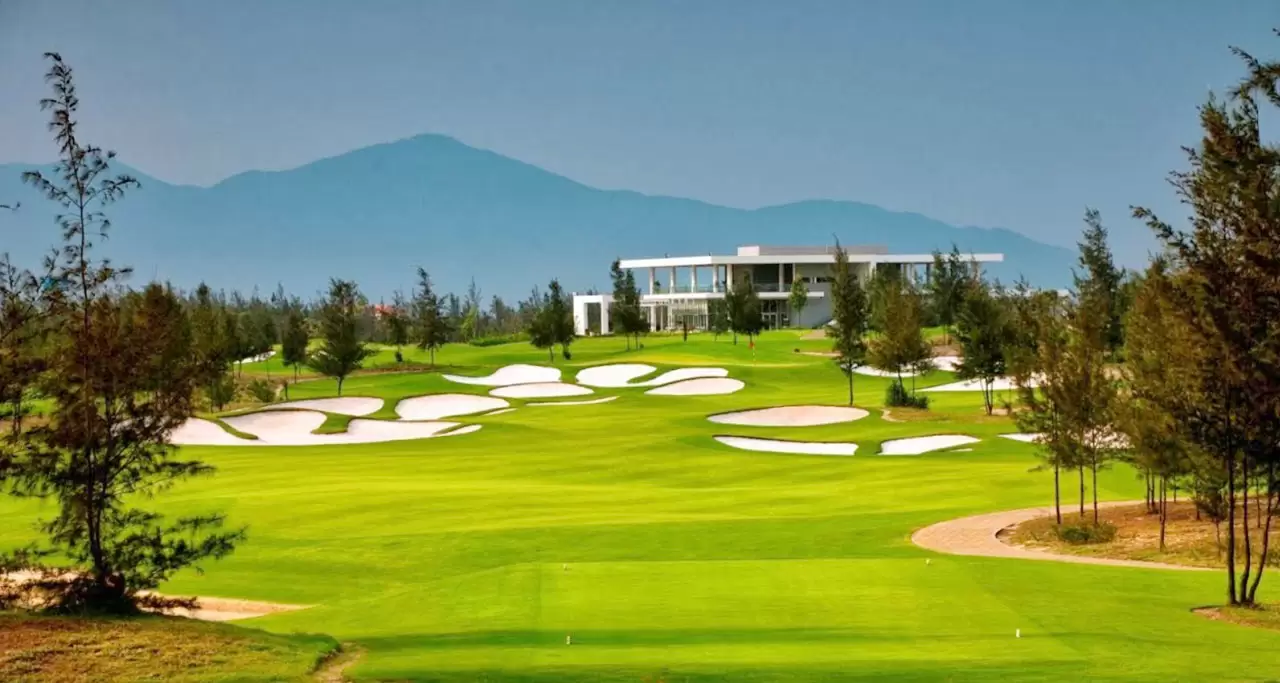 Created by golfing legend Colin Montgomerie and rated as one of Asia's ten most elite courses by The 2012 Forbes Travel Guide, this is truly an international 5-star championship links style course that tees up challenging and enjoyable play for all levels of golfers from around the world.
The place has outstanding natural features with the sandy soil, wind-blown dunes and indigenous vegetation. Among the memorable holes are 7 and 13, a pair of par-4's with some of the deepest bunkers on the course. Montgomerie Links Golf Resort is, no doubt, one of the best golf courses in Vietnam.
7. BRG Da Nang Golf Club (Da Nang)
Another great golf course situated on the fledgling central coast of Vietnam (Hoa Hai Ward, Ngu Hanh Son, Da Nang) amid 150 hectares of dunescape similar to what the world's first golf courses were carved from, this is Danang Golf Club which is designed by Australian golf legend and former world No. 1 Greg Norman.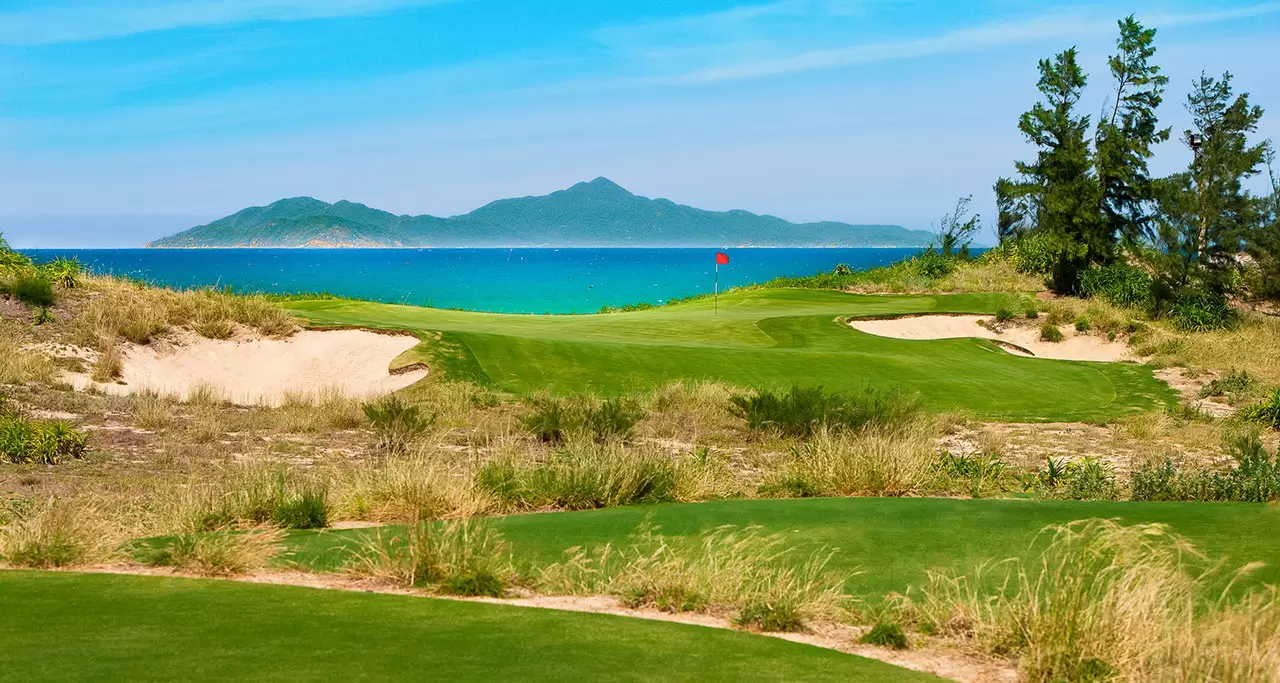 Its chief feature is a 7,160-yard, 18-hole, links-style layout that was made in the true spirit of the game – blown-out bunkers, firm and fast fairways that bleed gently into wild seaside vegetation, rugged waste areas, swales and hollows.
8. Laguna Golf Lang Co (Da Nang)
Located within the greater Laguna Lang Co integrated resort lays the Laguna Golf Lang Co, an 18-hole, par-71 championship course designed by 6-time Major winner – Sir Nick Faldo. This award winning course delivers a golfing experience that can be enjoyed by the most experienced player and beginner alike. The course presents variety for players of all levels measuring just under 7,100 yards from the championship tees and a beginner friendly 5,263 yards from the front tees.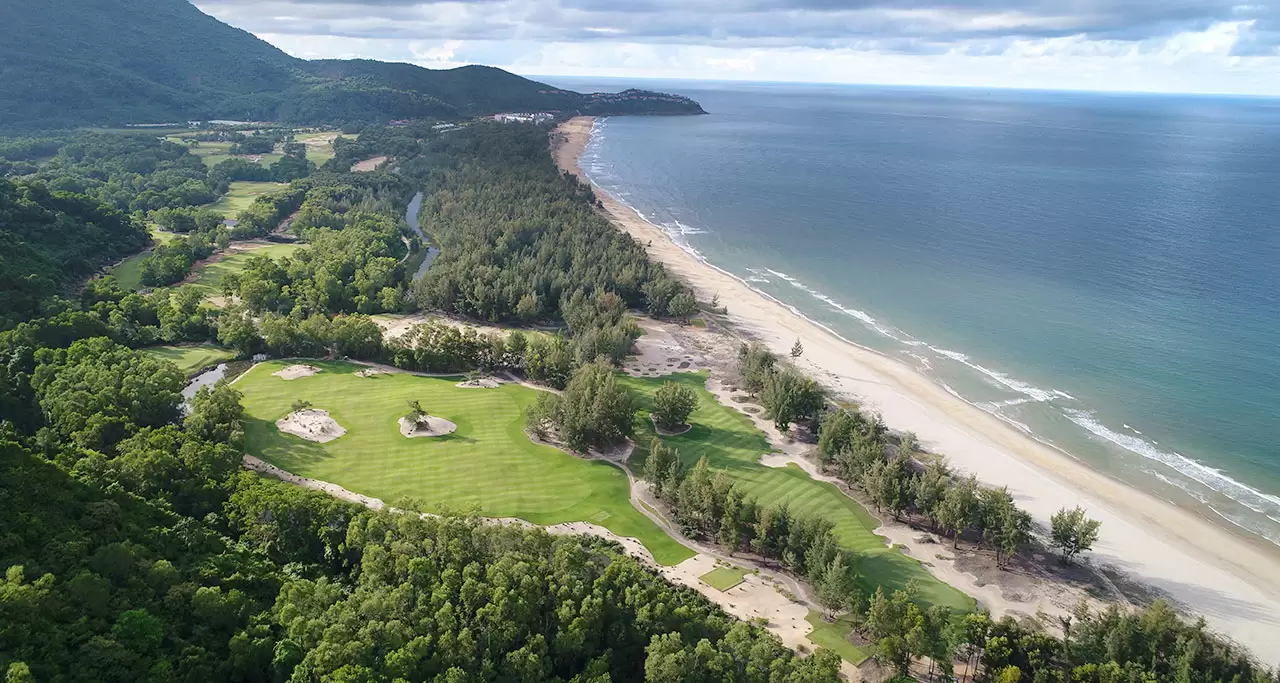 In keeping with its links-like characteristics, the Lang Co layout also offers a traditional out-and-back routing, presenting a host of varied shot opportunities along the way. As strategic as it is enjoyable, the Laguna Golf Lang Co will certainly leave golfers with a unique sense of place in the rustic hinterland destination.
9. Vinpearl Golf Club (Nha Trang)
Vinpearl Golf Nha Trang is situated on its own picturesque valley along an 800 meters stretch of pristine white sand. It is part of the Vinpearl Resort and is set on Hon Tre Island in a private cover of Nha Trang Bay; which is named one of Forbes Magazine's 30 most beautiful bays on earth. Designed by renowned IMG Worldwide; this impressive 18-hole, par 71 championship masterpiece is Vietnam's first international standard golf course, offering unique island golfing experiences with blue ocean views.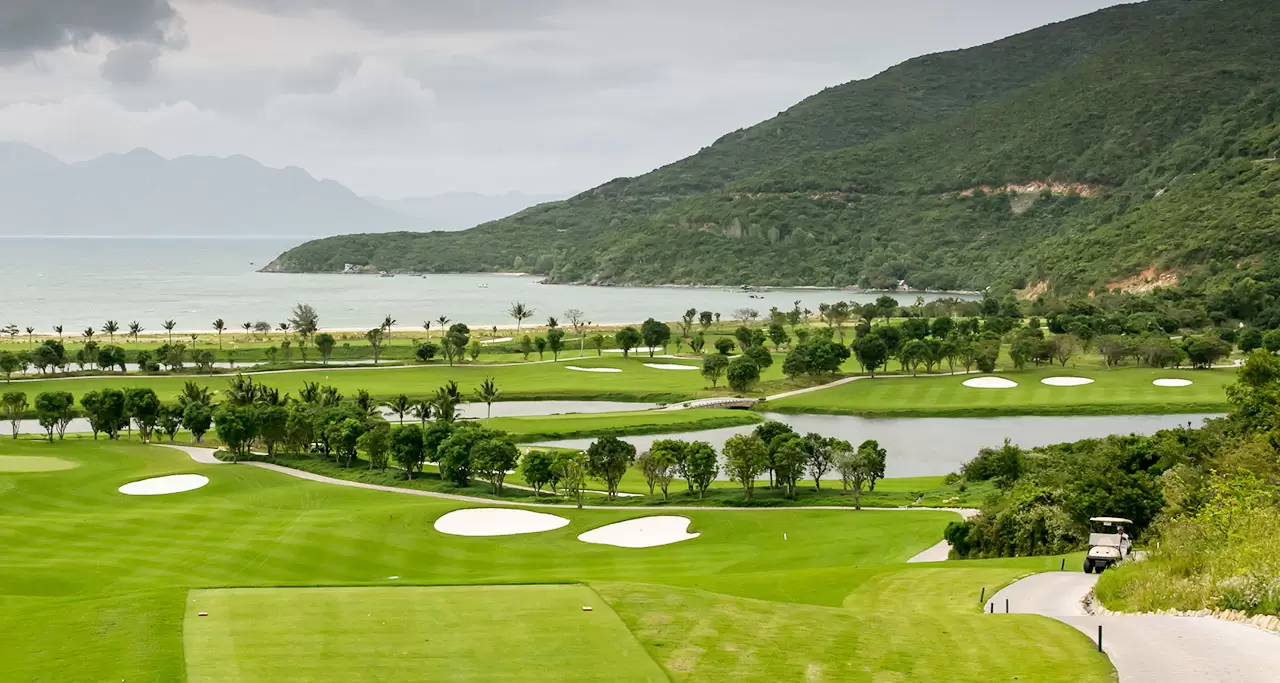 This golf course provides a challenging layout of 6787 yards stretching over 180 hectares, meanders through the valley along the lake and seashore with soothing breezes flowing through the palms. Most tees are elevated to give golfers an excellent view of the challenge ahead. All levels of risks have been created to test both professionals as well as golf beginners.
10. Dalat Palace Golf Club (Dalat)
Welcome to Dalat Golf Club – situated on 5000 feet (1,500meters) above sea level in the cool central highlands of Vietnam. This is rated as one of Vietnam's leading golf course and, proudly, the only bent grass green.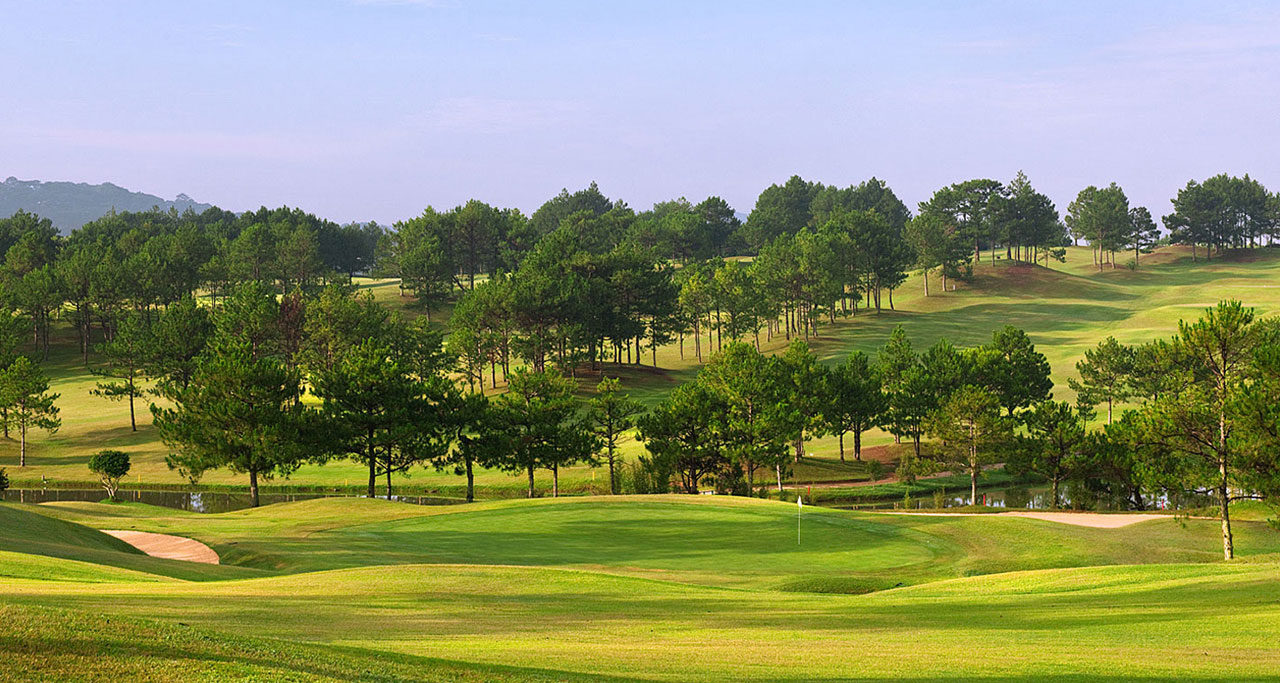 This golf course sends you back to a peaceful time. The rolling hills, majestic pines and a series of lakes that come into play on 10 to 18 holes makes a beautiful backdrop to a very challenging championship caliber golf course.
11. Vietnam Golf  & Country Club (HCMC)
Located just 20 kilometers from the center of Ho Chi Minh City, Vietnam Golf and Country Club is the nearest golf club to the city. This is the first 36-hole golf club in Vietnam and is widely regarded as Vietnam's Premier Golf and Country Club.
Set amongst 300 hectares of land; two great golf courses have been carved out of the existing woodland with minimal land movement; leaving you feel that the land was always destined to be a golf course, so natural is the lay-out and design.
The West course first opened in December 1994 and was designed by Taiwanese architect Chen King Shih. It hosted the Vietnam Open (Asian PGA Tour Event) in 1995 and 1997.
The East Course came next in 1997 – designed by Lee Trevino, six-time Major Champion.
Whichever course you decide to play, you will leave Vietnam Golf & Country Club with many fond memories of the golf course and the whole experience…
12. The Bluffs Ho Tram Strip Golf (Vung Tau)
The Bluffs Ho Tram Strip Golf Course is positioned in the town of Ho Tram 120km south, south east of Ho Chi Minh City in Vietnam. Since opening in 2014, the world's golf media has been superfluous in its praise of Greg Norman-designed, links-style golf course.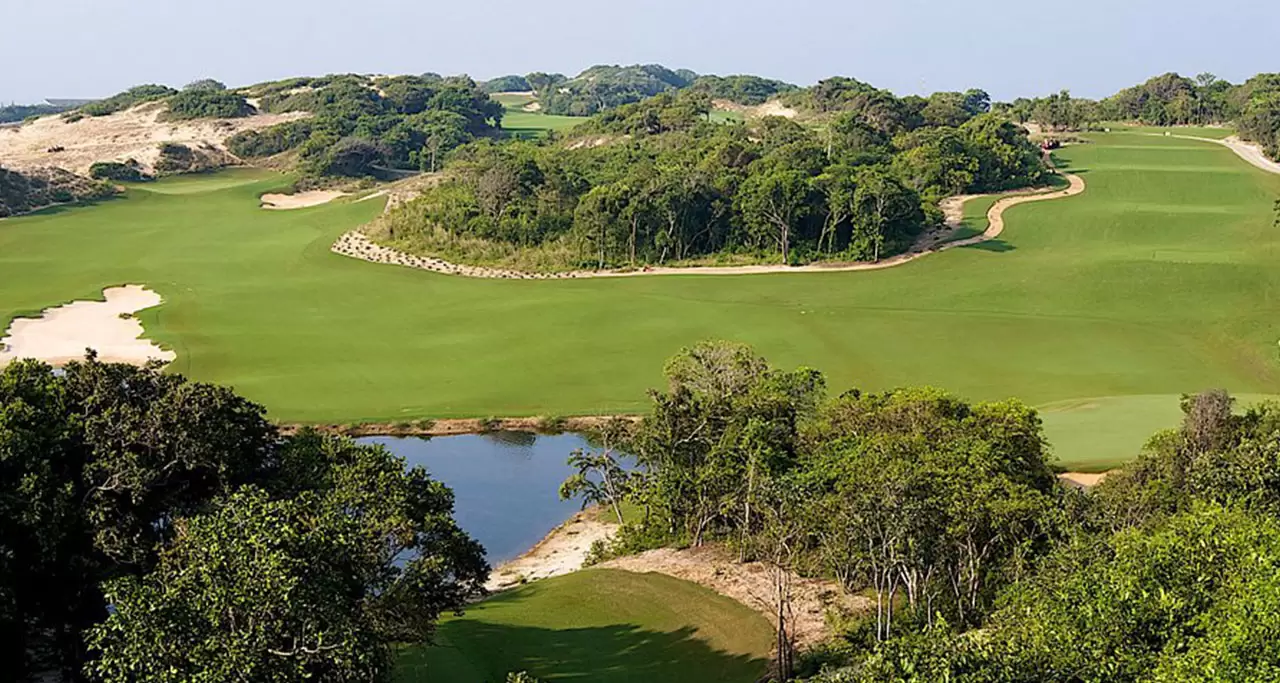 This golf course offers 18 holes of 'links style' championship quality golf; and a promising 2300sqm clubhouse with hospitality outlets and a driving range with PGA Golf Instruction.
In 2017, the Bluffs Ho Tram Strip overcame 29 other competitors to win the Best Golf Course award of the year in Vietnam.
13. Vinpearl Golf (Phu Quoc)
Set amidst the unspoiled woodland on the north of Phu Quoc, Vinpearl Golf Phu Quoc provides a sense of being immersed in nature; on a magical island known for its tropical paradise and stunning beaches. Its breathtaking scenery and unique golfing experience promise to impress travelling golfers.
Catering to all levels of golfers; this championship course is beautifully designed by IMG Worldwide with 18 holes of intriguing challenges, divided into two nines. Each offers its own distinct characteristics and presents differing landscapes and obstacles.
Complete List of Golf Courses in Vietnam
Currently, there are over 36,000 golf courses worldwide. In Vietnam, as of 2015, there were 58 golf courses spread across 24 provinces and cities, occupying a total area of 9.27 thousand hectares. The first golf course established in Vietnam was the Đà Lạt Palace Golf Course located in Đà Lạt. While golf is not yet a widely popular sport in Vietnam and the cost of playing is not cheap, some argue that investing in golf courses serves to cater to investors, foreign tourists, and high-income individuals. These courses also serve as venues for government officials to interact with international guests, aiming to attract resources and investment into Vietnam and localities with golf courses.
Here is a complete list of all operational golf courses in Vietnam:
No.
Golf Course Name
Location
Area
Number of Holes
Status
Northern Golf Courses
1
Stone Valley Golf & Resort
No. 5, Ba Sao Town, Kim Bang, Hà Nam
200 hectares
36
Currently operating
2
Tam Dao Golf Resort
Hop Chau, Tam Đảo, Vĩnh Phúc
7,200 yards
18
Currently operating
3
Chí Linh Star Golf
Sao Đỏ Ward, Chí Linh Town, Hải Dương Province
325 ha
36
Operational
4
Kings Island Golf
Đồng Mô, Sơn Tây, Hà Nội
350 ha
54
Operational
5
Hanoi Golf Club
Minh Tri, Soc Son, Hanoi
108ha
27
Active
6
Phoenix Golf and Resorts
Lam Son, Luong Son, Hoa Binh
311.7 ha
54
Operating
7
Dam Vac Golf Club
Dinh Am, Khai Quang, Vinh Yen, Vinh Phuc
90 ha
18
Operating
8
Kênh Gà Golf Club
Nho Quan, Ninh Binh
650ha
72
project
9
Tràng An Golf & Country Club
Nho Quan, Ninh Binh
150ha
36
Operating
10
Van Tri Golf Club
Kim No, Dong Anh, Hanoi
18
Currently operational
11
Sky Lake Resort Golf Club
Chuong My, Hanoi
36
Currently operational
12
Do Son Seaside Golf Resort
Ngoc Xuyen, Do Son, Hai Phong
18
Currently operational
13
Sông Giá Resort Complex Golf & Country
Tong Market, Luu Kiem, Thuy Nguyen, Hai Phong
27
Operating
14
Mong Cai International Golf Club
Tra Co, Mong Cai, Quang Ninh
7204 yards
18
Operating
15
Royal Golf Course
Tam Diep, Ninh Binh
670ha
36
Operating
16
BRG Legend Hill Golf Resort (Soc Son course)
Soc Son, Hanoi
18
Operating
17
Long Bien Golf Course
Long Bien, Hanoi
27
Active
18
Vu Yen Golf Club
Vu Yen, Hai Phong
18
Active
19
Yen Bai Star Golf and Resort
Yen Bai
18
Under Construction
20
Dai Lai Star Golf & Country Club
Vinh Phuc
27
Active
21
FLC Ha Long Golf
Ha Long, Quang Ninh
18
Active
22
FLC Sam Son Thanh Hoa
Sam Son, Thanh Hoa
18
Active
23
Hilltop Golf Club
Hoa Binh
18
Active
24
Tuan Chau Golf Club
Tuan Chau, Quang Ninh
18
Đang xây dựng
Central Vietnam Golf Courses
1
Cua Lo Golf Resort
Binh Minh, Cua Lo, Nghe An
133 ha
18
2
Laguna Lang Co Golf Resort
Thon Cu Du, Xa Loc Vinh, Phu Loc District, Thua Thien Hue
7000 yards
18
3
Montgomerie Links
Dien Ngoc, Dien Ban, Quang Nam
ha
18
4
Danang Golf Club
Son Tra, Dien Ngoc, Hoa Hai, Ngu Hanh Son, Danang
150 ha
18
Southern Vietnam Golf Courses
1
Vinperl Golf Club
Hon Tre Island, Nha Trang, Khanh Hoa
182ha
18
2
Diamond Bay
Nguyen Tat Thanh, Phuoc Ha, Phuoc Dong, Nha Trang, Khanh Hoa
76ha
18
3
Sea Links Golf & Country Club
Mui Ne, Binh Thuan
7671 yards
18
4
Du Parc Golf Club Ocean Dunes
Phan Thiet, Binh Thuan
6746 yards
18
5
Dalat Palace Golf Course
Phu Dong Thien Vuong, Dalat, Lam Dong
7,009 yards
18
6
Long Thanh Golf Resorts
Long Thanh, Dong Nai
350 hectares
36
7
Bo Chang Dong Nai Golf Resort
Trảng Bom, Đồng Nai
300ha
27
8
Sông Bé Golf Resort
Thuận An, Bình Dương
27
9
Taekwang Jeongsan Country Club
Nhơn Trạch, Đồng Nai
7500 yards
18
10
Twin Doves Golf Club
Thủ Dầu Một, Bình Dương
165 hectares
27
11
Vietnam Golf & Country Club
Thủ Đức, Ho Chi Minh City
300ha
36
12
Paradise Golf Resort
Vung Tau, Ba Ria-Vung Tau
27
13
Tan Son Nhat Golf Course
Tan Binh District, Ho Chi Minh City
36
14
NovaWorld Phan Thiet Golf Course
Tien Thanh Commune, TP. Phan Thiet, Binh Thuan
36
Under construction
15
KN Golf Links – Cam Ranh
Bai Dai, Cam Nghia, Cam Ranh, Khanh Hoa
27
Active
Golfers can experience the rolling fairways and contours that weave and undulate seamlessly through the beautiful landscape of Phu Quoc Island; commanding a breathtaking, panoramic vista of the tropical forest against the stunning backdrop of the pristine East Sea. Vinpearl Golf Phu Quoc truly deserves top spot on every golfer's wish list.
Come and visit Vietnam, and challenges yourself in one or more than one of these golf courses. If you need transportation and reservation, please contact Vietnam Travel for further support.