20 Best Beaches in Vietnam For Your Next Holiday
Sam Son Beach (Thanh Hoa)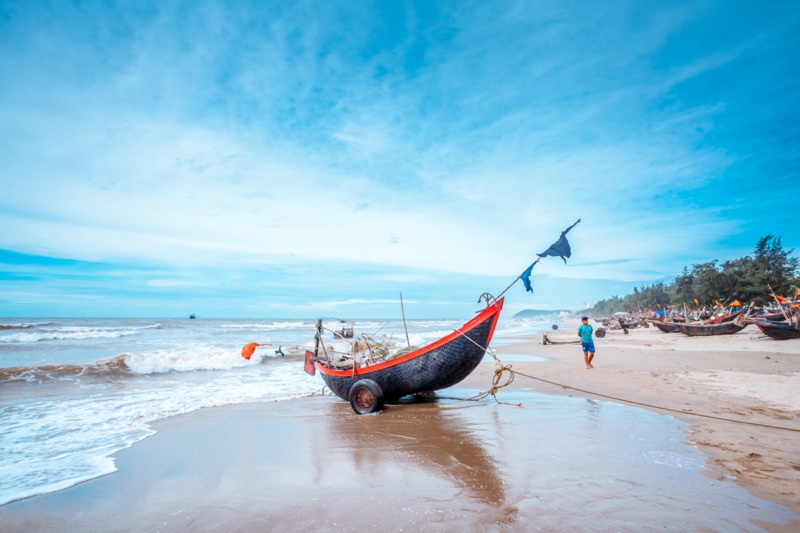 Sam Son Beach
Stretching 6 km from Lach Hoi estuary to Truong Son Mountain, Sam Son is a favorite beach getaway in the Northern coast of Vietnam. The beach is 170km from Hanoi and only 16km from Thanh Hoa city. Hundreds of thousands of domestic visitors flock to Sam Son Beach every year for its golden strip of sand and big waves, ideal for thrilling water activities and budget-friendly hospitality services. The surrounding area holds miles of mid-range hotels and restaurants. Notable resorts here are FLC Sam Son Beach & Golf Resort and FLC Luxury Sam Son Resort.
Titop Beach (Halong Bay)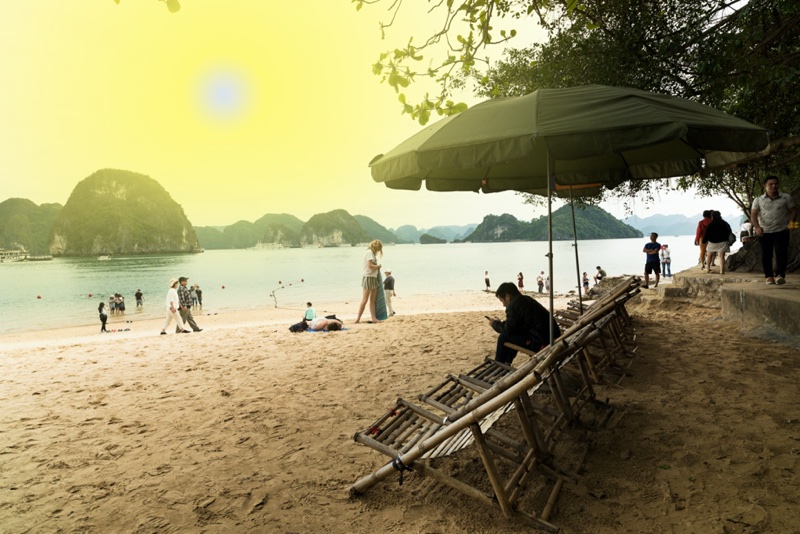 Beach view from TiTop island
Halong Bay is blessed with a lot of instagrammable beaches but the crescent-shaped Titop Beach is perhaps the most alluring one. Included in a lot of cruise itineraries, Titop Beach is just for everyone who is in the mood for morning waves towards the powdery golden sand and a refreshing dip in the azure waters. This is also a crowd favorite for thrilling water-based activities and sunbathing. Freshwater is available for showers and you can also enjoy snacks in the on-site stores. Tourists looking for a more challenging experience would love to hike up the top of the mountain and admire the magnificent panoramic seascape.
Cat Co Beach (Cat Ba Island)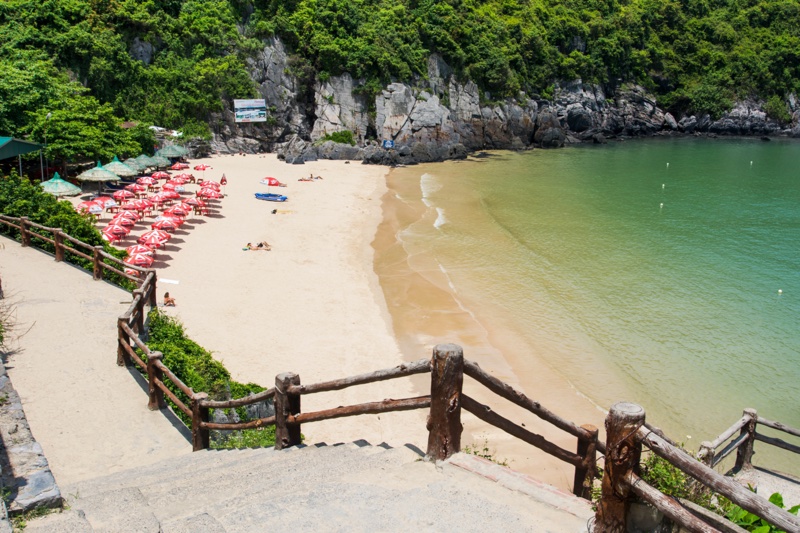 Cat Co beach
Surround the southeast corner of the rugged; jungle-clad Cat Ba Island, Cat Co Beaches are perfect escapes from daily grind which are for astonishing tranquility and natural beauty. These beaches are a mere 5-minute walk from Cat Ba Town and each stretch is separated by a small hillock with a cliff-side walkway. While Cat Co 1 is wide and appealing with a long strip of golden sands, Cat Co 2 bears a little mysterious color which can be seen from Cannon Fort. Facing Lan Ha Bay to the south, Cat Co 3 is regarded as the most glamorous slice of paradise. Here, tourists can take advantage of modern accommodations namely Cat Ba Sunrise Resort and Le Pont Bungalow Hostel.
My Khe Beach (Danang)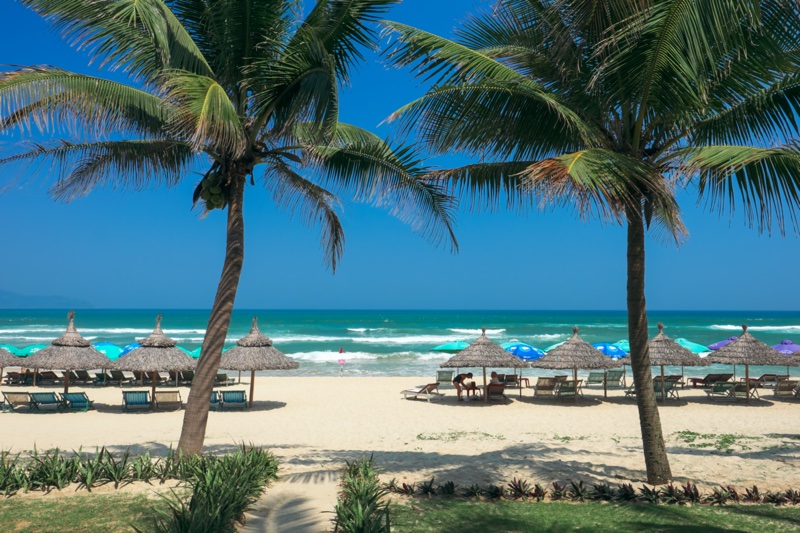 My Khe Beach
Acknowledged as Asia's wonderful beach rendezvous, Danang City possesses many charming beaches. If calm, clear waters and sweeping seascapes are what you're seeking in a coastal experience, do not skip My Khe Beach. The beach was once shortlisted by Forbes Magazine as one of the world's six most beautiful beaches. A short distance from the city center, gentle slopes of smooth white sand and shallow water of My Khe Beach are the best conditions for swimming and sunbathing. Thanks to the ideal position, it comes as no surprise that tourism services are booming here with countless hotels and luxurious beachfront resorts, lined-up loungers with shades, and entertainment facilities.
Non Nuoc Beach (Danang)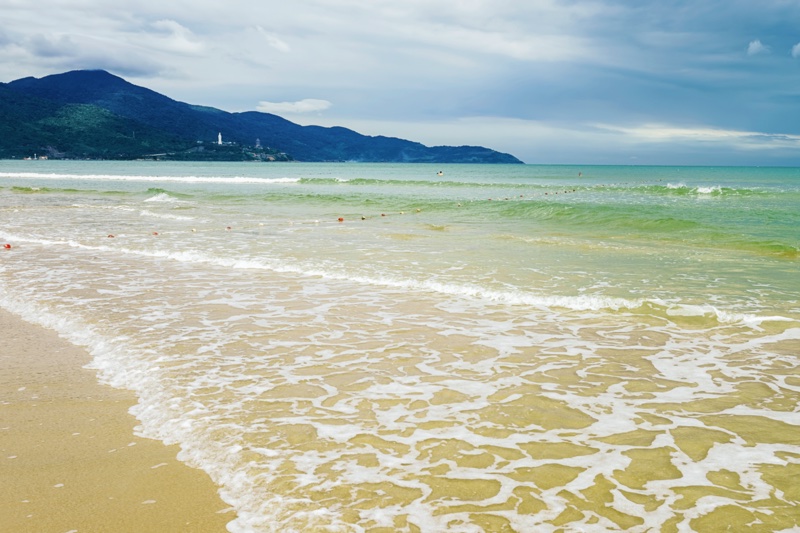 Non Nuoc beach in Da Nang
Stretching around 5 kilometers, Non Nuoc Beach is backed by dazzling Marble Mountains. This gorgeous beach features soft sands, sparkling blue waters and is voted as one of the most appealing beaches on the planet by Forbes Magazine. It is also home to precious seaweeds for exportation. Make sure you grab your camera to capture idyllic scenery of the beach fringed by swaying palm trees. Surfers especially prefer Non Nuoc Beach as it offers demanding surfing conditions. Seasoned travelers can do a variety of leisure activities, enjoy fresh seafood, and combine with trips to Marble Mountains and local handicraft villages.
Cua Dai Beach (Hoi An)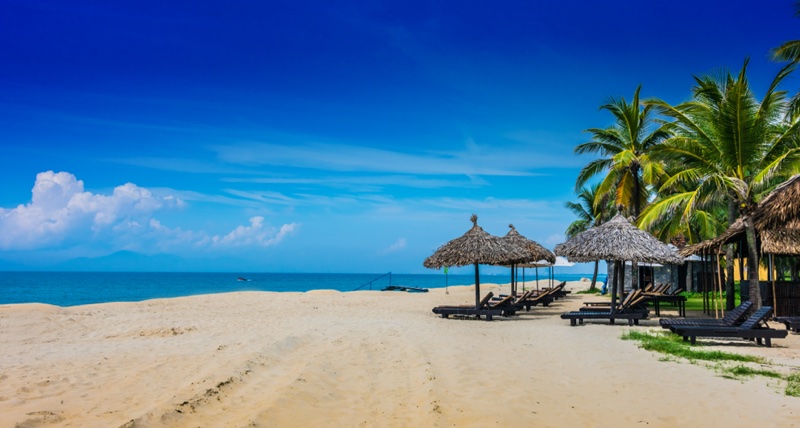 Cua Dai beach in Hoi An
Only 5km from Hoi An Ancient Town, Cua Dai Beach is a tourist-friendly stretch of coastline which is easily accessible by motorbikes, cars, and buses. The surrounding is defined by tranquil vistas, green palm trees, and a scattering of small thatched huts sloping to the immense sea. Cua Dai Beach is best to visit in the summer months with an unrivaled seascape in the blue skies and diverse beach activities. Leisure travelers will enjoy an array of high-end resorts namely Plants Garden Villa, Hoi An Beach Resort, Palm Garden Resort Hoi An, and Victoria Hoi An Beach Resort and Spa.
An Bang Beach (Hoi An)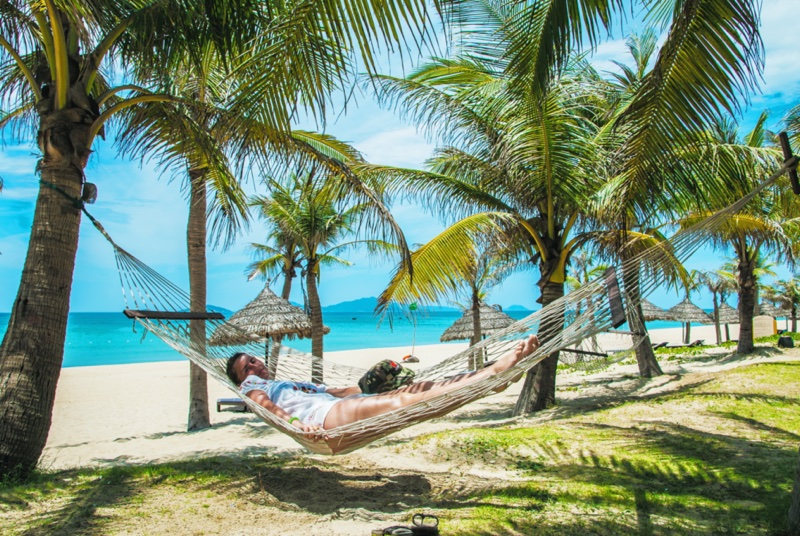 An Bang beach in Hoi An
An Bang Beach becomes more popular with tourists since the erosion of its neighboring beach, Cua Dai Beach. It is only 3km north of Hoi An Ancient Town so a taxi ride takes less than 10 minutes. Aside from soft white sands, turquoise waters are perfect for paddle-boarding, swimming, and surfing. The best surfing season is from September to March offering spectacular waves. When it comes to lodging, in the proximity to An Bang Beach, Sol An Bang Beach Resort, Victoria Hoi An Beach Resort and Spa, and Palm Garden Resort Hoi An are the best ones.
Lang Co Beach (Hue)
Lang Co beach
Let your spirit roam on the shoreline of Lang Co Beach, a pristine beach halfway between Hue and Danang. The 10-km beach sets against the verdant backdrop of Hai Van Mountain, 60km from Hue City and just adjacent to the National Highway No.1A. Apart from an ideal location, Lang Co Beach is blessed with a lot of favorable conditions to develop eco-tourism and seaports like tropical monsoon climate, mesmerizing scenery, rich flora and fauna, coral system, and abundant seafood. Resplendent resorts are dotted along stretches of palm-shaded sands. Some of the most notable names can be listed are Lang Co Beach Resort, Thanh Tam Seaside Resort, and 6 Miles Coast Resort.
Thuan An Beach (Hue)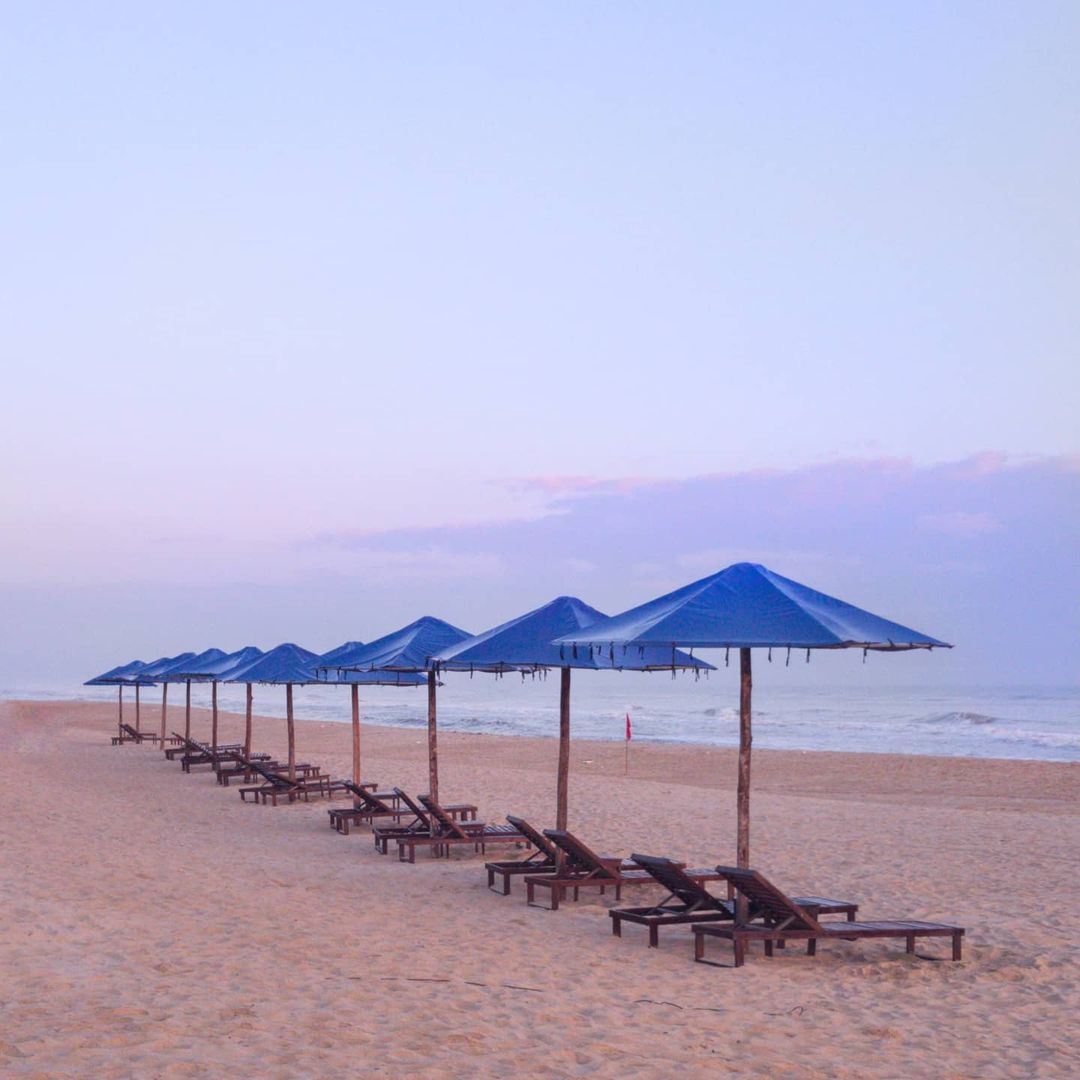 Thuan An beach – Photo: @allan_around_the_world
A little further from Hue City, just 15km, Thuan An Beach is a charming and favorite destination for a large number of local people, especially on summer days. What Thuan An Beach lacks in modern tourism services, it makes up for untouched shoreline and peaceful ambiance. Besides popular beach activities, overnight camping brings plenty of joyful experiences. In a close distance, historical sites and temples namely Thai Duong Lady's Temple, Hai Thanh Temple are dotted. On the way to Thuan An Beach, tourists also have a chance to contemplate Tam Giang Lagoon which is known as Southeast Asia's largest coastal ecosystem.
Ninh Chu Beach (Ninh Thuan)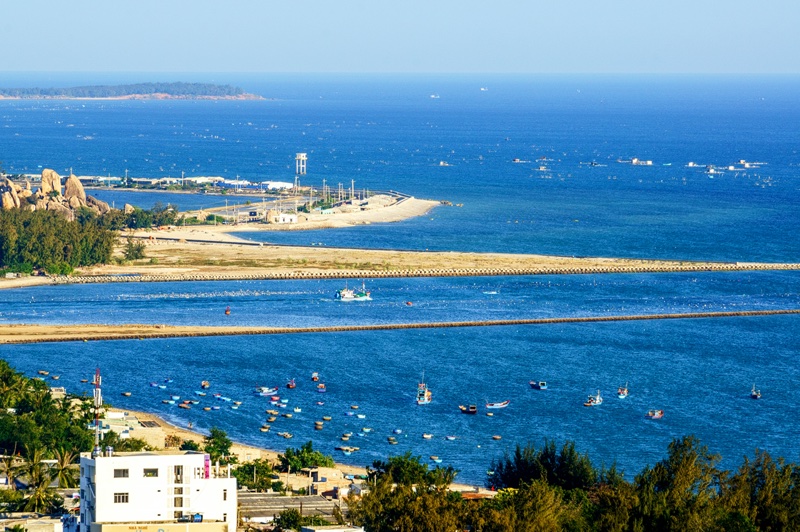 Ninh Chu beach
Located 5km south of Phan Rang City, Ninh Thuan Province, Ninh Chu Beach is acclaimed as one of the most attractive beaches in South Central Coast Vietnam. The beach prides itself on a long and unique crescent-shaped coastline (around 10km). If you're a fan of watersports, aquamarine water, and calm waves are perfect for such as motoring, kite surfing, diving, and sailing. What's more, vacationers can also embark on a cruise to the mesmerizing Vinh Hy Bay. Close to the beach, there are several tourist attractions namely Nai Pond, Da Chong Mountain, and Ca Du Mountain. With the rise of tourism, budget accommodations and upscale resorts are awash to suit any tourists' demands.
Bai Xep Beach (Quy Nhon)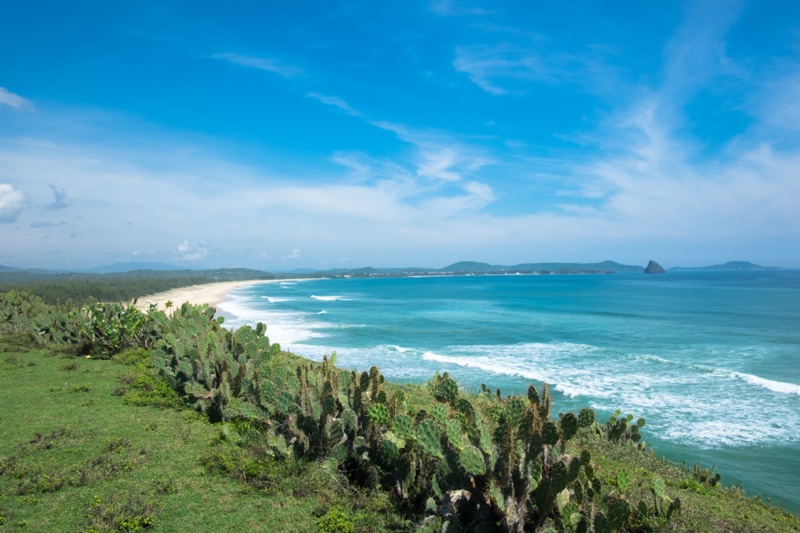 Bai Xep beach
Beach lovers coming to Quy Nhon Coastal City are rewarded with multiple seductive beaches which are under-the-radar of mass tourism. Bai Xep Beach which is 10km from Quy Nhon City was once voted as one of 16 incredible destinations in Asia. Sheltered by steep hills, the beach keeps perpetually unspoiled. Crystal clear water offers tourists a range of things to do. It's great to leisurely walk along the beach, cool down by swimming, explore the rustic fishing village, and take a boat trip to islands. Though the beach area is quiet, there is no dearth of high-quality resorts including Seaside Boutique Resort Quy Nhon, Casa Marina Resort, Mira Bai Xep, and O.Six Resort.
Bai Dai Beach (Nha Trang)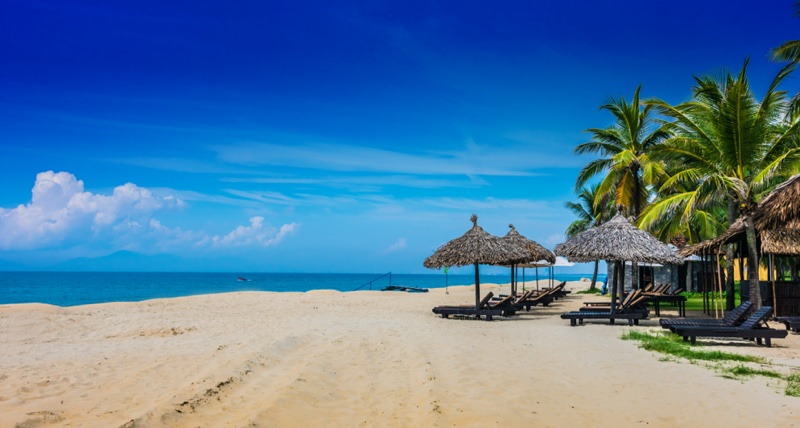 Bai Dai beach in Nha Trang
About 30km south of Nha Trang City, Bai Dai Beach retains a low-key atmosphere where you can walk on smooth sand and feast your eyes on lovely views of blue skies. It takes only less than 10 minutes to drive from the beach to Cam Ranh International Airport. Bai Dai Beach appeals to throngs of international tourists and the best way to discover the area is to hire a motorized watercraft. Marine sports enthusiasts enjoy surfing, diving, canoeing, and so on. Meanwhile, food lovers can treat themselves to the freshest seafood in various budget-friendly restaurants lined up along the coast. Round off your day with an indulgent stay in luxurious resorts namely Mia Resort Nha Trang, Fusion Resort Cam Ranh, and ALMA Resort Cam Ranh.
Tran Phu Beach (Nha Trang)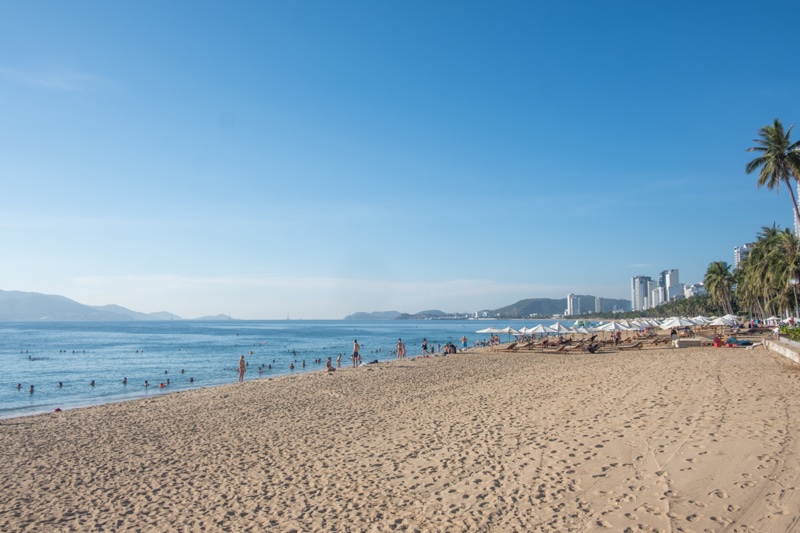 Tran Phu beach in Nha Trang
For those who are looking for a fun and lively ambiance, just head to the bustling Tran Phu Beach, right in Nha Trang City. Stretching about 12km along Tran Phu Street, Tran Phu Beach gains great popularity among foreign tourists, especially Russian expats. Hotels, dining spots, and recreational amenities are inundated inshore. On peak summer days, sun-seeking vacationers flock there to relax and play water sports. Nightlife on Tran Phu Beach and the surrounding is also vibrant. You can choose to drink by the sea or tuck into some swanky bars and pubs.
Binh Tien Beach (Ninh Thuan)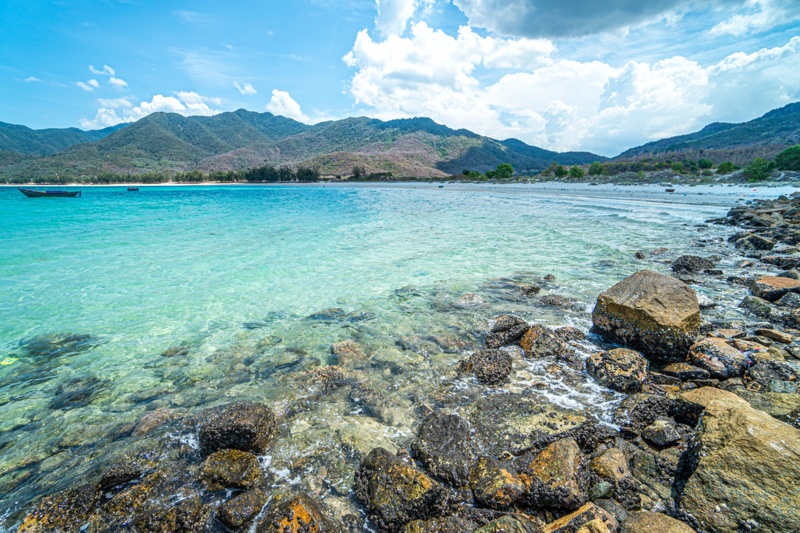 Binh Tien beach
Binh Tien Beach is acclaimed as a hidden jewel that is 30km northwest of Phan Rang – Thap Cham City, Ninh Thuan Province. The beach remains primitive with only a few infrastructures for tourism. Framed by soaring mountains and countless rock formations, its secluded atmosphere invites visitors to unwind and breathe the freshest breezes. Activities to do on and around the beach are abundant such as campfire, fishing, scuba diving to see the coral reef, and simply relaxing by the sea. Nearby Binh Tien Beach, visitors can hike in Nui Chua National Park and visit Vinh Hy Bay. However, there are not many places to stay in the Binh Tien Beach area. Tourists can choose to stay in Aloha Binh Tien Hotel, The Escalade Cam Ranh, The Sea Rock Binh Hung, or Villa Dao Hoa Vang.
Bai Rang Beach (Mui Ne)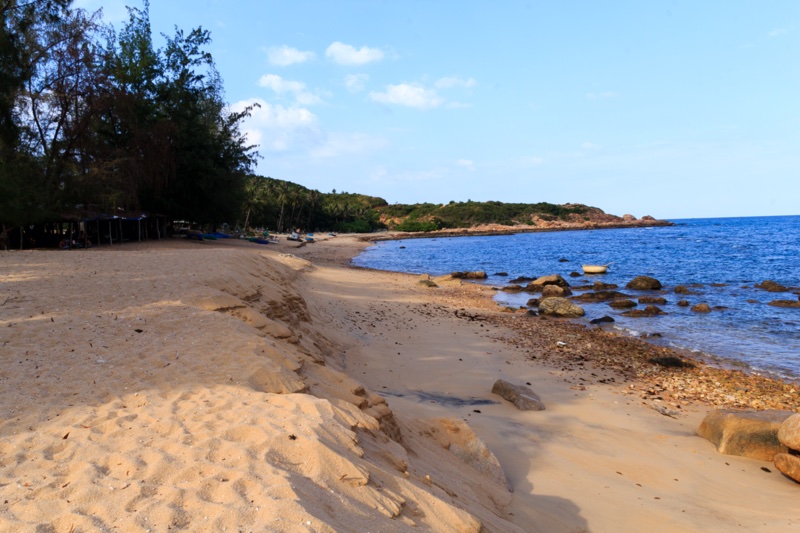 Bai Rang beach
Mui Ne is not only famous for immense sand dunes and coconut groves but also splendid sandy beaches backed by a lush tropical garden. Bai Rang is located 22km northeast of Phan Thiet City following National Highway 706. While remaining intact allurement, the beach witnesses the dynamic development of tourist infrastructure. In the last few years, an array of upscale resorts has sprung up namely Hai Au Mui Ne Beach Resort & Spa, Canary Beach Resort, and Muong Thanh Holiday Mui Ne. With favorable conditions like endless sunshine and strong waves, Bai Rang Beach enables tourists to take part in water-based activities including kiteboarding, windsurfing, and swimming. Near Bai Rang, the fishing village brings a pleasant and rustic feeling.
Long Hai Beach (Vung Tau)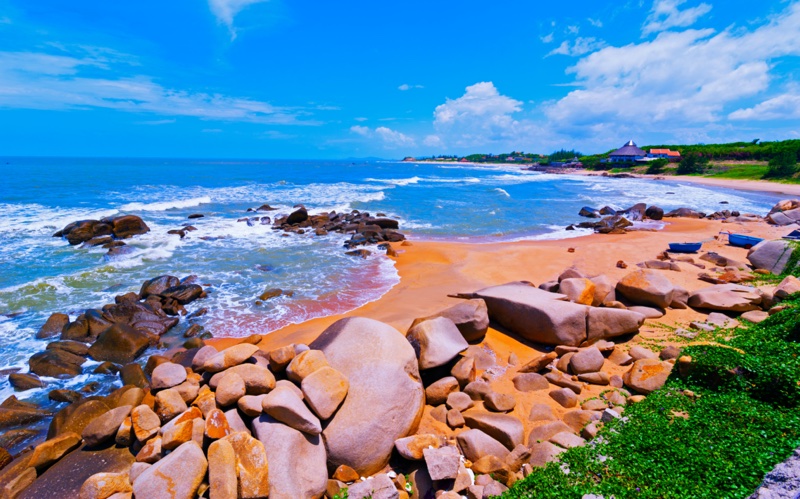 Long Hai beach in Vung Tau
Vung Tau Coastal City is renowned for many beautiful beaches which are perfect places to cool off on the weekend for locals and expats alike. Yet, only experienced beach bums swoon over Long Hai Beach, a lesser-known beach, about 15km from Vung Tau. From Ho Chi Minh City, the beach is flexibly accessible by bus, motorbike, and submarine. Not so crowded as its neighboring Vung Tau Beach, Long Hai Beach's turquoise waters make it an unfrequented, memorable swimming spot. If you've done a dip swim, it's time for savoring freshly-caught seafood and local specialties such as crispy pancake, hotpot, soft thin vermicelli with marinated char-grilled pork, and rice noodle soup.
Long Beach (Phu Quoc)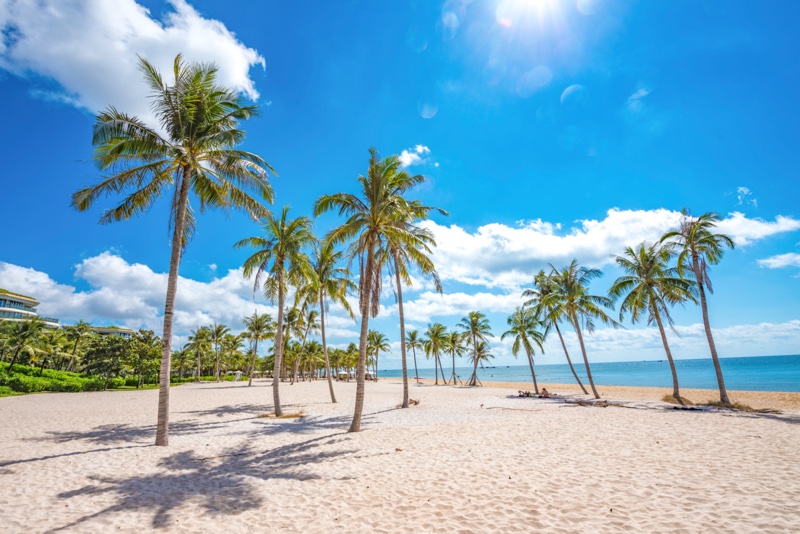 Long Beach in Phu Quoc
Running from Dinh Cau to An Thoi, the 20-km-long stretch of Long Beach or Bai Truong is home to some of the finest beachfront resorts, luxurious restaurants on Phu Quoc Island. Some of the most recommended hotels and resorts nearby are Salinda Resort Phu Quoc, The Palmy Phu Quoc Resort & Spa, Amarin Resort, and Palmy Beach Club Resort, to name a few. Though you may not be able to avoid tourist crowds, you're offered a variety of fun-filled activities like scuba-diving, kayaking, and surfing. The scenery gets more mesmerizing from the afternoon onwards with romantic sunset views and BBQ parties.
Bai Sao Beach (Phu Quoc)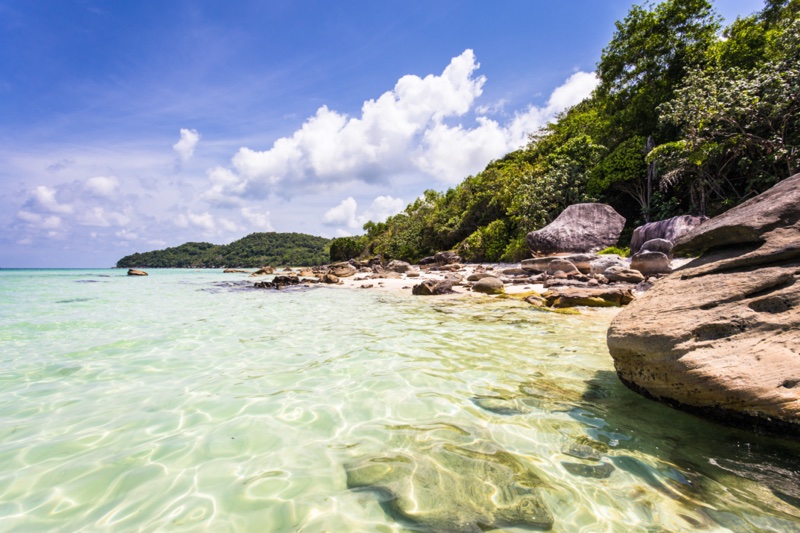 Bai Sao beach in Phu Quoc
It should come as no surprise that Phu Quoc Island hosts some of the best beaches in Vietnam. Venture a little further for 25km away from Duong Dong Town, Bai Sao Beach is blessed with white powdery sands and blue water fringed with coconut trees. Kite-surfers absolutely should not miss Bai Sao Beach during the summer months from May to October with strong winds and sunshine. In addition, tourists can hire Jet Ski, snorkel, or dive deep into the ocean and discover marine creatures. In terms of places to stay, you can choose JW Marriott Phu Quoc Emerald Bay Resort & Spa, Anna Nguyen Resort – Bungalow, or 7S Ruby Phu Quoc Hotel.
Khem Beach (Phu Quoc)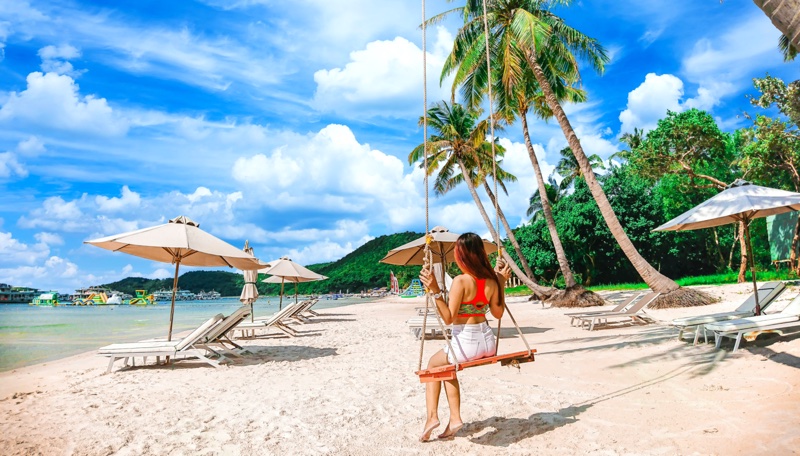 Khem Beach in Phu Quoc
If far-flung stretches are your taste, do not miss an opportunity to wriggle your toes in the sands in Khem Beach. The gorgeous beauty of the beach is characterized by primitiveness and a serene atmosphere. Thanks to the close distance to the fishing village, holiday-makers to Khem Beach are served with locally-caught and sumptuous seafood. What is more, much thought is given to the architecture of opulent resorts in the nearby area of Khem Beach, in which, JW Marriott Phu Quoc Emerald Bay Resort and Sun Premier Village Khem Resort are renowned ones.
An Hai Beach (Con Dao)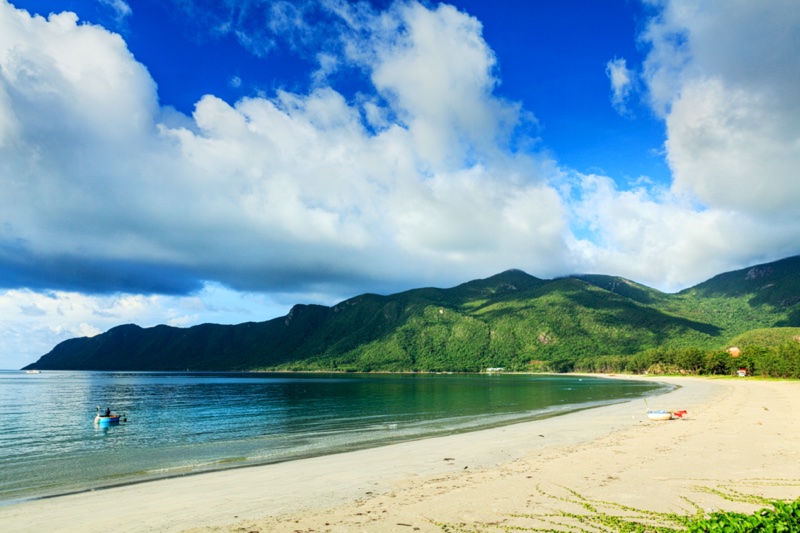 An Hai beach in Con Dao
An Hai Beach where the jungle meets the sea creates a unique impression for visitors. Situated not far from the town center, yet it is known as the most pristine beach on Con Dao Island. There is no shortage of accommodation options that can meet any tourists' budget. Here you can dig your barefoot in the soft sand and breathe the cool air to leave all fatigues behind. More interestingly, in the early morning, you'll see many fishermen on fishing boats preparing for trips to the sea.
Read more: Vietnam map for travelers: Top 14 destinations to satisfy your wanderlust