Vietnam if one of the most interested destination in South East Asia. The beautiful country with the friendliest people in the World and Vietnam has many things to offers travelers. Visitor to Vietnam have many things to do in each city they visit. From crystal jade colored water in Halong Bay to beautiful terrace rice paddy in Sapa, from Capital city in Hanoi to ancient Hoi An town or sunny beaches in Nha Trang. From Vibrant city of HCM City to green orchard with lots of tropical fruit in Mekong delta. Whether you are interested in history, culture, nature, or just soaking up the local way of life, Vietnam has something to offer. In this article, we will explore some of the top things to do in Vietnam, from exploring the city of Hanoi to visiting the beautiful Ha Long Bay and experiencing the Mekong Delta. Everywhere you travel, you feel welcomed and feel the trip to Vietnam is right decision. So come along as we discover all that Vietnam has to offer!
Vietnam is a country rich in culture, history, and natural beauty. From exploring bustling cities to relaxing on pristine beaches, there are countless things to do in Vietnam. Some of the top things to do in Vietnam include visiting the ancient town of Hoi An, cruising through Halong Bay, and exploring the vibrant streets of Ho Chi Minh City. Whether you're interested in history, food, adventure, or relaxation, Vietnam has something for everyone. Don't miss out on the incredible experiences this country has to offer.
We listed all the best things to do in Vietnam for travelers from North to South and hope it helpful for visitors (Updated 2023 ).
Exploring Hanoi
Hanoi is the capital and largest city of Vietnam, and it is a must-see destination for anyone visiting the country. Here are some of the top things to do while exploring Hanoi:
Visiting the Old Quarter: Hanoi Old Quarter is a bustling area of the city that is filled with narrow streets and historic buildings. It is a great place to wander and soak up the local culture, and you can find a variety of street food, shops, and markets here.
Seeing the sights at Hoan Kiem Lake: This beautiful lake is located in the heart of the city, and it is a popular spot for locals and tourists alike. You can take a leisurely walk around the lake, visit the Ngoc Son Temple, or just relax on a bench and people watch.
Taking a cooking class: Vietnam is known for its delicious cuisine, and what better way to experience it than by learning to cook it yourself? There are many cooking classes available in Hanoi, and you can learn how to make dishes like pho, spring rolls, and more.
Visiting the Temple of Literature: This temple is a beautiful and historic site that is dedicated to Confucius and the study of literature. It is a peaceful place to visit, and you can learn about Vietnam's history and culture while exploring the temple grounds.
Exploring Hanoi is one of the many things to do in Vietnam that travelers should not miss. As the capital city of Vietnam, Hanoi is rich in history, culture, and cuisine. Visitors can wander through the bustling streets of the Old Quarter, visit historic landmarks such as the Temple of Literature and Ho Chi Minh Mausoleum, and sample delicious street food.
Biking in Ninh Binh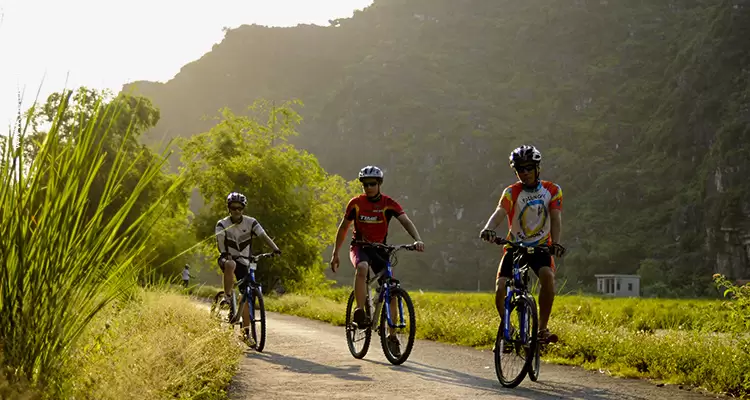 The slow pace of travel to Ninh Binh where you could see, feel and touch the atmosphere of countryside in the Red River delta. Stay overnight in Ninh Binh and choose to ride bike in the afternoon or early in the next morning to see the Sun set or the time when local people start their day. See the rice field and mountain ranges along your biking route in the most quiet time of the day.
Exploring Ninh Binh by bike is one of the most captivating things to do in Ninh Binh. Biking through the stunning landscape of Ninh Binh and exploring the countryside is one of the best ways to experience the beauty of Ninh Binh. With its towering limestone cliffs, lush rice paddies, and winding rivers, Ninh Binh is a paradise for nature lovers and adventure seekers. As you pedal through this breathtaking region, you'll discover hidden temples, traditional villages, and incredible views.
Trekking in Sapa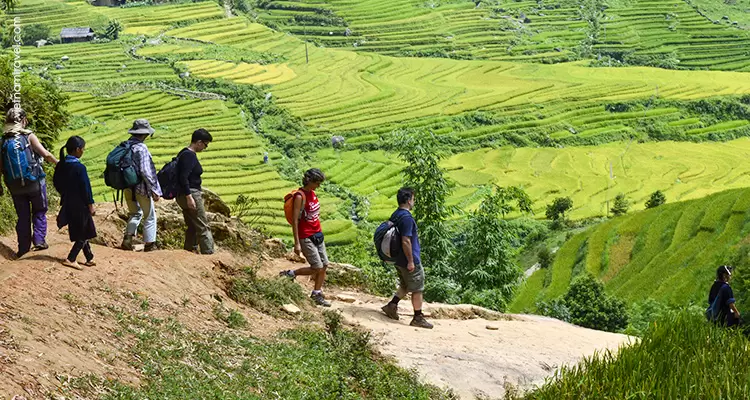 Sapa covers an area of over five thousands squares km with dozens of colorful hill tribes. This old French – built town with tropical forest, emerald rice terrace fields, colorful hill tribes is an great adventure experience… When you travel to Sapa, don't just stay at hotel in town. We highly recommend you take a half day or full day trekking to village of Hmong or Red Zao people, meet and talk to local at their home or their farm and enjoy the view of Muong Hoa valley or Fansipan mountains…
There  several route you could choose:
Trek from Sapa to Ta Phin
Trek from Sapa to Cat Cat Village + waterfalls
Trek from Sapa to Ylinh Ho, Lao Chai Ta Van
Trek from Sapa to Ta Van to Ancient rocks, Cloud bridge (Cau May)
Trek from Topas Eco-lodge to Thanh Kim, Thanh Phu
Trekking in Sapa is one of the most popular activities for tourists visiting Vietnam. This mountainous region in the north of the country offers breathtaking views and a unique cultural experience. Sapa offers some of the best opportunities for trekking in the country. Its majestic mountains, terraced rice fields, and vibrant ethnic minority villages make it an ideal place for adventurers and nature lovers alike. The diverse range of trekking trails available caters to all levels of fitness and experience. From short hikes to multi-day treks, Sapa has it all. Immerse yourself in the breathtaking beauty of the region as you traverse the scenic trails. For more information on the best places for trekking in Vietnam, check out this comprehensive guide. Additionally, if you're planning a trip to Sapa, make sure to explore the top things to do in Sapa for a truly unforgettable experience.
Motor bike in Ha Giang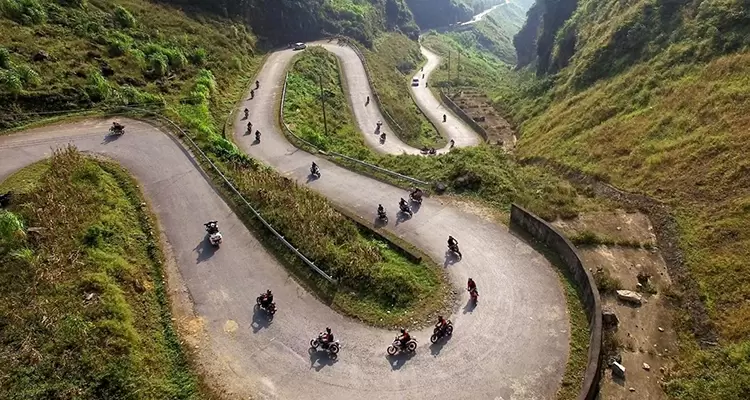 One of the most exhilarating experiences in Vietnam is embarking on a motorbike adventure through the breathtaking landscapes of Ha Giang. With its rugged mountains, winding roads, and stunning vistas, Ha Giang is a paradise for motorbike enthusiasts. Riding through the twisting passes and picturesque valleys, you'll be treated to awe-inspiring views at every turn. From the majestic Dong Van Karst Plateau to the vibrant markets of Meo Vac, Ha Giang offers a glimpse into the authentic beauty of rural Vietnam. If you're seeking an adrenaline-fueled escapade, exploring Ha Giang on a motorbike should be at the top of your things to do in Ha Giang list
Special experience to discover the mountainous province of Vietnam, the trip is good for young and adventure visitors. Contact Vietnam Travel for more details and the best offers.
The Ha Giang loop is a road route in the extreme north of Vietnam. It's called the Ha Giang Loop because the route flows in a loop through the Ha Giang province. The capital city of the province is also called Ha Giang and this is where most people start and end their ride. Riding up, over and through this epic mountainous region on a motorcycle is the absolute best way to really, viscerally experience it. The Ha Giang Loop Tour offers visitors the ultimate adventure experience as they weave their way through this beautiful region. Along the route, you'll traverse breathtaking mountain passes, visit remote villages and enjoy incredible views of rice terraces, waterfalls, and rivers. It's incredibly beautiful with stunning mountain landscapes and roads that climb through the clouds before plunging into valleys. You'll experience Vietnamese culture like nowhere else here as it's common to bunk in homestays and eat dinner with families.
Visiting Ha Long Bay
Ha Long Bay is a stunning natural wonder that is located in the northeast region of Vietnam. This UNESCO World Heritage site is known for its breathtaking beauty, with its emerald green waters and thousands of towering limestone karsts. If you are visiting Vietnam, you don't want to miss the opportunity to visit Ha Long Bay. Here are some top things to do while you are there:
Going on a boat tour: A boat tour is the best way to experience Ha Long Bay, and there are many options available, ranging from luxury cruises to more basic tours. You can choose a tour that fits your budget and interests, and you will get to see the best parts of the bay while learning about its history and culture.
Exploring the caves and grottoes: Ha Long Bay is home to many breathtaking caves and grottoes, and you can visit some of the most famous ones on a tour. These include the Surprise Cave, the Sung Sot Cave, and the Thien Cung Cave. Each cave has its own unique features, and you will be amazed by the stalactites, stalagmites, and other natural formations that you will see.
Trying seafood caught fresh from the bay: Ha Long Bay is known for its seafood, and you can try dishes like steamed oysters, grilled squid, and more while you are there. The seafood is caught fresh from the bay, so you know that it is going to be delicious. Be sure to try some of the local specialties while you are there!
Kayak in Halong Bay: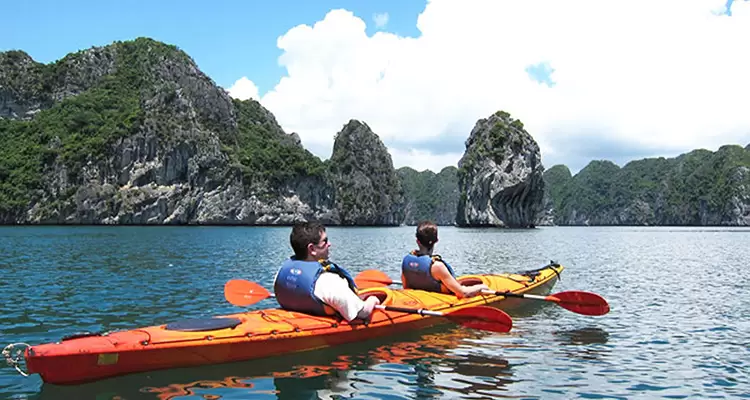 Halong bay is one of the top attraction of Vietnam, kayaking through Halong Bay is a must-do bucket list activity and by far the best way to explore all that the bay has to offer. Sliding through the water in a nifty kayak gives travelers more independence, and allows them to reach the shallow water that the cruise cannot get able to reach. Kayaking is included when you book a cruise on Halong bay so tick it in the list that you will join on 2 day or 3 day trip of your Halong cruise.
Ha Long Bay is an enchanting destination that offers a multitude of captivating experiences. Dotted with jagged limestone pinnacles, Halong Bay is one of Vietnam's biggest attractions. One of the most popular ways to explore this natural scenery is by embarking on a junk boat cruise or joining a sea kayaking expedition. With a plethora of activities to choose from, Ha Long Bay never fails to enthrall its visitors. Constantly topping lists of scenic destinations around the world, Halong Bay (also known as Ha Long Bay) is the perfect destination to kick back, relax, and admire the views. If you're looking for a luxurious experience in Ha Long Bay, consider taking one of the best Ha Long luxury cruises. These cruises offer top-notch amenities and services to ensure that your trip is unforgettable.
Trekking in Mai Chau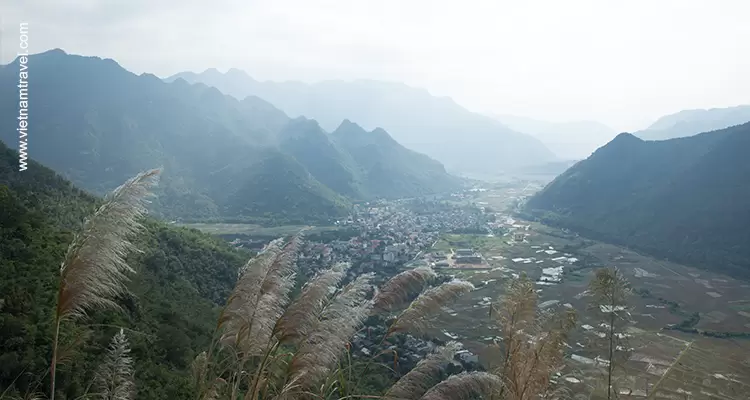 Mai Chau is a village of White Thai people in Mai Chau valley, Hoa Binh Province. It is 146km from Hanoi, about 3 hour drive passing many mountains and hills. Mai Chau trip is always nice and fun. You should spend 2 day for Mai Chau when you plan a trip.
Even though BanLac village and Pom Coong village getting too touristy but Vietnam Travel always preserve some of the best treking route in Mai Chau for their own clients. Our driver and guide really know the area, the great timing to make your trip is unique and enjoyable. We have many friends there and we even know how to cook the best authentic local food for our clients here too.
Trekking in Mai Chau is not very popular, but you can take long walks on the narrow paths between the villages. However, many travelers who visit this region choose to do this by bicycle. In the nearby Pu Luong Nature Reserve you can make treks through the mountains and terraced rice fields. VietnamTravel.Com can arrange a guide that can show you around or you can choose to go trekking yourself between the villages in the valley. While walking you can enjoy great views over the rice fields and explore the villages of the Thai ethnic minorities that live in stilt houses. Trekking Mai Chau Vietnam offers a balance of culture and adventure, set among some of northern Vietnam's most stunning scenery.
Cooking class in Hanoi/Hoian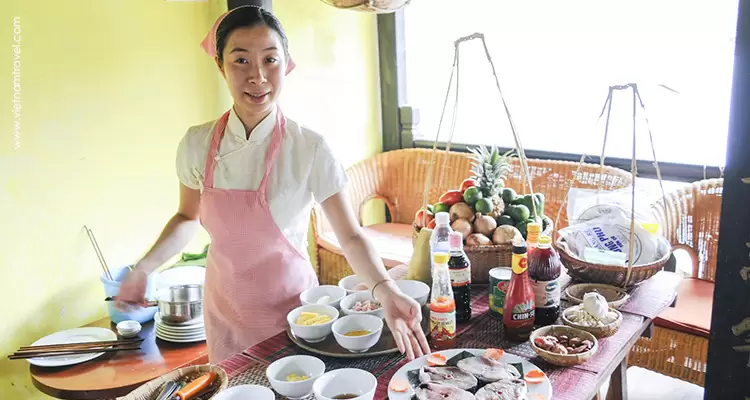 The World know more about Vietnam by the Wars and Vietnam Food. With the amazing supply of local farm products and source of fish and prawn from 3,260km of coastal lines and system of rivers. Vietnam has amazing material of their own cooking. Vietnamese has great methods to process their food in the nice and freshly food. During the visit to Vietnam, we highly recommend you to take a cooking class and get to know more about local culinary. Hoi An cooking tour is highly recommended.
One of the most unforgettable experiences in Vietnam is taking a cooking class in Hanoi or Hoi An. These classes offer a unique opportunity to learn about the local culture and cuisine. You'll have the chance to visit a local produce market, learn about the ingredients used in Vietnamese cooking, and then prepare and enjoy a delicious meal. If you're interested in learning more about Vietnamese cuisine, be sure to check out Vietnam Travel's guide to Vietnamese Cuisine
Eco tour in Hoian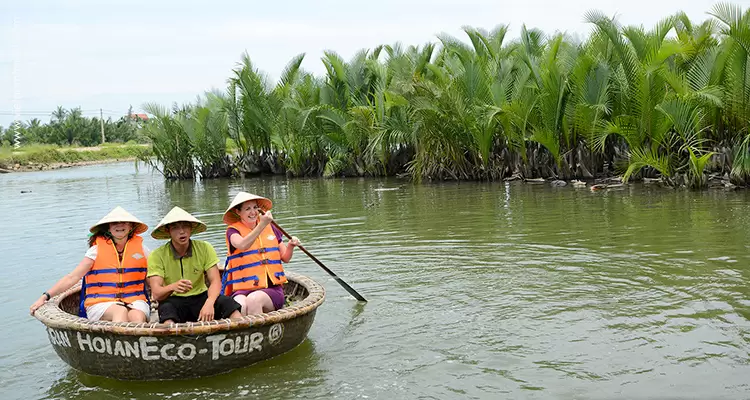 There are plenty things visitors can do in Hoian. The narrow lanes are ideal for guided walking tours. You could visit the old merchant's houses with influences from Chinese, Japanese and Vietnamese architecture; the 400-year-old Japanese Covered Bridge, the Assembly Hall of the Chaozhou Chinese Congregation with outstanding wood carvings…. But when visit Hoian, we highly recommend you to take a day of Eco tour outside the city and get to know more about countryside of Hoian and experience the slow pace local life with many activities on the farm, and river of farmer & fishermen in Hoian.
An eco-tour in Hoi An is a great way to experience the rural life and natural beauty of Vietnam. You can explore the Bay Mau Coconut Forest, Tra Que Vegetable Village, Kim Bong Carpentry Village, and Thanh Ha Pottery Village. These tours offer unique experiences such as basket boat rides, fishing, and cooking classes. It's a great way to immerse yourself in the local culture and learn about traditional Vietnamese practices. If you're planning a trip to Hoi An, be sure to check out our article on the 6 essential things to do in the city.
Biking in Hoian countryside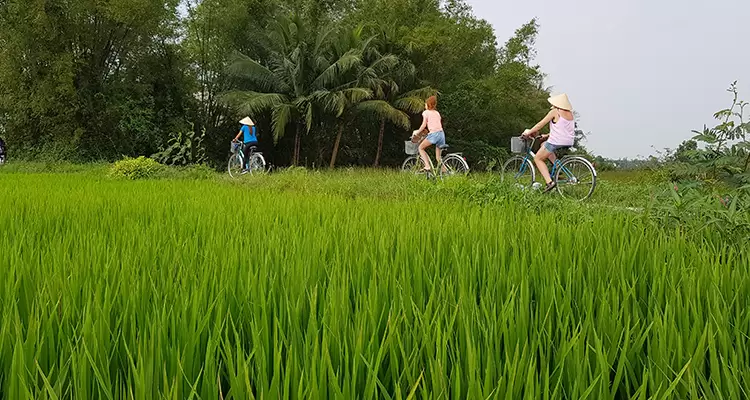 Hoian town is small in term of size, walking is good to visit the old town of Hoian.
When you want to discover the countryside of Hoian, we suggest you to take the bike to villages. It is safe to travel here by bike and you could enjoy the countryside better in the quiet and leisuring way out in the sun.
Another great thing to do in Vietnam is to go biking in Hoi An countryside. Hoi An is a charming ancient town that is famous for its lanterns, tailor shops, and historical buildings. But beyond the town, there is a beautiful rural area that you can explore on two wheels. You can cycle through rice paddies, vegetable gardens, fishing villages, and coconut forests. You can also visit local artisans, farmers, and fishermen and learn about their crafts and lifestyles. Biking in Hoi An countryside is a fun and relaxing way to experience the authentic culture and nature of Vietnam.
Motorbike from Hue to Hoian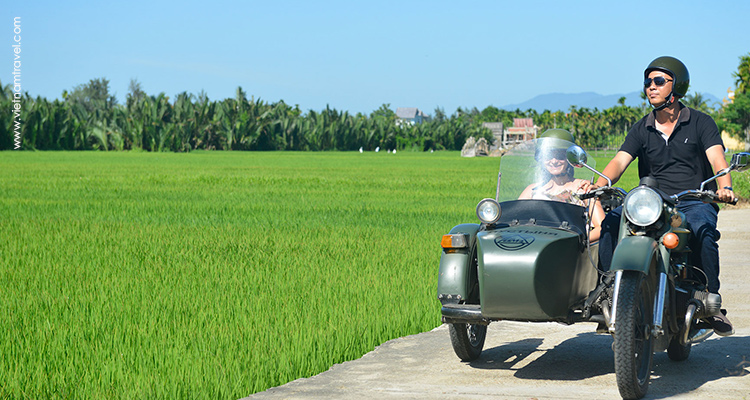 Hue to Hoian is about 130 km or about over 4 hours by motorbike. The first part you will drive along the national highway passing the countryside with lots of rice field up to Phu Bai then passing the area near the sea with lot of fish farm in Tam Giang. This area is flat and motor biking is leisure. From Lang Co beach you start to drive up the mountain passing the Hai Van pass with spectacular view of the mountains and the ocean. The third part of the way passing Danang to Hoian, you will drive on the flat road along the sea. Whole the trip is great experience and this motorbike trip is good for the young and well-travelled ones.
One of the most thrilling and scenic things to do in Vietnam is to motorbike from Hue to Hoi An. This route takes you along the famous Hai Van Pass, a winding road that offers stunning views of the coast and the mountains. You can also stop at various attractions along the way, such as the Marble Mountains, Lang Co Beach, Elephant Springs, and My Son Sanctuary. Motorbiking from Hue to Hoi An is a great way to experience the diverse landscapes and cultures of central Vietnam.
Vespa tour in Hanoi/Saigon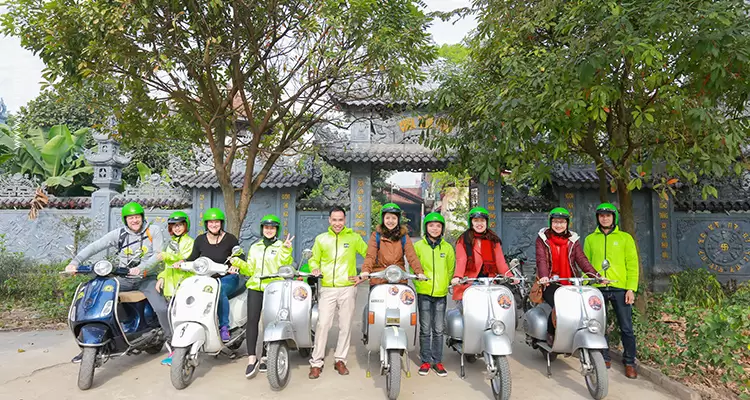 Vespa or Moped trip in Hanoi & HCM City operated by the local team of Vietnam Travel, Discover the city to all the hidden part as a local and gain the interesting experience that regular traveler cannot get to when they travel by car. Contact Vietnam Travel for more details and the best offers.
A Vespa tour is a great way to see the sights of Hanoi and Saigon. You can zip around the bustling streets, explore the historical landmarks, and get a feel for the local culture. There are many different tours to choose from, so you can find one that fits your interests and budget. If you're looking for a unique and memorable way to experience Vietnam, then a Vespa tour is a great option.
Immerse yourself in the Golden rice in Mu Cang Chai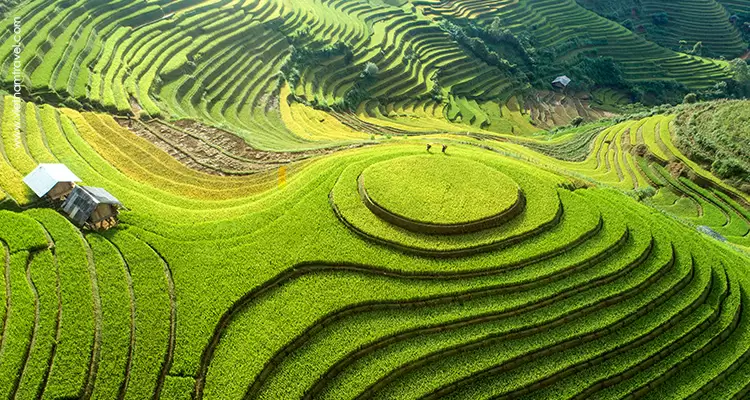 Mu Cang Chai is located 180 kilometers away from Yen Bai city. The only transportation to get there is by road so you could choose either motorbike or private car. If you choose private car, it take more than 8 hour drive about 280km. Public bus from Hanoi to Yen Bai Then another bus Yen Bai to Mu Cang Chai. The route condition is very bad so you have to take about 1 day to arrive by bus.
The best part is the stretch of hazardous roads spreading out for tens kilometers of infinite and primeval landscapes, grandiose ranges of mountains and the peaceful and poetic picture of ethnics' houses covered by terrace fields. Visit Mu Cang Chai in June when they planting rice or best in Sept in harvesting time is highly recommended.
Diving in Hoian/NhaTrang/Phu Quoc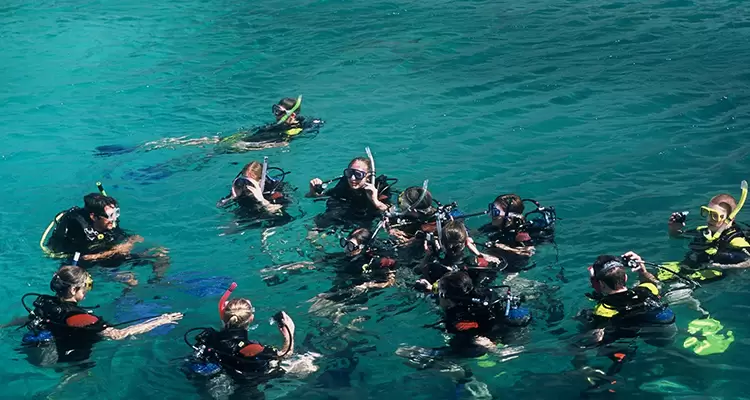 Diving is new in Vietnam, the sea water is not as clear as you may see in Thailand or Australia, but when your time is permitted, you could choose half day trip of diving. there is nice experience that you will gain more than other destination in the World. relax on water, enjoy the drink on a floating bar is one of them. The trip is for the young and adventure lovers. You will like it.
Mud bathing in Nha Trang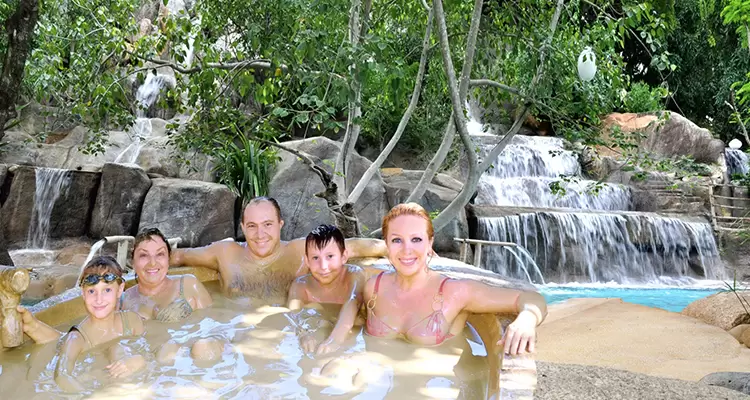 Nha Trang is modern city by the sea. There are lots of activities for visitors to Nha Trang from island tour to city tour where you visit Temples, Church, Central market… but there is a nice experience to deep in the herbal mud as the special method to take care your skin and your health. Note this activity when you plan the trip to Nha Trang, you will love it.
Zipline in Hue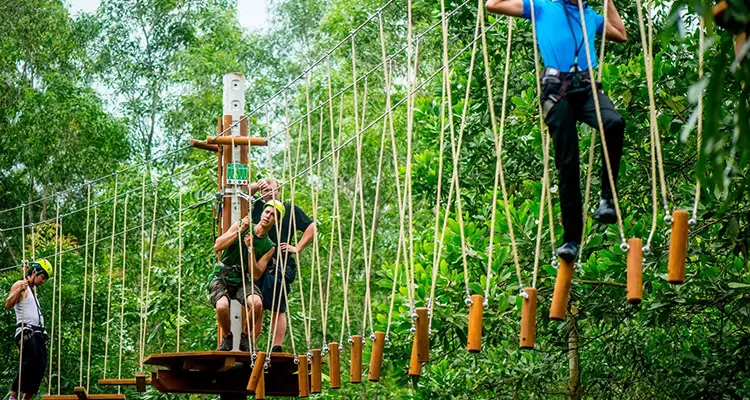 When you have more time in Hue Vietnam, let s take a half day trip to gain more adventure experience beside Temples and Mausoleum. Hue has many activities waiting for you to discover.
Watching culture shows like: Tonkins, WPS, My Village, Ah Oh…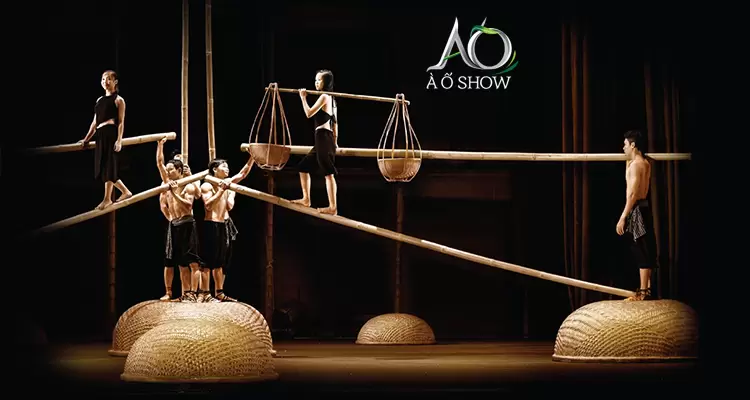 Beside Water puppets, now Hanoi has more shows for local and visitors and truly enjoy the culture and arts of Vietnam. Contact us and let us know your time and your interest. we will recommend you the best show of the day.
Visiting traditional Craft villages: Hanoi, Hue, Hoian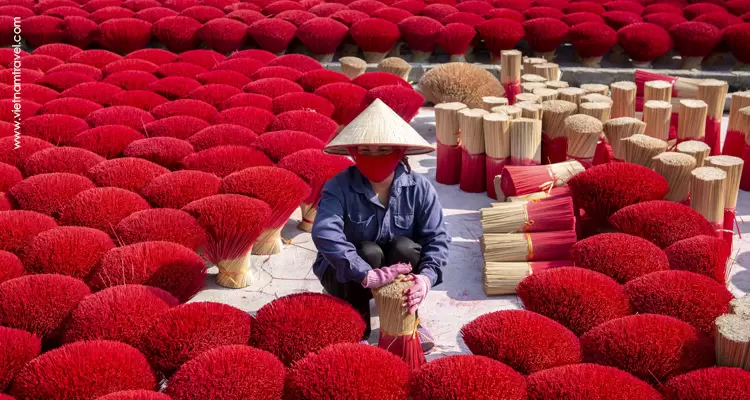 Vietnam Travel offer a special full day trip to vicinity of Hanoi and discover the interesting villages that regular visitors dont reach too. The itinerary is changes to the season and date of travel to make sure you will gain the best experience of countryside and villages of Vietnam. Let us know your travel date and we will arrange you the special plan for your best Vietnam experience.
Taste the food of Vietnam (foodie tour in Hanoi, Hue, Hoian, Saigon)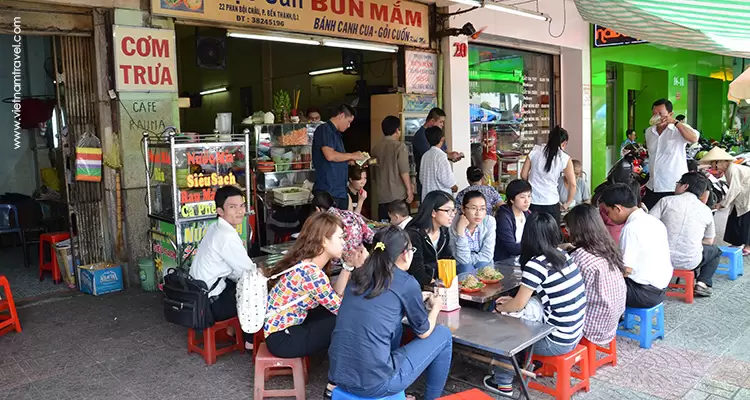 One of the best things about traveling to Vietnam is the opportunity to try the delicious and varied cuisine that the country has to offer. From the spicy flavors of the north to the sweet and savory dishes of the south, Vietnam's food is a true reflection of its culture and history.
If you are a foodie looking to experience the best of Vietnam's culinary scene, there are many options available to you. In Hanoi, you can go on a food tour and sample some of the city's famous dishes, such as bun cha and pho. You can also visit local markets and try street food, or take a cooking class and learn how to make traditional Vietnamese dishes.
Other cities in Vietnam that are known for their food include Hue, Hoian, and Saigon (also known as Ho Chi Minh City). Each of these cities has its own unique culinary traditions, and you can find a wide variety of dishes to try while you are there. Whether you are looking for street food, fine dining, or something in between, Vietnam has something to offer every food lover.
Hue is good place to taste many royal dishes in the restaurant and lot of good food on the sidewalk. Food on the street is reasonable and good. Seating on the low plastic chairs and enjoy the Bun Bo Hue or Nem Lui would be fantastic.
So don't miss the opportunity to taste the delicious and diverse food of Vietnam during your visit. You'll be sure to find something that you love, and you'll be able to take home some new culinary skills and memories.
Experiencing the Mekong Delta
The Mekong Delta is a beautiful and vibrant region of Vietnam that is located in the southern part of the country. This area is known for its rice paddies, waterways, and friendly locals, and it is a great place to experience the authentic culture of Vietnam. Here are some top things to do while you are in the Mekong Delta:
Taking a boat ride through the waterways: The Mekong Delta is crisscrossed by a network of waterways, and the best way to experience the region is by boat. You can take a boat ride through the waterways and see the local life up close. You'll pass by floating markets, villages, and rice paddies, and you'll get to see how the people of the Mekong Delta live and work.
Visiting local markets: The Mekong Delta is home to many bustling markets where you can find a wide variety of goods, from fresh produce to handmade crafts. You can wander through the markets and see what the locals are selling, and you might even find some souvenirs to take home with you.
Staying with a local family in a homestay: One of the best ways to experience the Mekong Delta is by staying with a local family in a homestay. You'll get to live with the family, eat their food, and learn about their way of life. This is a great way to get a true sense of the local culture and make lasting memories.
Visiting floating market

Can Tho is the basket of fruit in Mekong delta. 2 day trip allow you to experience the life of local and enjoy great food with lots of activities. We highly recommend you to attend the early morning market by boat on Mekong river in Can Tho. Cai Rang floating market is the one you would love to see. After the market, you should visit the fruit farm then go back to HCM City or continue your trip to Chau Doc with lunch en-route.
Visiting Ho Chi Minh City
Ho Chi Minh City, also known as Saigon, is the largest city in Vietnam and a vibrant, bustling metropolis. This city is a melting pot of cultures, and it is a great place to experience the modern side of Vietnam. Here are some top things to do while you are visiting Ho Chi Minh City:
Seeing the sights at the Vietnam War Remnants Museum: The War Remnants Museum is a powerful and thought-provoking museum that chronicles the history of the Vietnam War. It is a must-see destination for anyone interested in the country's history, and it is a sobering reminder of the atrocities of war.
Exploring the Cu Chi Tunnels: The Cu Chi Tunnels are a network of underground tunnels that were used by the Viet Cong during the Vietnam War. You can visit the tunnels and learn about the history of the war while crawling through the narrow passageways.
Visiting the Notre Dame Cathedral and Central Post Office: These two iconic landmarks are located in the heart of Ho Chi Minh City and are worth a visit. The Notre Dame Cathedral is a beautiful example of French colonial architecture, and the Central Post Office is a historic building that is now a popular tourist attraction.
Going on a food tour: Ho Chi Minh City is a food lover's paradise, and there are many delicious dishes to try while you are there. You can go on a food tour and sample some of the local specialties, or you can explore the Ho Chi Minh city's street food scene on your own. There is something for everyone in Ho Chi Minh City, so be sure to come hungry!
Vietnam is a country with a rich culture and a diverse range of activities and experiences to offer. From exploring the city of Hanoi to visiting the beautiful Ha Long Bay and experiencing the Mekong Delta, there is something for everyone in Vietnam.
If you are planning a trip to Vietnam, be sure to include these top things to do on your itinerary. And don't forget to take the time to wander and explore on your own, as you never know what you might discover. Vietnam is a beautiful and welcoming country, and we hope that you have a wonderful time there.