Ao Dai – Traditional Dress of Vietnam – Asia Highlights
Vietnam's national dress, the áo dài is one of the country's most striking symbols of beauty. Over hundreds of years, the áo dài has evolved alongside Vietnam, going from regal to practical, humble to high fashion, and back again. The Vietnamese áo dài  is appreciated by the young and old alike, and its elegant lines flatter both men and women. If you're interested to learn more about the story of áo dài and tips for making your own, read on.
The story of áo dài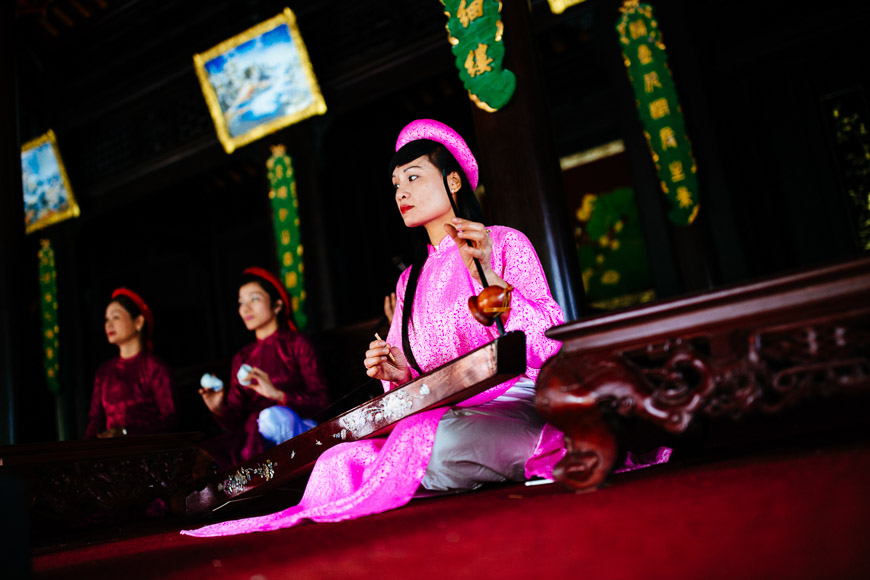 The story of the áo dài starts in 1744, when Vietnam was divided into two territories, the Inner Land (Đàng Trong) and Outer Land (Đàng Ngoài.) To distinguish his people, Lord Nguyễn Phúc Khoát of Inner Land asked his subjects to wear a front-buttoned gown with trousers. This five-part dress (áo ngũ thân) was the inspiration for the modern áo dài. Royals and elites made their dresses from the finest silk, with intricate details and vibrant colours to represent rankings in court.
In the 1930s, the dress was simplified into two parts by Vietnamese artist Le Mur Nguyễn Cát Tường. The front flap was extended to reach the ankle, and the form became more fitted. As with many 'westernized' ideas, the style was only reluctantly received at first. However, after Le Mur designed an áo dài collection for Queen Nam Phương, wife of Vietnam's last Emperor Bảo Đại, urban women started to embrace and popularize the more contemporary style.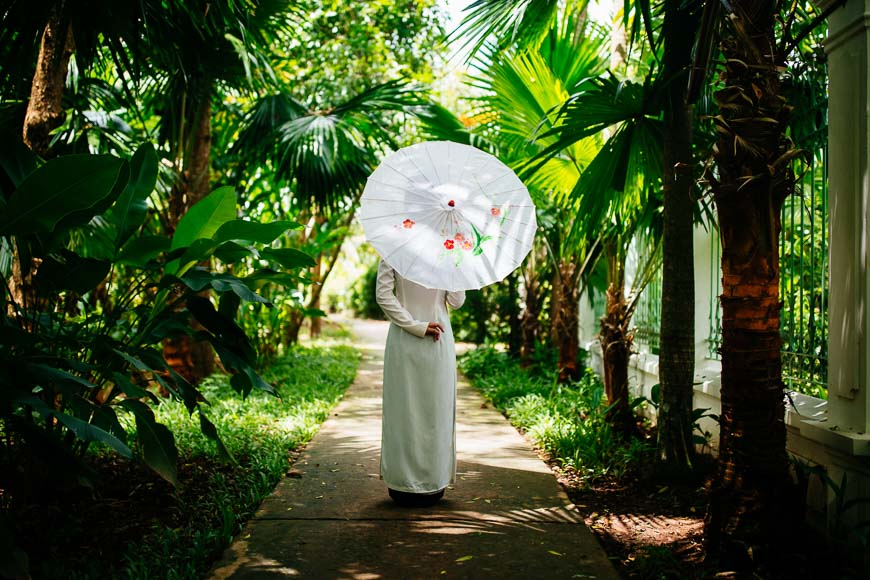 After the establishment of the Democratic Republic of Vietnam, Hồ Chí Minh penned an essay in 1947 noting that the áo dài was not fit for the fields or the factory, asking Vietnamese to adapt their attire to be more efficient for work. As a result, the áo dài became a dress saved for professional appearances and special occasions. Nowadays, across the country, female highschool students are required to wear the dress for at least one day a week. Girls in white áo dài riding their bicycles to school have inspired many Vietnamese songs, poems, and paintings. The áo dài is also worn by ladies of all ages whenever it's time to make a good impression.
Modern styles of áo dài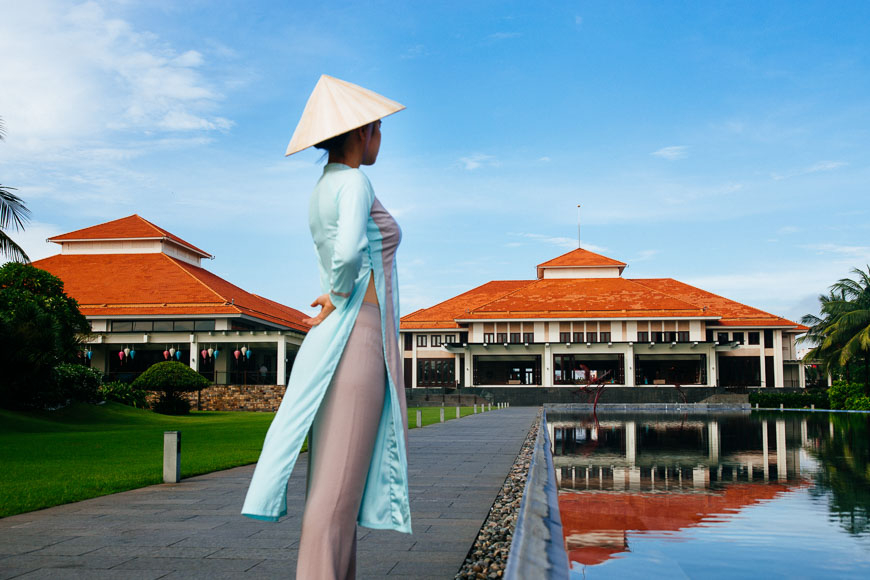 Boat neck, cropped length, short sleeves–modern designers are not afraid to explore creative routes when it comes to áo dài. Some of these new takes on the traditional dress have made it more practical, which means they can be worn in less formal settings. Knee-length styles are convenient for wearing on motorcycles and bicycles, and you'll see a variety of more casual collars worn on summer days, including scoop neck and boat neck styles.
---
When to wear áo dài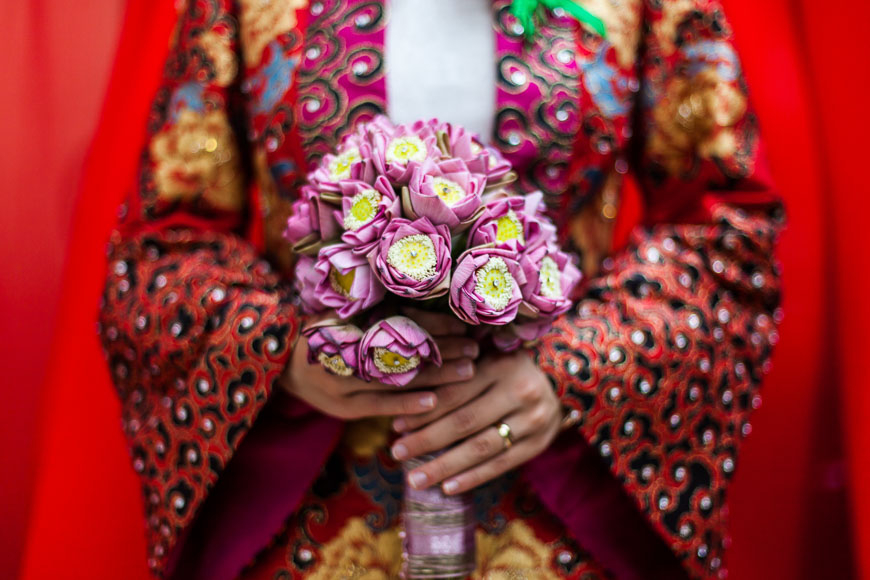 Vietnamese women love wearing áo dài for photo shoots in beautiful settings. Golden Autumn days in Hanoi call for photo sessions around Hoàn Kiếm Lake. During Tết (Lunar New Year) you'll see the dress in all its glory as women wear it to visit friends and family, and pay tribute at temples and shrines. A wedding is the perfect time to wear one's best áo dài. In Vietnam, the bride and groom and the wedding entourage will wear elaborate áo dài at the traditional ceremony, then guests will show up for the reception in simpler but equally colourful designs.
TIP: For a look at the place of áo dài in Vietnamese fashion, watch the film 'The Tailor' about an áo dài design house in Ho Chi Minh City. The movie was Vietnam's official entry for Best Foreign Language Film at the 2018 Academy Awards.
---
Áo dài colours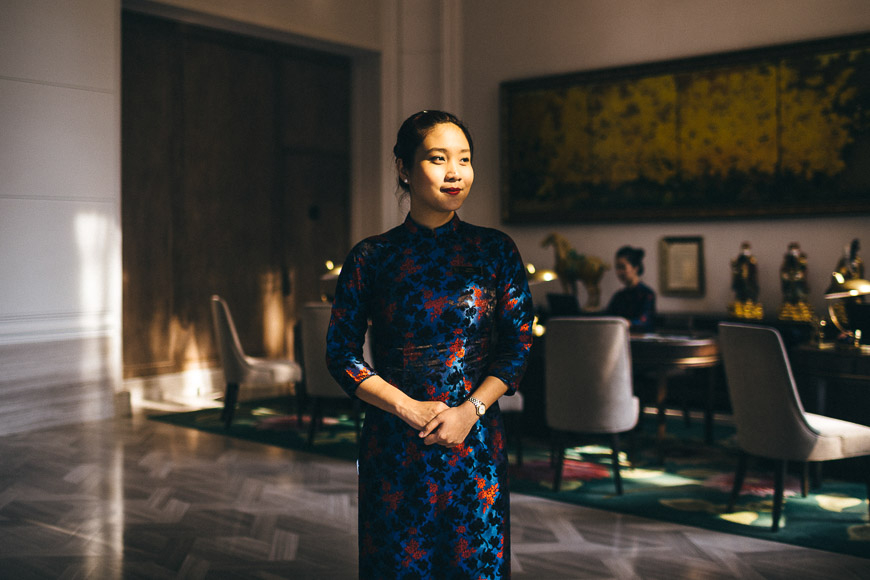 When choosing an áo dài, each colour has meaning. In Imperial times, gold was a royal colour and reserved for kings and queens. Red áo dài are worn during Tết for luck and prosperity. Brides and grooms may also wear red on their wedding day, so it's a good idea to come in a different colour if you're a guest. White symbolizes purity and innocence, as seen in the white dresses of highschool students, and black is most often worn at funerals. Vietnamese women also choose áo dài colours based on their element (metal, wood, water, fire, or earth) taken from their year of birth.
---
Making your own áo dài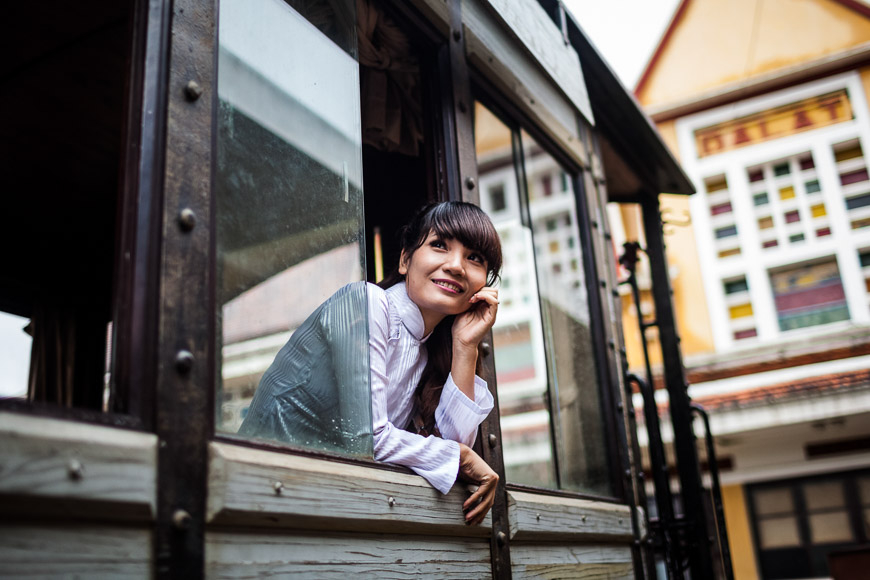 Anyone can wear áo dài as a way of showing respect. Fancy dinners, important meetings, and celebrations are all suitable occasions, just be sure to always wear your áo dài over pants or trousers. If you are looking for ready-to-wear áo dài, you will be spoilt for choice at shops in Hanoi's Old Quarter and the Hội An Ancient Town. Hội An's tailors can also make you an entirely new dress in a matter of days. Feel free to choose your own style and colours to add a personal touch. To create a personalised áo dài, visit Vạn Phúc silk village, 20 minutes from Hanoi. Here you can shop for high-quality silk from the source, learn about silk-making, get your áo dài tailored and take gorgeous photos among flowing silk ribbons.
source:vietnam.travel
---