Blackpink Concert in Hanoi, Vietnam – Born Pink World Tour 2023 – A-Z guide
Blackpink Concert Vietnam 2023 – It's time to touch your pink venom one more time this year.
This is the first time the Blackpink concert is taken place in Vietnam. And the release of this news has left a "burn" in not only these beautiful girls' fans in Vietnam, but also their fans in Vietnam's neighboring countries such as China, Thailand, Singapore, and in many other countries all other the world like the United States, Canada, etc. so far.
We have the ultimate guide on this event, not only about the time and place but also the ticket price and how to buy it.
Get's started now!
1. Is Blackpink Concert 2023 in Vietnam OFFICIAL?
Yes.
According to the official news, the application for Blackpink Concert in Hanoi, Vietnam was submitted to the Hanoi Department of Culture, Sports, and Tourism on June 30. And the Hanoi authorities are planning all necessary items for the event, including Healthcare, Security, etc.
2. When and where is Blackpink Concert in Vietnam?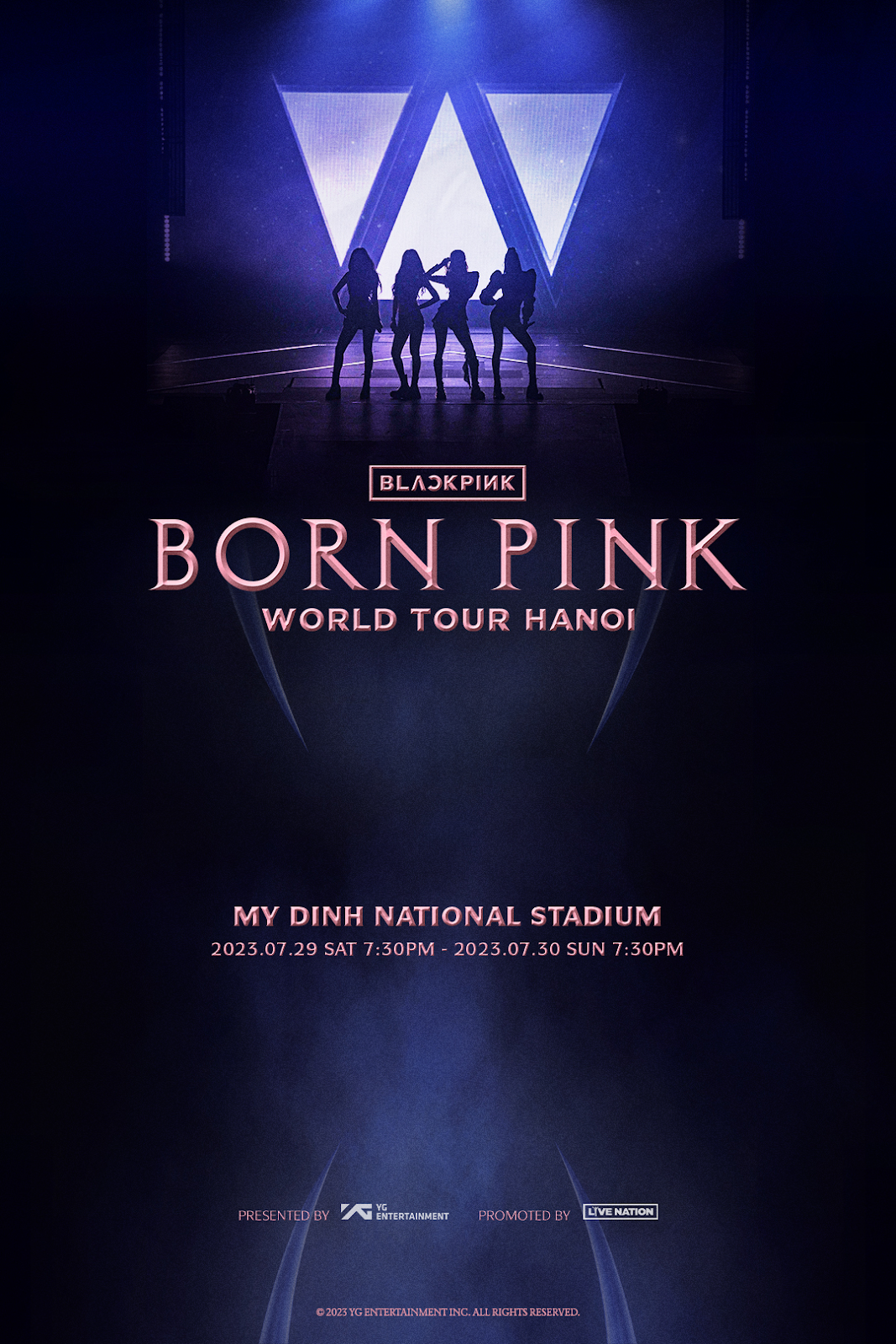 As  expected, the BLACKPINK's Born Pink tour in Vietnam will be taken place:
Location: My Dinh Stadium, No. 1 Le Duc Tho, My Dinh Ward, Nam Tu Liem District, Hanoi – the largest stadium in Vietnam with a capacity of more than 40,000 people.
Time: 2 nights, from 7:30 PM July 29 & 30.
Fast facts about My Dinh Stadium
Capacity: 40,192 seats
Designed with 4 stands

Stands A & B (on the East and the West): 25.8m high, 2 tiers and have cover.
Stands C & D: 8.4m high, 1 tier, without cover.

Major internetaional  entertainment events:

MTV Exit 2010 with appearance of Super Junior, a Korean boyband, Kate Miller, an Australian singer along with many Vietnamese singers
Gravity Tour 2011 by Westlife.
MBC's Music Core in 2012
KBS's Music Bank World Tour in 2015
Asia Artist Awards in 2019
BLACKPINK's Born Pink in July 2023, and
Twice's Ready-to-be World Tour concert in October 2023.
3. How much are the BlackPink 2023 Vietnam concert tickets?
As officially announced by the Organization Board of BORN Pink World Tour in Hanoi, the ticket price will range from VND 1,200,000 to VND 9,800,000, depending on the seating categories, specifically:
| | |
| --- | --- |
| Seat Categories | Price |
| CAT 5 | VND 1,200,000 ~ US$51 |
| CAT 4 | VND 1,800,000 ~ US$77 |
| CAT 3 | VND 3,800,000 ~ US$85 |
| CAT 2 | VND 5,800,000 ~ US$247 |
| CAT 1 | VND 6,800,000 ~ US$290 |
| PLATINIUM | VND 7,800,000 ~ US$332 |
| VIP | VND 9,800,000 ~ US$417 |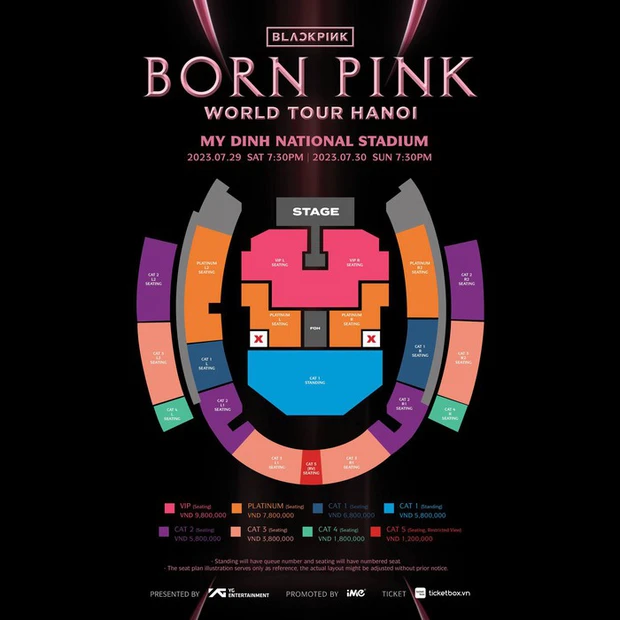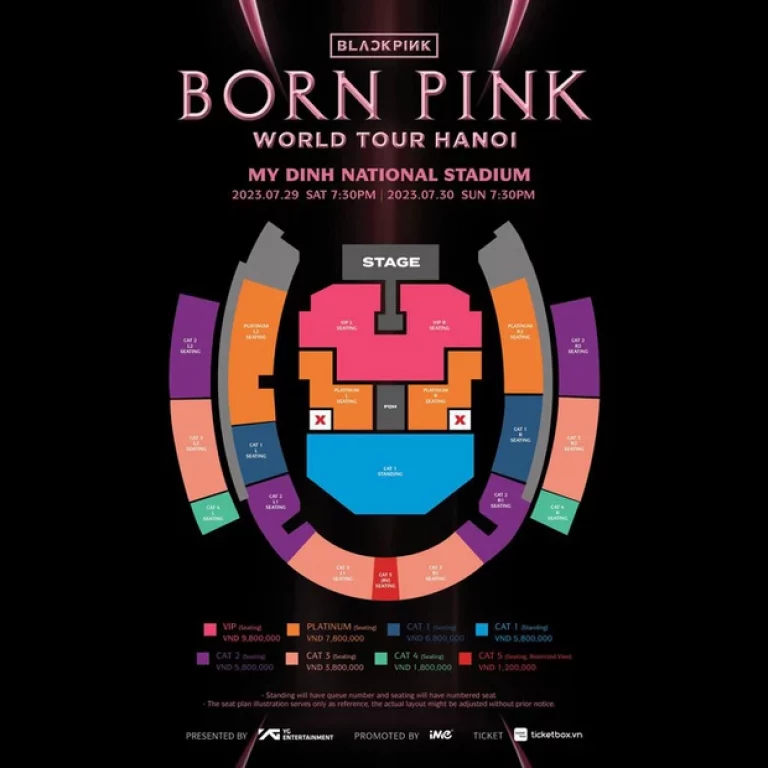 4. Where and how to buy Blackpink concert tickets in Hanoi?
As announced by YG Entertainment, the Blackpink Vietnam concert tickets will be available for sale on the Ticketbox system starting from July 7, 2023, at 12:00 PM (Vietnam Time, GMT+7).
The number of tickets is limited, so you should hurry up register an account on Ticketbox now, and buy your ticket right at the time it is available to guarantee your opportunity to meet and cheer for members Jennie, Jisoo, Rosé, and Lisa!
Notify me when there are tickets available
4.1 What is Ticketbox
Established in 2013, Ticketbox is one of the leading online ticketing platforms in Vietnam. This platform has, so far, been providing ticketing services for a wide variety of events, from community, music, culture, and sports to education, business, and social.
Ticketbox has certain advantages over other online ticketing platforms, including:
Ticketbox is available in bilingual, Vietnamese, and English. So, it will not be a big challenge for foreigners to buy a ticket themselves on this platform.
It comes with a secure and convenient payment system that accepts credit cards, ATM cards, and e-wallets.
In addition to the web-based version, Ticketbox also comes with a mobile app that allows users to log in, purchase, and manage their tickets easily on their smartphones.

Regarding the Blackpink concert Vietnam tickets: Ticketbox has become an official partner of YG Entertainment and IME Vietnam in selling those tickets to the fan community.
4.2 How to buy Born Pink tickets on Ticketbox
The process of buying tickets for the BlackPink concert in July 2023 at My Dinh Stadium (Hanoi) is straightforward and involves the following 8 steps:
Step 1: Visit https://ticketbox.vn/ or get the Ticketbox app on the App Store or Google Play.
Step 2: Log in to your Ticketbox account.
If you don't have an account, you will have to sign up for a new one with your phone number, facebook or email, or even Apple ID in case you use iOS App.

Step 3: Enter the event name you want to buy the ticket in the search field, "BORN PINK" in this case (will be available on July 7).
Step 4: Check all the event details, including the name, date, and venue, and then click on "Buy Now" button to proceed.
Step 5: The screen will automatically display the ticket purchase interface, including ticket types, prices, quantities, and seat selection, and a space for you to enter a discount code (if available). You will then need to fill in all the required information and click "Continue."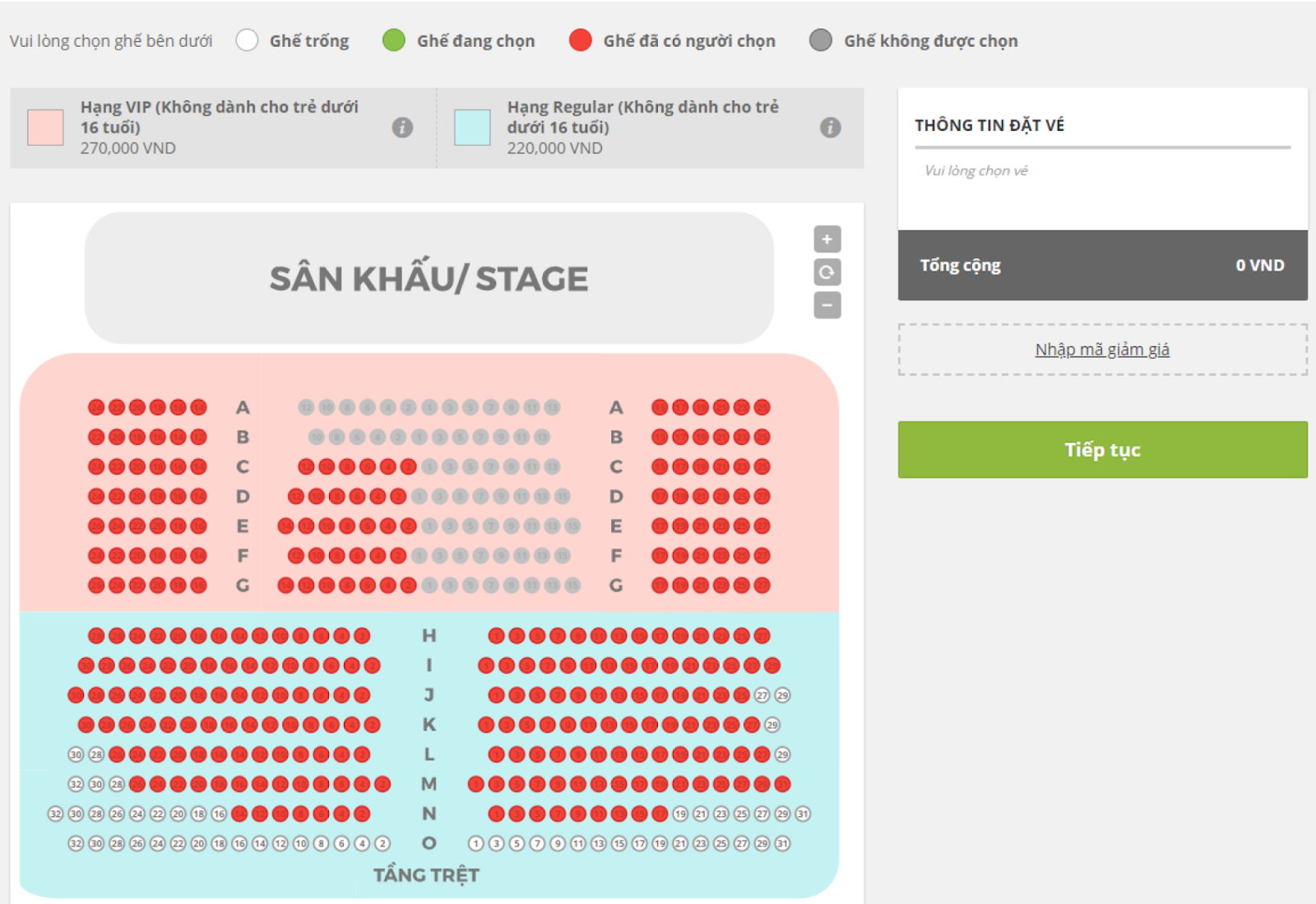 Step 6: Complete the customer information, including name, phone number, email, and confirm that you have read the terms and conditions. Then, choose the appropriate payment method, such as Internet banking, credit card, online payment, etc.
Step 7: Click "Complete Payment" to finish the transaction.
Step 8: Ticketbox will send your ticket information to your email immediately.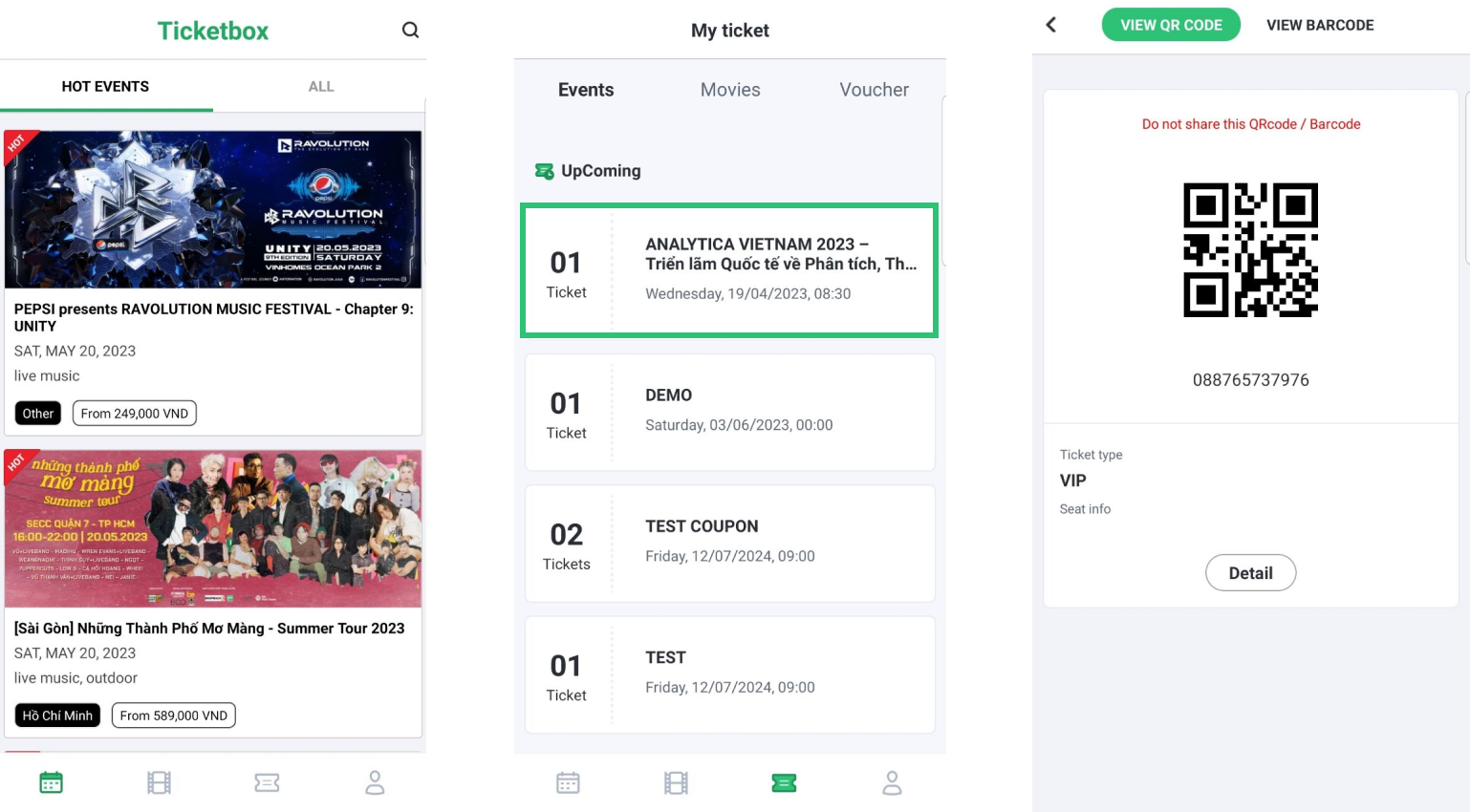 4.3 Important notes for successful ticket hunting
To hunt for Blackpink Vietnam tickets quickly, you should fill in your login information in advance as well as set up a payment method before the ticket opening date.
The fastest payment method currently is Momo which is only available in Vietnam. So, In case you have a Vietnamese friend, ask him/her to help you buy the ticket.
On the opening day of ticket sales (July 7), the traffic will be very crowded, easy to be congested, please calmly reload the page and access from places with a stable network connection (preferably using a computer to book tickets). )
When buying 2 or more tickets, you can fill in your information with the same name, no need to divide the name of the 2nd, 3rd, 4th ticket.
Each account can only buy up to 4 tickets, 2 tickets for a ticket type at maximum.
BLACKPINK concert tickets are non-refundable, exchangeable or transferable. If you are unable to attend the concert due to personal reasons, you can contact Ticketbox to consider special circumstances.
5. Useful Tips to Successfully "Enter the Music Party" with BlackPink
Here are some important tips for buying tickets and attending the Blackpink concert Vietnam that you should know:
Stay updated regularly on performance news (such as ticket sale dates, ticket quantities, ticket tiers, venue information, stage layout, etc.) through BlackPink's official Facebook, Instagram, Twitter, etc. This will help you stay informed about the latest changes (if any).
Familiarize yourself with the concert check-in process (such as whether you need to print physical tickets or if scanning the ticket barcode is sufficient, and which personal documents to bring), as well as the route to My Dinh Stadium and parking areas to facilitate a smooth entry.
Check the weather forecast for the capital city during the concert period to prepare appropriate and comfortable attire.
Don't forget to book your accommodation in advance to avoid room shortages.
Don't forget to buy a prepaid Vietnam eSIM to keep you stay connected in Vietnam.
Don't forget to check your Vietnam visa requirements to make sure your Vietnam entry will not be refused.
If you don't reside in Hanoi, in addition to concert tickets, you need to budget for flight tickets, accommodation, dining expenses, etc., for the duration of the two-day event.
From: Vietnam-visa.com