The 11 Best Places To Visit Dalat
Stunning natural landscapes range from Langbiang Mountain, Xuan Huong Lake to the Valley of Love. Regarding cultural and historical sites, tourists can admire Bao Dai Summer Palace and Domaine de Marie Church. Plan your itinerary more perfectly and easily with the list of 11 worth – visiting attractions in Dalat City below.
Langbiang Mountain Dalat
Langbiang Mountain which is sometimes called Lam Vien Mountain stands beautifully on Langbiang Plateau in Lac Duong District, only 12 kilometers from Dalat Downtown. The mountain features a desirable tourist destination and a legend about a passionate love.
It was named after two ethnic people renowned for their love story, the boy named K'lang and the girl named Ho Biang. They were deeply in love but could not get married. One said that they finally decided to overcome the obstacle and get married. One day Ho Biang was ill seriously and died despite K'lang's great effort to save his wife. K'lang then came back Ho Biang's tribe to inform about her death.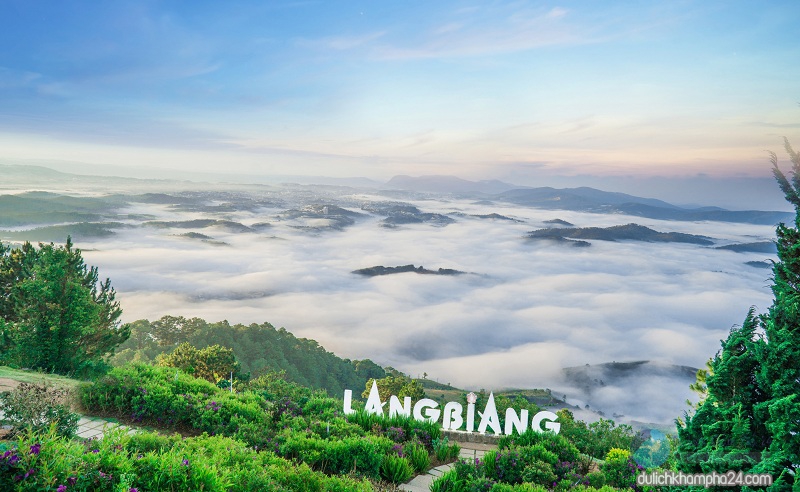 Photo : dulichkhampha24.com
However, because the tribe hated him so they managed to kill him by a bow and a poisoned arrow. Suddenly, Ho Biang appeared to save him and died by the arrow. After that K'lang also died and his tear turned into a lake called Dankia (the lake of the Golden Stream) now.
Langbiang Mountain nowadays is considered the roof of Dalat with two peaks, Lang Biang (2167m) and Bidoup Ban (2287m). From there, tourists can enjoy spectacular views of the nature with green valley and Golden & Silver Streams. Trip to Langbiang Mountain is exclusively perfect for groups of friends and families to go camping, bird-watching and enjoy the natural flora.
The tourist destination can be reached easily by both car and motorbike. Tourists can choose Jeep car or go trekking from 3 to 4 hours to conquer the peak.
Dalat Railway Station
Dalat railway station is situated at no.1, Quang Trung Street, Ward 10 in the heart of Dalat City. Nowadays, it boasts the oldest railway and the finest feat of French colonial engineering in Vietnam, drawing great tourists' attention.
In terms of architecture, the station is strongly influenced by Art Deco style blending perfectly into the nature and local culture. The structure consists of three high pointed roofs. Each roof consists of multi-color glass windows and the upper part of the central one features a huge round-shaped clock.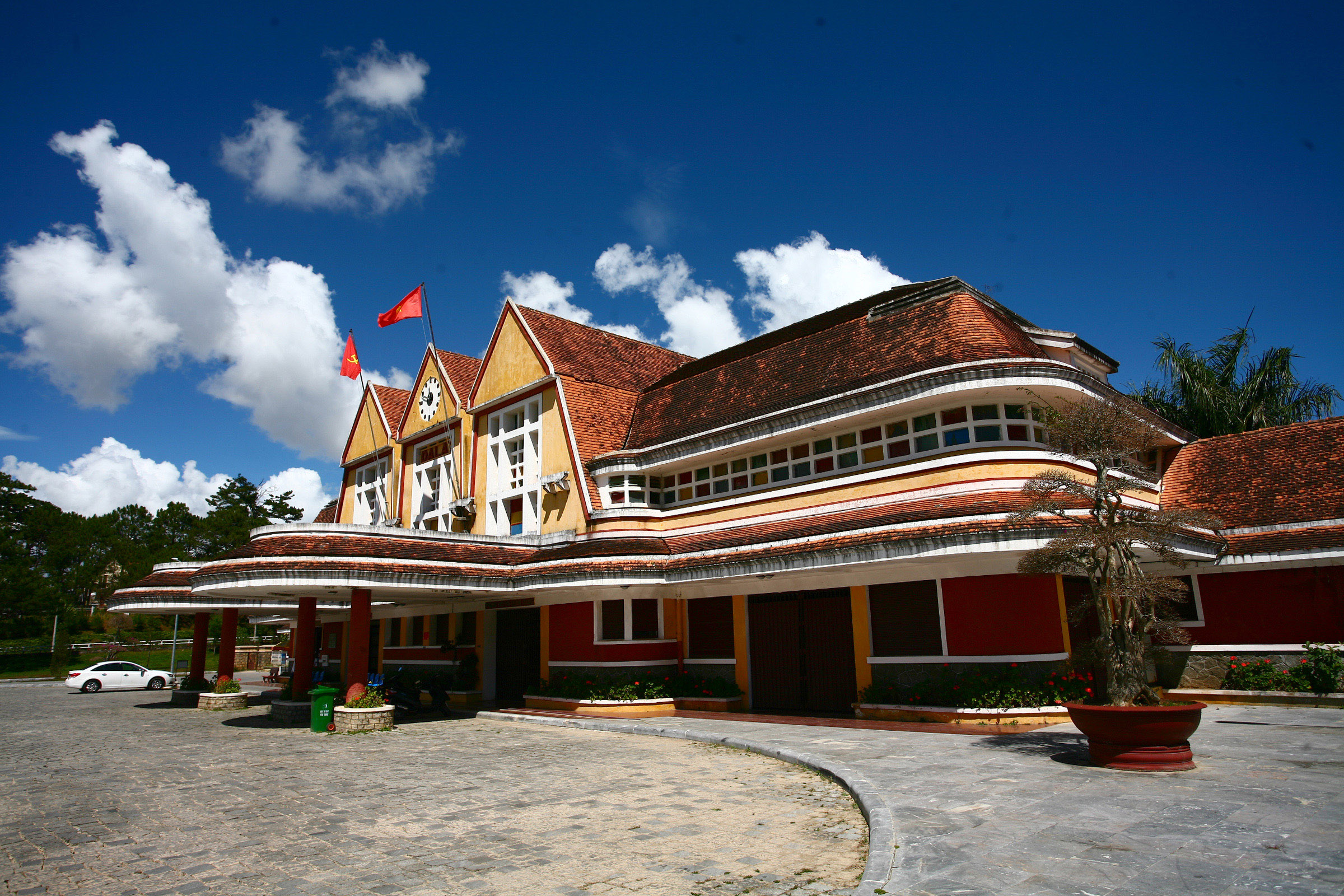 Photo : taptrikientruc.com.vn
Originally, there were two railways, from Dalat to Nha Trang and from Dalat to Saigon. Of which, the Dalat – Thap Cham (Nha Trang) railway offered a distinct feature of 16 kilometer cog railway over the total length of 84 kilometers. However, during Vietnam wars, the railways and the station were destroyed seriously and they were repaired after the national unification in 1975.
During the visit to the train station, tourists should not skip a train trip from Dalat to Trai Mat station within about 30 minutes, operated 5 times per day (07:45 am, 09:50 am, 11:55 am, 02:00 pm and 04:05 pm). Ticket price is 106000 VND/ foreigner and 72000 VND/ Vietnamese.
Xuan Huong Lake
Xuan Huong Lake lies conveniently in the center of Dalat City. It has gained a great popularity among tourists and local inhabitants in the foggy land for a long time due to the serenity and charming beauty.
The history of this man-made lake is distinctive like no other ordinary lakes in Vietnam. Back to the old time, in 1919 and 1923, there were two small lakes created by two dams on a branch of Cam Ly River. However, they were unfortunately destroyed by a large storm in 1932.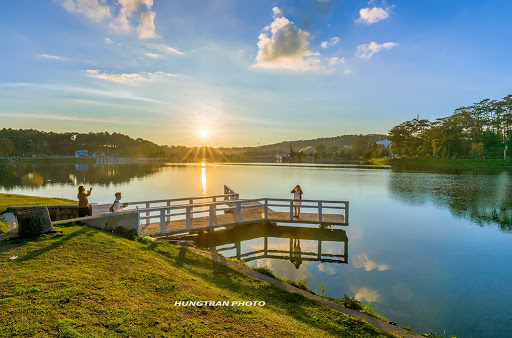 Photo by @HungTran Photo
Later, in 1934 and 1935, a larger dam was formed to create a huge lake, which was called Grand Lace (large lake) by the French colonists. The name of the lake nowadays is also special itself as it was dedicated to the name of the Vietnamese famous female poet – Xuan Huong in 1953.
This crescent-shaped has the perimeter of about 5 kilometers and the surface is mostly quiet making the favorable site for city dwellers and visitors to relax. There are several leisure activities which are worth trying on and around the lake.
For instance, tourists can simply take a stroll along the lake bank to enjoy the fresh and dust-free atmosphere or try pedal-boating on the lake in which swan boat ride is the most interesting suggestion. Also, tourists, especially honeymoon couples are highly recommended to rent a tandem bike with only 20000VND/ hour to ride around the place.
Bao Dai Summer Palace
Dalat City is not only attractive to tourists with beautiful landscapes and temperate climate but also a variety of French colonial structures. Among those, Bao Dai Summer Palace which is located on Trieu Viet Vuong Street, 2.5 kilometers south of Dalat City is the worthiest villa to visit. Bao Dai Summer palace is a refurbished museum which was built from 1933 to 1937 under the reign of King Bao Dai, the last king of the Vietnam feudal court. The palace is also known as the Palace 3, as it is one of the three palaces of Bao Dai in this city. Regarding the architecture, the villa was built as a luxurious getaway for summer escape of King Bao Dai and the royal family featuring Art Deco style and surrounded by lush pine forest. However, after the return of the French to Vietnam, this palace was also utilized as a working office for the King.
Photo by @Diane Selwyn
The 2 – storey structure is comprised of 25 rooms well – appointed with amenities. The ground floor features the working place of the King while the second floor is the living space of the royal family. Visitors can freely discover bedroom of the king with moon balcony to admire the moonlit evenings. Nowadays, the palace is accessible easily by both car and motorbike. The opening time is from 7 am to 11 am and 1.30 pm to 4pm with low entrance fee of $1.
Hang Nga Guesthouse and Art Galery (Crazy House)
It is hard to meet a tourist who has once been in Dalat City without visiting Hang Nga Guest House which is acclaimed as a masterpiece. This special structure is also known as the Crazy House, situated at 3 Huynh Thuc Khang Street, Dalat City.
The Crazy House was designed by Dang Viet Nga in 1990, featuring whimsical structure. The tourist site is different from other normal structures because of its bizarre concept and tree – like shape which surpass people's imagination. Covering an area of over 1600 square meters, Hang Nga guesthouse is home to nearly a dozen of rooms resembling a tree with uneven windows, tunnel – shaped stairways and concrete sculpture of wildlife.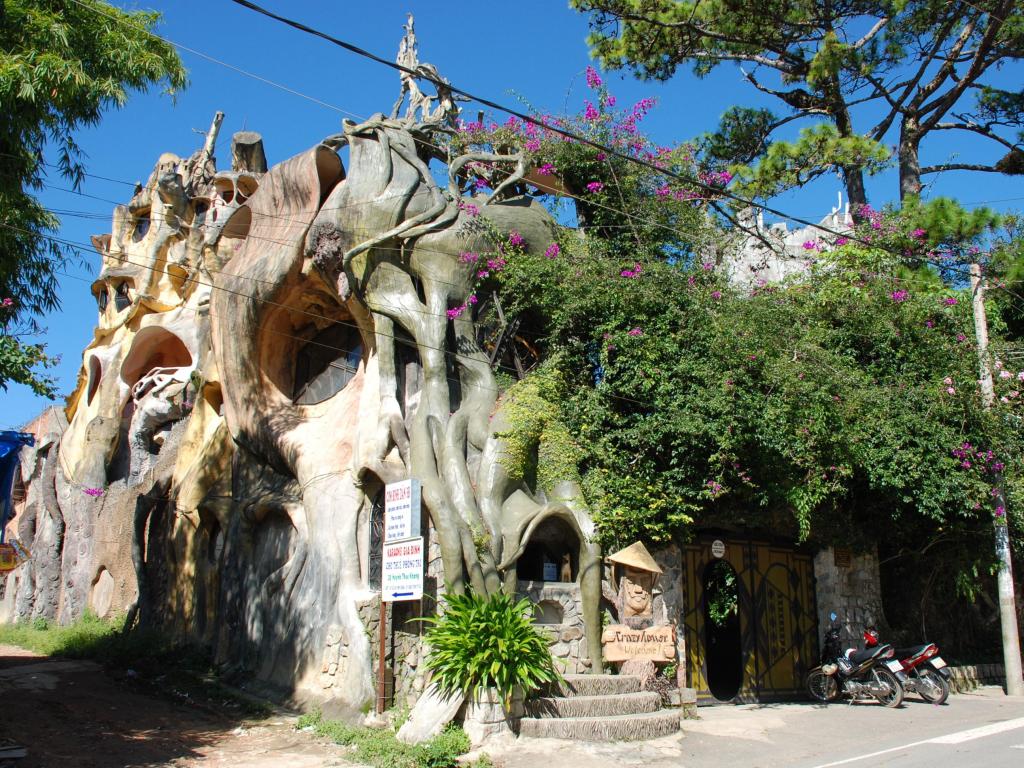 Photo : dulichdalat.com
A visit to the Crazy House will definitely an exhilarating experience to tourists with a glimpse of ten unique themed guest rooms, of which each is named after an animal and has a special meaning. For example, the tiger room refers to the Chinese, the eagle room represents the Americans, and the ant room is the symbol of the Vietnamese. In addition, each exotic room is fully equipped with matching decorations and handcrafted furniture bringing visitors a sense of elegance and subtlety.
Nowadays, Hang Nga Guesthouse features both as a hotel and a 'museum' of dream for tourists, especially children. This famous tourist destination welcomes guests daily from 07:00 to 18:00 with entrance fee of 20000 VND. For those who desire to stay there, a single room costs about $34-$47/night and a double room's price ranges from $47-$84/night.
Valley of Love in Dalat
Located 6 kilometers north of Dalat City's center on Phu Dong Thien Vuong Street, Dalat Valley of Love offers a romantic retreat for the locals and tourists, especially honeymoon couples. Spreading over an area of 242 hectares, the picturesque valley embodies a lot of rolling hills with a lake in the center, creating truly tranquil scenery.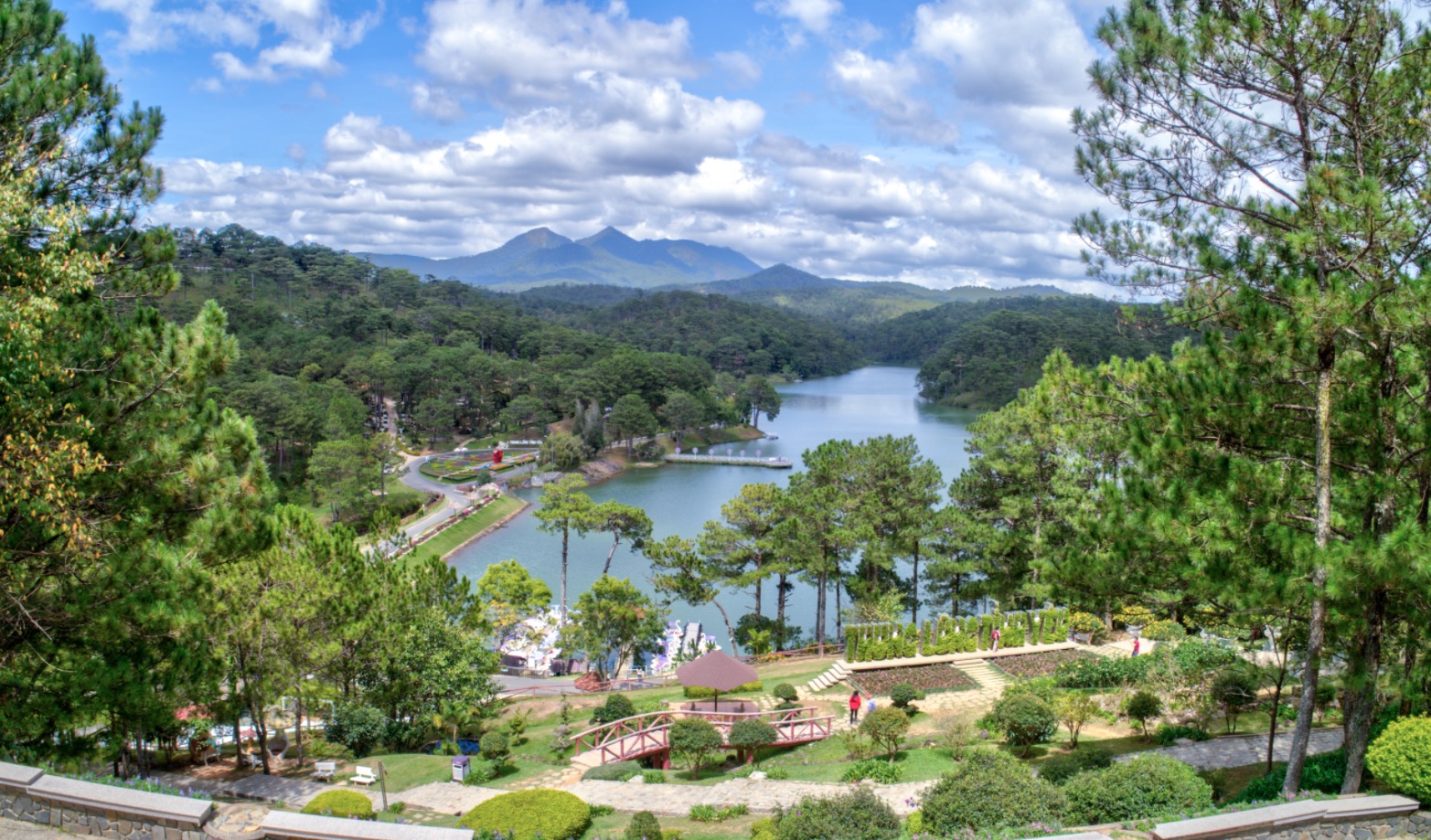 Photo : truyenhinhdulich.vn
Originally, named Vallée D'amour by the French in 1930, the valley was later called the Valley of Peace under the reign of King Bao Dai. In 1953, its name was changed to the Valley of Love as present. Passing the entrance gate, tourists will be captivated with the magnificent and romantic beauty of the valley surrounded by endless pine forests. A 13 – hectare Da Thien Lake set serenely in the middle of the valley has been one of the most popular sites for tourists since 1972. An excursion around the lake on swan – shaped paddle boats is a worthy experience for visitors.
Walking further, tourists will find a spectacular view of multi – color flowers and green gardens heading to the famed Vong Canh Hill where offers tourists an ideal location to admire the sceneries. From there, visitors can see the Langbiang peak rising up to the sky. Otherwise, tourists can also choose to conquer the track to Paradise Hill with stunning landscapes and lakes. In addition, your amazing trip to the Valley of Love cannot be fulfilled without an experience of horse-riding, jeep safari, motorized and peddle boat on the lake.
Dalat Market
Dalat market, which is 'cho Dalat' in Vietnamese, has long been acclaimed as a must – see tourist destination for any first – visitors to this land of flowers. The market features a vibrant trading point for thousands of people there and nearby areas.
Back to the history, built in 1929, the former market was made of wood at the present Hoa Binh Square and was destroyed in a big fire in 1937. The brick and multi-storey commercial site was later constructed in 1960 under the order of the Ambassador Lucien Auger consisting of more than 1000 stalls which could accommodate up to 6500 people at a time. After that, the market underwent the upgrade and restoration as the present one on the occasion of Dalat 100 years of foundation and development in 1993.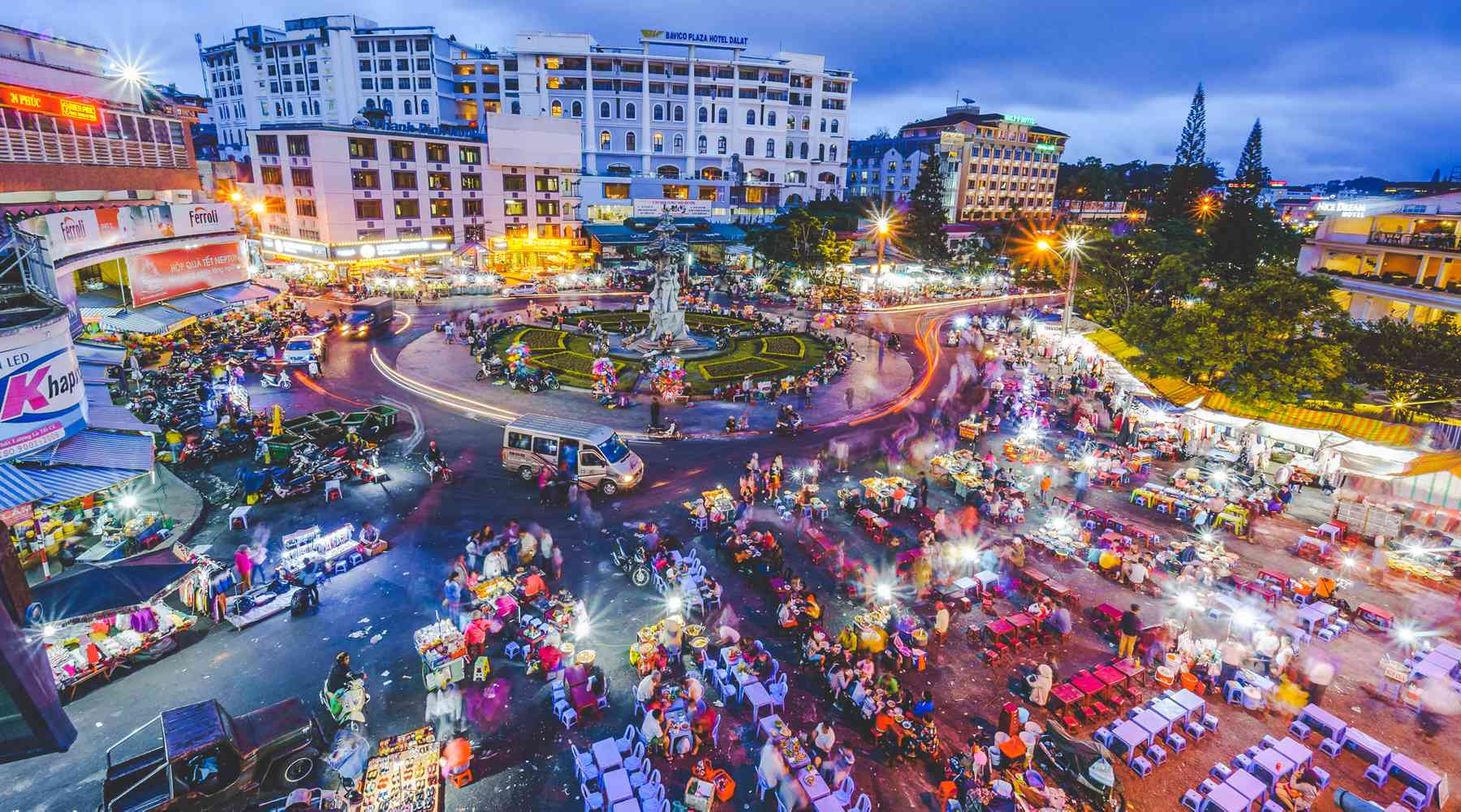 Photo : nld.com.vn
Dalat market is where actions never stop that tourists can witness trading activities constantly taken place from early morning to mid night. There are a variety of fresh, mouth-watering food and unique commodities on display within the market such as fruit, vegetable, wine, and local specialties. Among those, guests should make sure to bring home a few kilograms of local strawberries which are very famous in Dalat City. The market can be visited at almost any time during the day. Besides, visitors are advised to bargain to get better deals and take a round to nearby stalls outside the market selling similar products before making buying decision.
Linh Phuoc Pagoda
Located at 120 Tu Phuoc Street, Trai Mat Village, just outside Dalat City, Linh Phuoc pagoda boasts the most beautiful shrine of Buddha in Dalat. The pagoda is a popular holy site attracting tourists and pilgrims to visit and worship in this foggy land.
Funded by the Buddhists, the pagoda was started to be built in 1949 and completed in 1952. The main hall is decorated with sophisticated sculptures and designs. Of which, the Sakyamuni Buddha is the most significant one which is measured 4,9 meters in height including the Buddha's throne.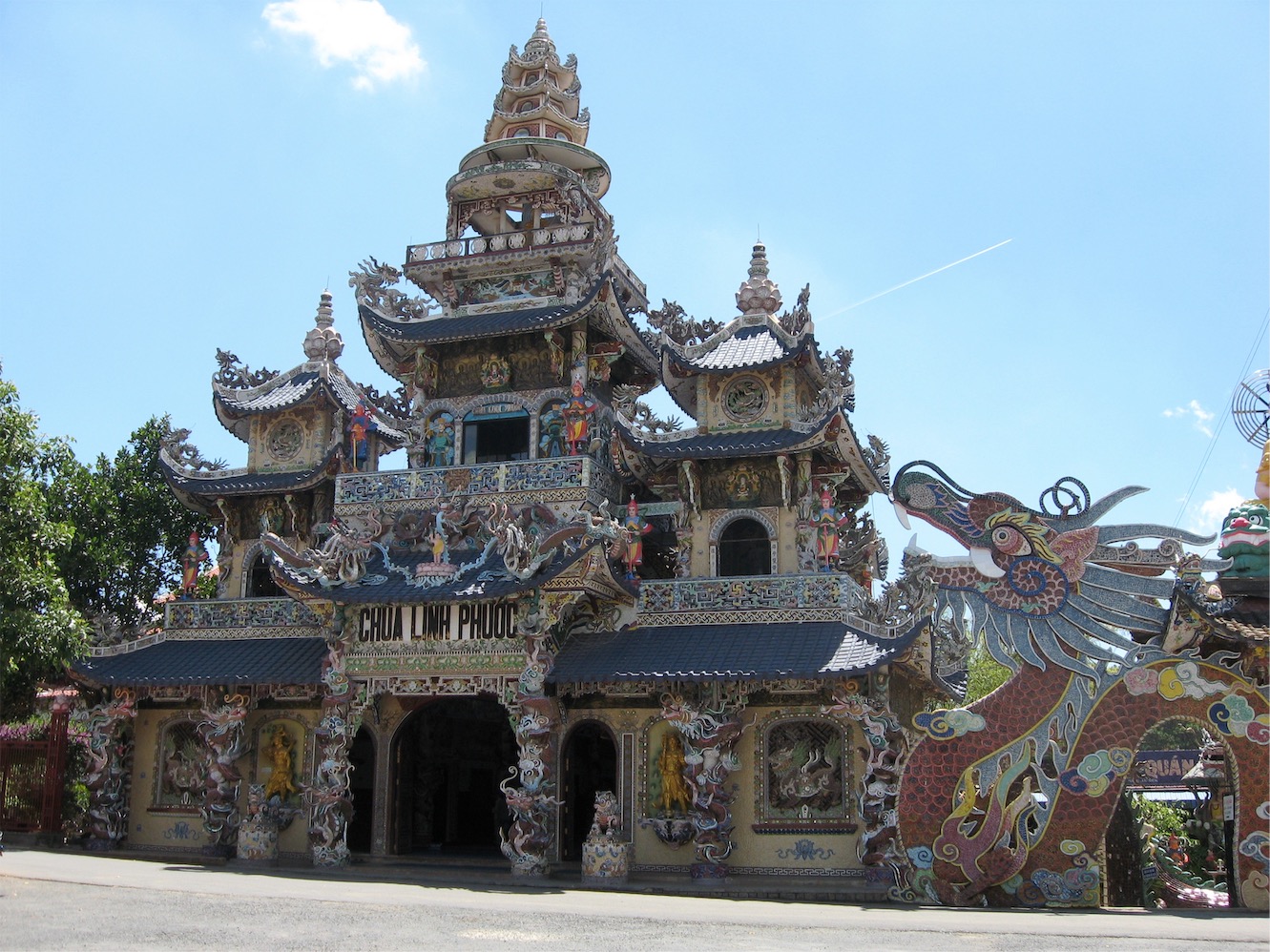 Photo : wikipedia.org
Thanks to the 49 – meter long winding mosaic dragon's head standing near the Mitreya Buddha at the entrance gate, which was made from 12000 glass bottles, Linh Phuoc pagoda is also known as the pagoda of broken glass. This is one of the most winning points contributing to the significance of the pagoda.
Another impressive trait is the 37 meter high bell tower standing haughtily in the front of Linh Phuoc Pagoda. This is considered the tallest in Dalat and the heaviest in Vietnam with a height of 8500 kg.
The pagoda opens daily from 08:00 to 17:00 with free entrance ticket. Visitors can reach the destination easily by taking a 25 – minute train journey from Dalat Railway station to Trai Mat Village. Return tickets cost 135000 per person.
Domaine de Marie Church
Domaine de Marie Church is ideally set along Ngo Quyen Street in the heart of Dalat City. Trip to the church is a different experience for tourists to worship in the 17th century French style structure.
Standing out from other structures built at the same time, its architecture features a perfect fusion between French and Vietnamese style which took inspiration from the 17th century cathedrals in Normandy, France. The structure embodies pink limestone walls, elegant stained glass windows and a 3 – meter tall statue of the Virgin Mary.
Photo by @Joseph Nhan
Before 1975, this is the main abbey which is home to more than 50 female Roman Catholic nuns. They are mostly Vietnamese and together run orphanage for disabled children and a kindergarten. Visitors coming there can support by donating, taking part in charity works and purchasing souvenirs. The tourist venue welcomes guests from 05:15 am to 17:00 Mon – Sat and from 05:00 am on Sun. Entrance is free of charge.
Datanla Waterfall
Datanla Waterfall is situated nearby the Prenn Pass, approximately 5 kilometers south of Dalat City. This is among most – visited attractions where tourists can take part in a lot of adventurous outdoor activities and great sightseeing. The waterfall cascades from the height of 20 meters forming a stream which is full of scattered marble at the foot. What makes the Datanla waterfall most impressive is an extensive display of rich flora and endless pine forests, creating a wonderful peaceful getaway.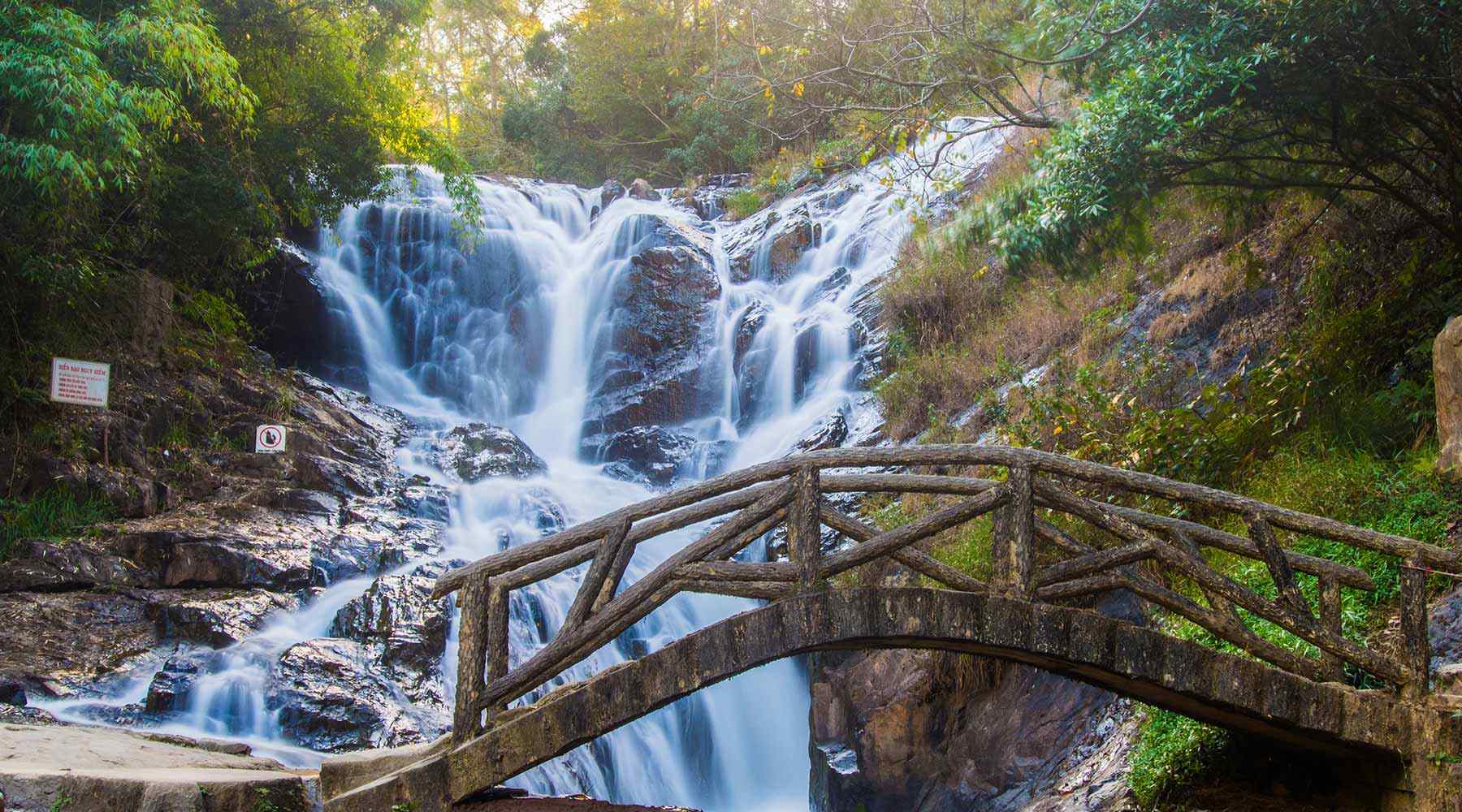 Photo : dalatcity.org
To reach the tourist venue, visitors can choose to a trek downward the waterfall for free which offers scenic view of lush greenery. Travelling by self – controlled rollercoaster car, on the other hand, is the fastest way and a thrilling activity for adventurous travellers. The ticket fee is relatively low, at 35000 VND one way and 45000 for a return trip). In addition, there is a giant billboard by the entrance showing possible activities at the site such as rope climbing at Tu Than Abyss and floating on the stream flow.
Nowadays, the natural amusement park is easily accessible by both cars and motorbikes. The entrance fee cost only 10000 VND. Moreover, visitors are advised to bring their own food, drink and probably own toilet drink also.
Dalat Flower Gardens
Dubbed 'the city of thousands flowers', there is no doubt that Dalat City house an extensive collection of native and exotic flowers. There is even a flower garden called Dalat Flower Gardens where tourists can find themselves in a peaceful environment and freely admire the natural beauty of flowers. The garden sets atop of Cu Hill, north of Xuan Huong Lake, only 2 kilometers from Dalat City.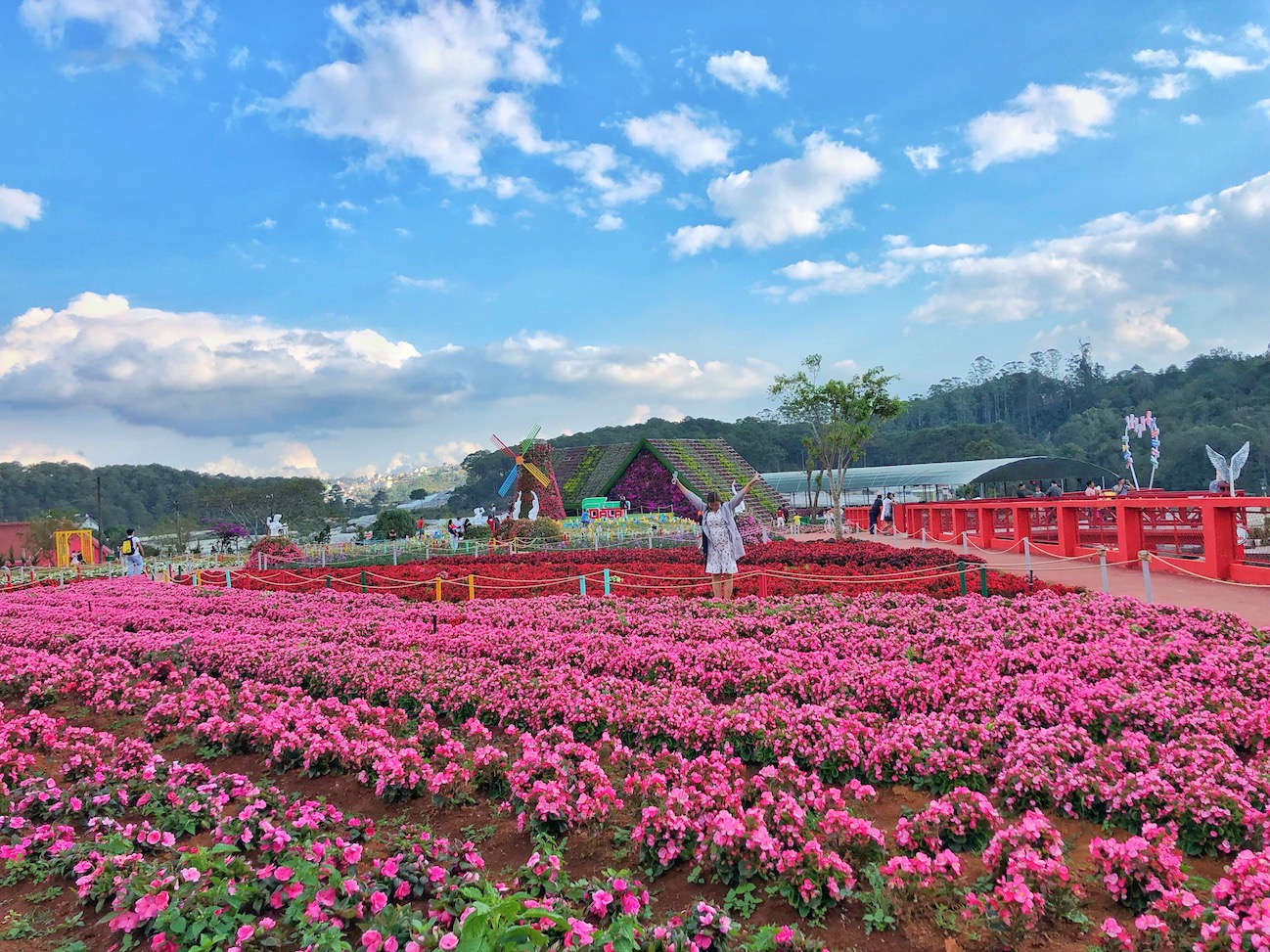 Photo : agrioly.com
The Dalat Flower Gardens were founded in 1966 featuring more than 300 types of flowers blooming all year round. There is a plenty of flower species on display in different gardens such as a giant cactus garden, orchid fields and rose gardens. Significantly, there is a huge park entrance decorated with arc-shaped flower arrangement from hundreds of flower species. Another highlight of the tourist venue is a small lake standing in the middle of the garden where tourists can enjoy a trip peddling on swan – shaped boats.
Dalat Flower Gardens offer an easy access both by car and motorbike from anywhere in the city. Tourists can visit the place from 07:30 to 16:00 with entrance fee of 30000 VND. The best times to visit the attraction are during spring and winter when flowers showing their most gorgeous beauty. Moreover, if tourists are lucky enough, they can take part in the Spring Flower Fair and the Winter Flower Festival taken place every two years.
Read more: Top things to do in Dalat