Danang Golden Bridge
Among the many bridges that merits celebration in Vietnam, Danang Golden Bridge is probably the most recognizable one. Its unique design resembling lifted by two giant hands and the golden yellow hue of this pedestrian bridge make it both photo perfect and a great place for sightseeing.
Location
Danang Golden Bridge perches on a prime location inside the Ba Na Hills, a fascinating entertainment and tourism complex of Danang City. At the height of 1400m above sea level, the bridge is a masterpiece with golden-hue gilded railing frames and a winding shape (stretching 150m in length).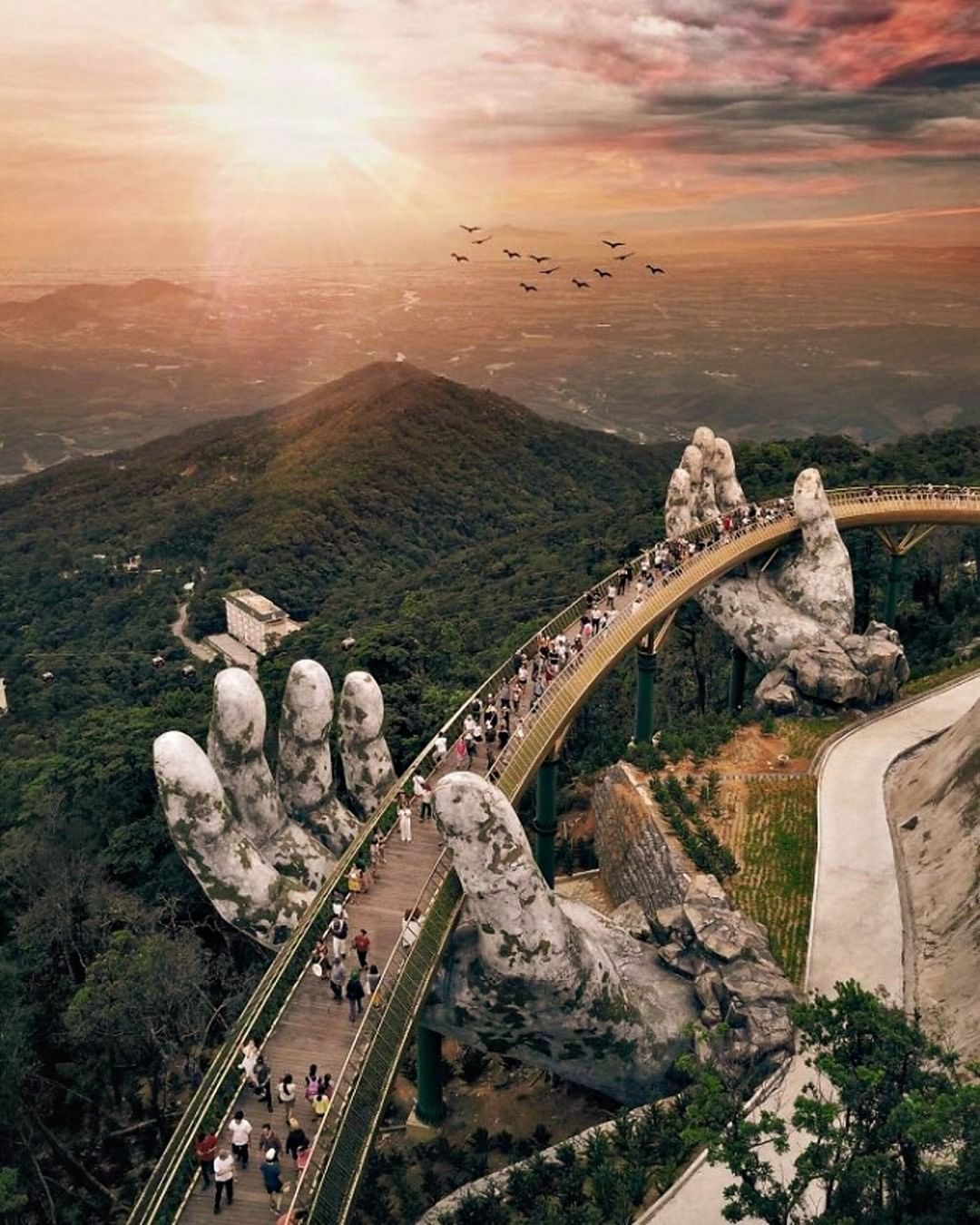 Golden Bridge – Photo: Instragram @travelingtheworld
The Golden Bridge was newly-built and has become a new symbol of Danang since 2018. The bridge also makes its name on the global stage with thousands of international tourists flocking there to check-in Vietnam's most famous bridge. What's more, its impressive architecture has inspired many structures over the world to model after.
Danang Golden Bridge – Standing On The Clouds
Since its establishment, the Golden Bridge has become a host for many important events like the fashion show of Fashion Voyage.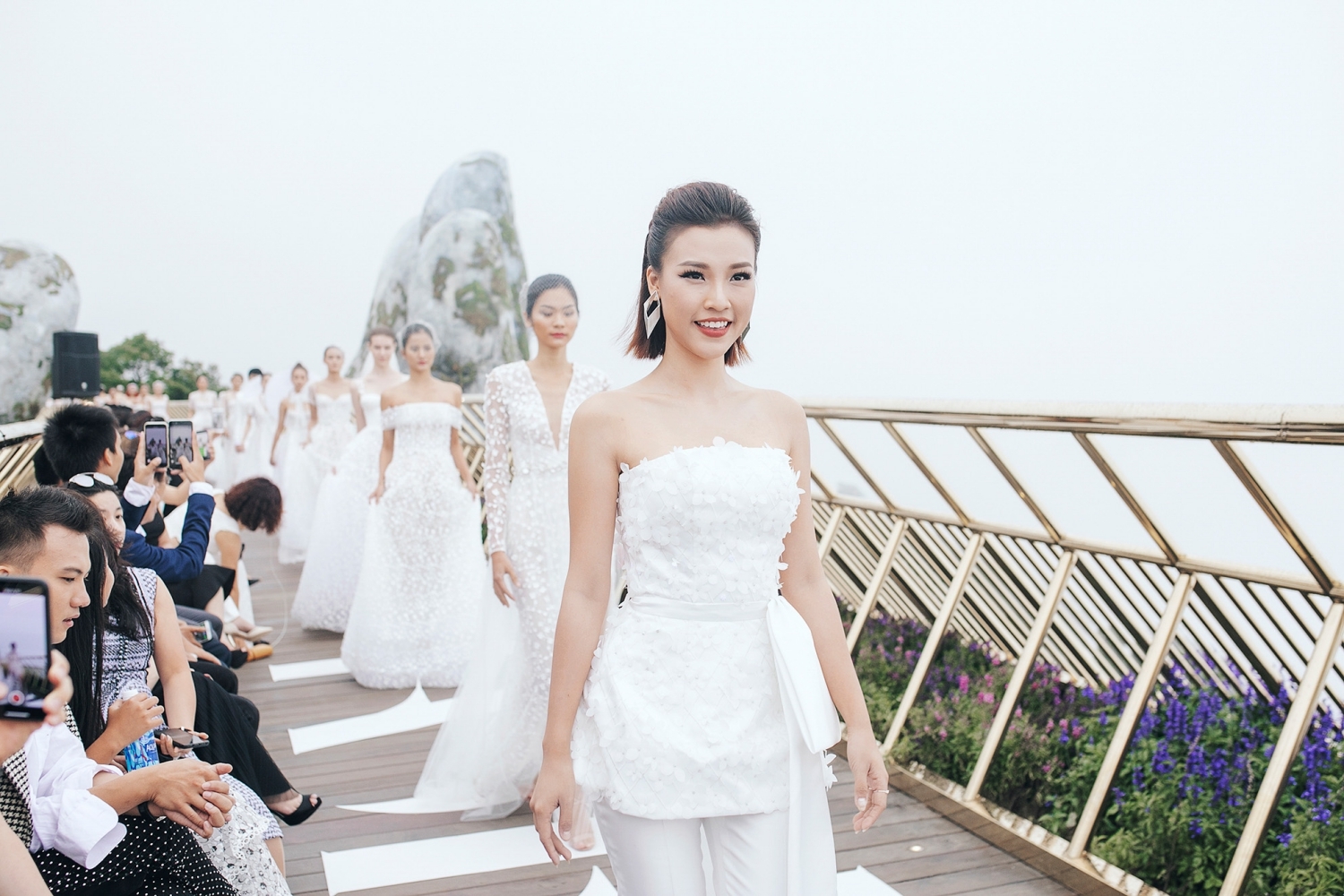 Fashion show hosted by Chung Thanh Phong – A Young celebrated Vietnamese fashion designer – Photo: vnexpress.net
Being one of the best places for photo-shoots in Vietnam, you will see a lot of FlyCams in the sky and dozens of travel bloggers, celebrities, or simply couples taking beautiful panoramic photos at this bridge every day. Many of them have become famous and inspiring on the social network. The picture of Golden Bridge photographed by Tran Tuan Viet won the Agora's architecture 2020 contest.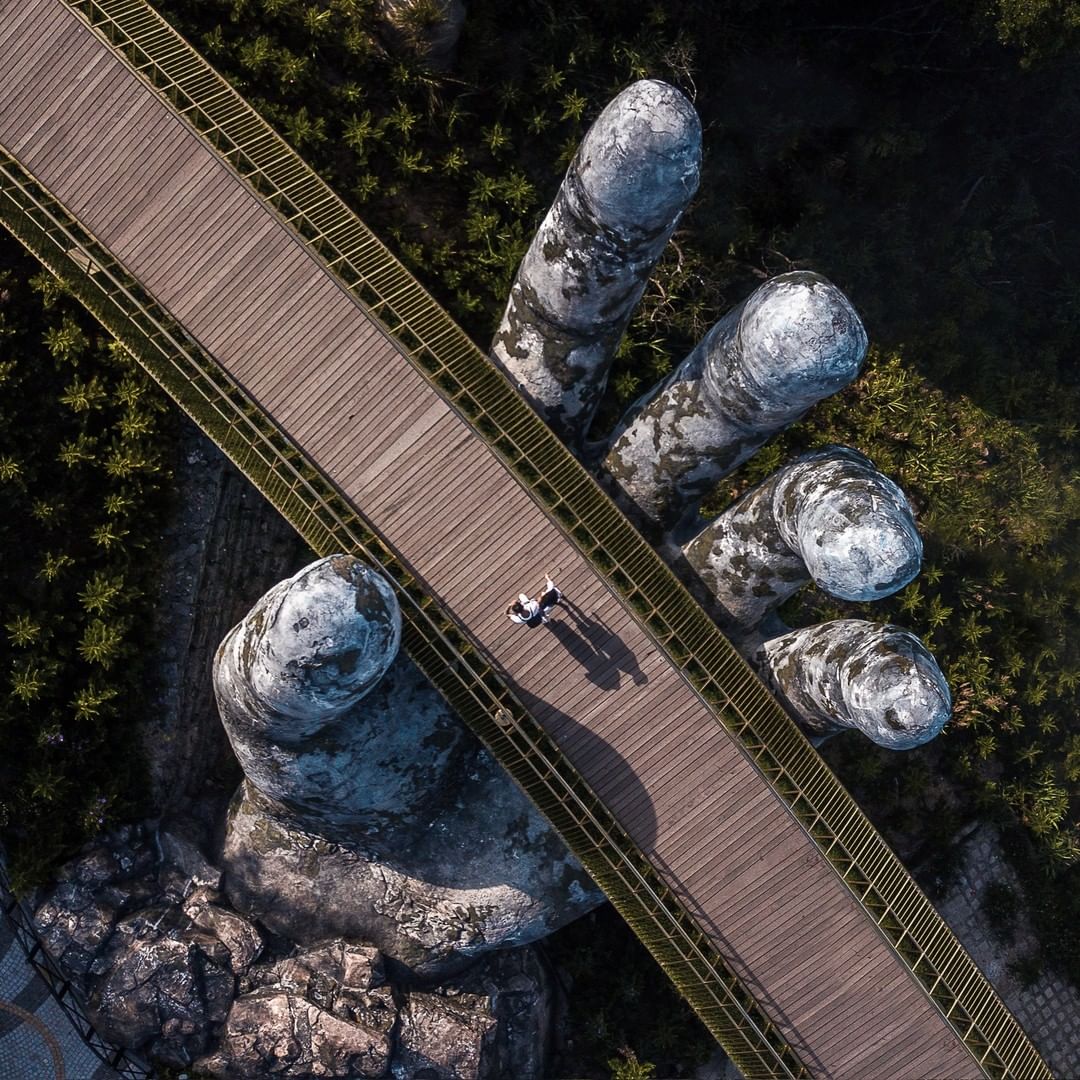 Golden Bridge – Photo: Instragram @sineyes
The meaning of Golden Bridge
Golden Bridge is "Cau Vang" in Vietnamese. The yellow-hued bridge is supported by two gigantic hands just like the hands of God. This symbolizes a mystery of nature as God is carrying the gift from the ground.
Weather and Best Time To Visit
Perched on a high mountain range, about 1400m above sea level, the weather on Golden Bridge is cool and temperate all-year-round. It can be mist and foggy during the rainy season. As you absolutely want to check-in the iconic bridge in the clear skies, attempt to visit between March and September. In which, June to August is the warmest time and also the peak tourist season.
Interesting Facts
The bridge is only 150m long
Few bridges in Vietnam can rival aerial views of the Golden Bridge to the forests and coastal Danang City. At a high altitude, this iconic architectural structure looks like a fanciful pedestrian walkway.
Thanks to its fascinating arts value, Danang Golden Bridge quickly becomes one of Vietnam's top tourist attractions, despite its recent construction in 2018.
Danang Golden Bridge draws attention and has made appearance in many well-known newspapers and travel magazines over the world namely BBC News, NBC news, CNN, The Guardian, and Street Art Globe.
More significantly, the bridge is honored as one of the most beautiful structures in the world on par with renowned ones like Langkawi Sky Bridge in Malaysia and Pont Alexandre III in France.
How To Get There
To reach Danang Golden Bridge, you have to buy a ticket and take the cable car to Sun World Ba Na Hills. Ba Na Hills is 40km from Danang City and you can choose to get there by private car or rental motorbike. The entrance fee to Sun World Ba Na Hills is 550,000 VND for children under 1,3 meter height and 700,000 VND for adults – this fee already covers visit to Golden Bridge.
Useful Information
Location: Sun World Bana Hills
Best for: All visitors
Entrance: 600,000-750,000
Hours: 8:00-18:00, Everyday
Distance to city center: 18.4km (11.4 mi)
---