I – Overview
With a long coastline and many nice beaches, Vietnam is an ideal destination for marine activities such as swimming, surfing and diving. The best beaches for diving in Vietnam are Phu Quoc, Nha Trang, Da Nang,…
1 – Favorable time to go diving in Vietnam 
Vietnam experiences a temperate climate which is very suitable for ocean exploration activities. However, the best time of year for when the sun is warm and the sea is calm is usually from March to August annually.
– Visiting Phu Quoc, tourists should avoid the rainy season which normally lasts from October and November every year.
– Within the year, the stormy season in the Vietnam Central region is from October to December.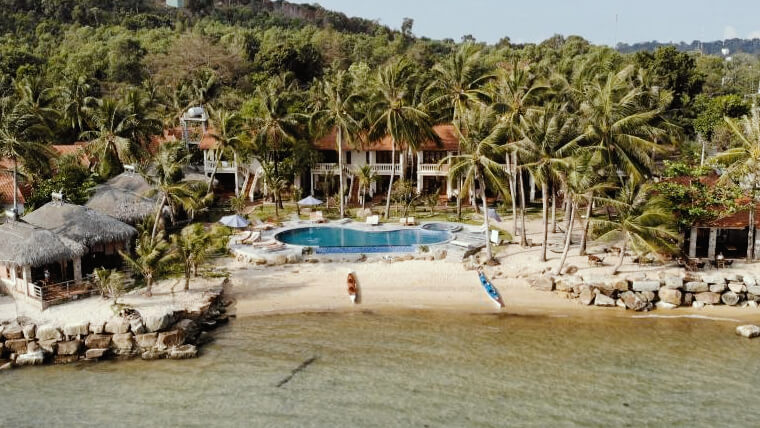 Phu Quoc beach (Source: Agoda)
2 – Why Diving in Vietnam?
Owning more than 3,200 km of coastline brings Vietnam an amazing and diverse coral system. In Khanh Hoa, Hon Ong was evaluated by Forbes Magazine as one of the top 10 most beautiful coral for diving in the world.
Moreover, Vietnam also owns many lively coral reefs with lots of rare and precious species listed in the IUCN Red List. Additionally, thanks to the various bays, the near shore water  is very clear which is convenient for your undersea vision. Some of the best snorkeling beaches in Vietnam are in Phu Quoc island, Nha Trang beaches and Da Nang beaches.
3 – Ticket price and opening time 
Normally, the average is about 20-30 minutes / per time, the price ranges from 280,000 to 350,000 VND/ per time ($12.18 – $15.22 / time) for the standard diving service.
4 – Diving costumes
To be able to participate in this water sport, you need to be equipped with diving gear, snorkel, diving propeller, swimming goggles.
5 – Types of diving
Scuba-diving in Vietnam: Scuba diving is only for those who have already known how to swim and dive into the deep sea with equipment such as oxygen tanks, propellers.
Snorkelling in Vietnam: Snorkelling for everyone, even not knowing how to swim. Swimmers just need to wear life jackets and snorkels to dive deeply into the sea and enjoy the ocean's beauty.
II – Diving in Vietnam best places for?
1 – Phu Quoc Island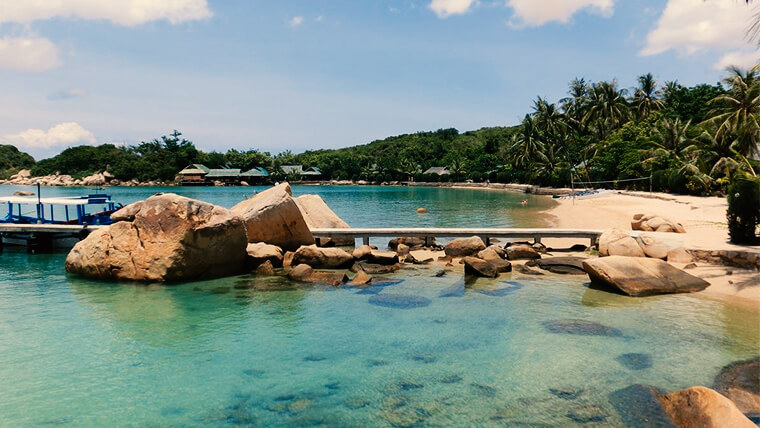 Whale Island (Source: Booking)
You can choose to go diving in Phu Quoc at some famous spots like Whale Island, White Rock, and so on.
Whale Island 
Snorkelling: 160,000 VND / turn (~$ 7/ tour)
Scuba-diving: 1,035,000 VND / turn / 30 minutes (~ 45/ tour)
Booking: direct registration can be made at your hotel reception
White Rock
Snorkeling: 280,000 – 350,000 VND / turn / 30 minutes ($12.18 – 15.22 / tour) (including hotel transfer and lunch on your boat/ship/ferry).
Scuba-diving: 900,000 – 1,400,000 VND / turn / 30 minutes ($39.13 – 60.9/ tour) (including hotel transfer and lunch on your boat/ship/ferry).
Booking: You can register at Phu Quoc Xanh Tourist Company: 02976634395 – 028 6271 9982 – 024 66 50 60 65
2 – Nha Trang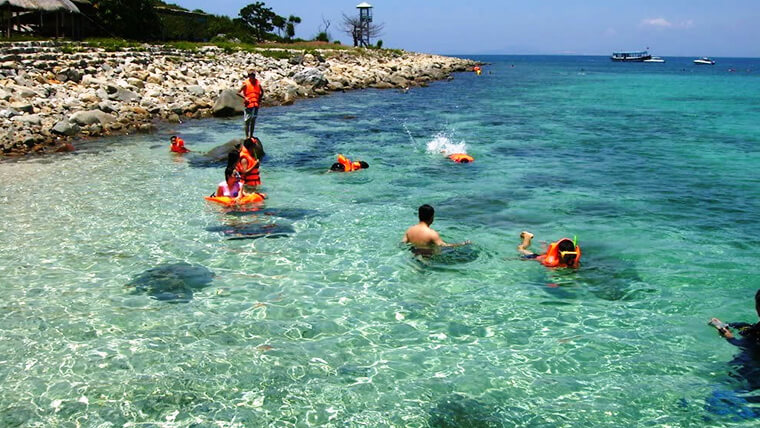 Hon Mun – Nha Trang (Source: Letsflytravel)
Nha Trang is one of the top places to scuba dive in Vietnam where you can experience scuba-diving in Nha Trang at Monkey Island or Mun Island.
Booking: via phone number 0981211948.
Scuba-diving :
Vietnamese: 600,000 VND / person / 25 minutes (~ $26 )
Foreigners: 950,000 VND / person / 25 minutes (~ $41)
Snorkelling: 380,000 VND / person / 25 minutes (~ $17)
3 – Danang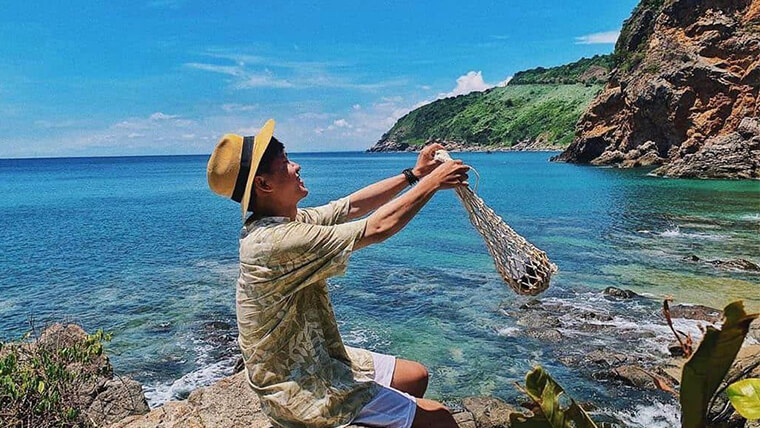 Son Tra Peninsula (Source: Vietravel)
You can travel and go diving at the Son Tra Peninsula and Resort Furama
Registration can be made via reservation@furamaresort.com
Son Tra Peninsula
Coral reefs snorkeling: 400,000 VND / person / 30 minutes (~ $17)
Furama Resort
Coral reefs snorkeling: 550,000 VND / person / 30 minutes (~ $24) (including lunch and swimming lessons).
4 – Hoi An – Cu Lao Cham island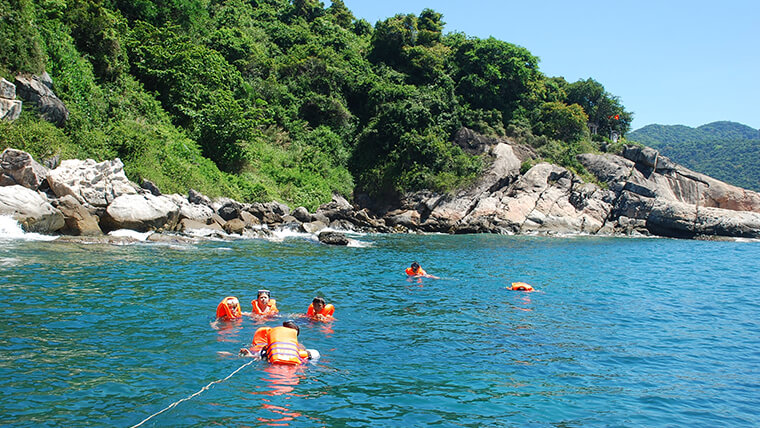 Cu Lao Cham island (Source: Internet)
Coral reefs snorkeling: 450,000 – 500,000 VND / person / 30 minutes (~ $20 – 22).
Under sea walk: 950,000 VND / person (~ $41).
5 – Halong Bay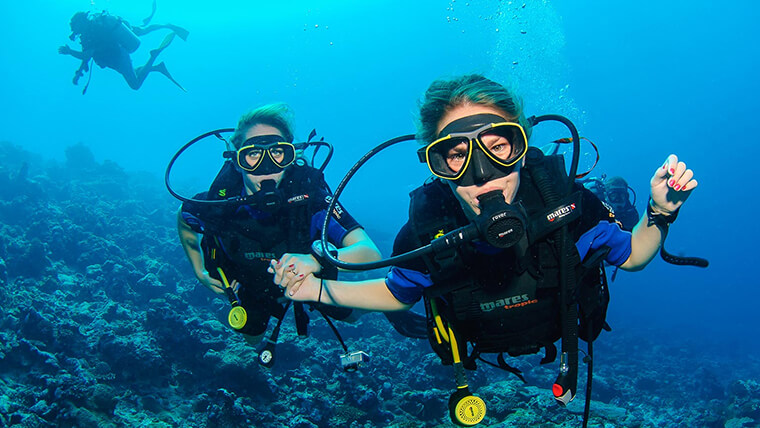 Halong Bay (Source: Unsplash)
It is possible to sign up for coral diving via Halong Bay's cruise tours For further information, visitors can contact the phone number 02439264009 or email: sales@orientalsails.com.
III – Tips For Diving In Vietnam
1 – Find a prestigious companies that own international certificates
Signing up for a diving tour, you should pay attention to companies or centres that have an international certification for their services and coaches.
2 – Be equipped with the basic knowledge of diving
It is necessary to have general information on how to use diving equipment as well as some diving notices such as: do not dive if you are too hungry nor too full; 24 hours after diving do not fly; and so on.
3 – Follow the instructions of the coach
During diving time, it is necessary to pay attention to the instructor's guidelines to avoid accidents during the tour.
In short, diving in Vietnam's beautiful beaches is one of the most interesting water sports, therefore, when experiencing this kind of activity, don't forget to try it once. Wishing you a happy and safe vacation as well as a memorable holiday when coming to Vietnam.