Interested In Mekong Culture? Visit These 8 Cultural Attractions Of The Mekong Delta
Temple of the Lady of the Realm, An Giang
When it comes to the Vietnamese culture, there is a common misconception that women are discriminated against. However, back to the days before the Chinese domination, it was women that played the central role in a family, not men. Over the course of time, women became so important that they were proclaimed venerable by society as a folk religion called "Đạo Mẫu", which worships Goddesses, was created by the Vietnamese. The temple referred to in this article is dedicated to the Lady of the Realm, who is believed to be present in a black stone found on Sam Mountain many years ago. If you are a festival lover, the best time to visit this temple is between 23rd and 27th of April in the lunar calendar.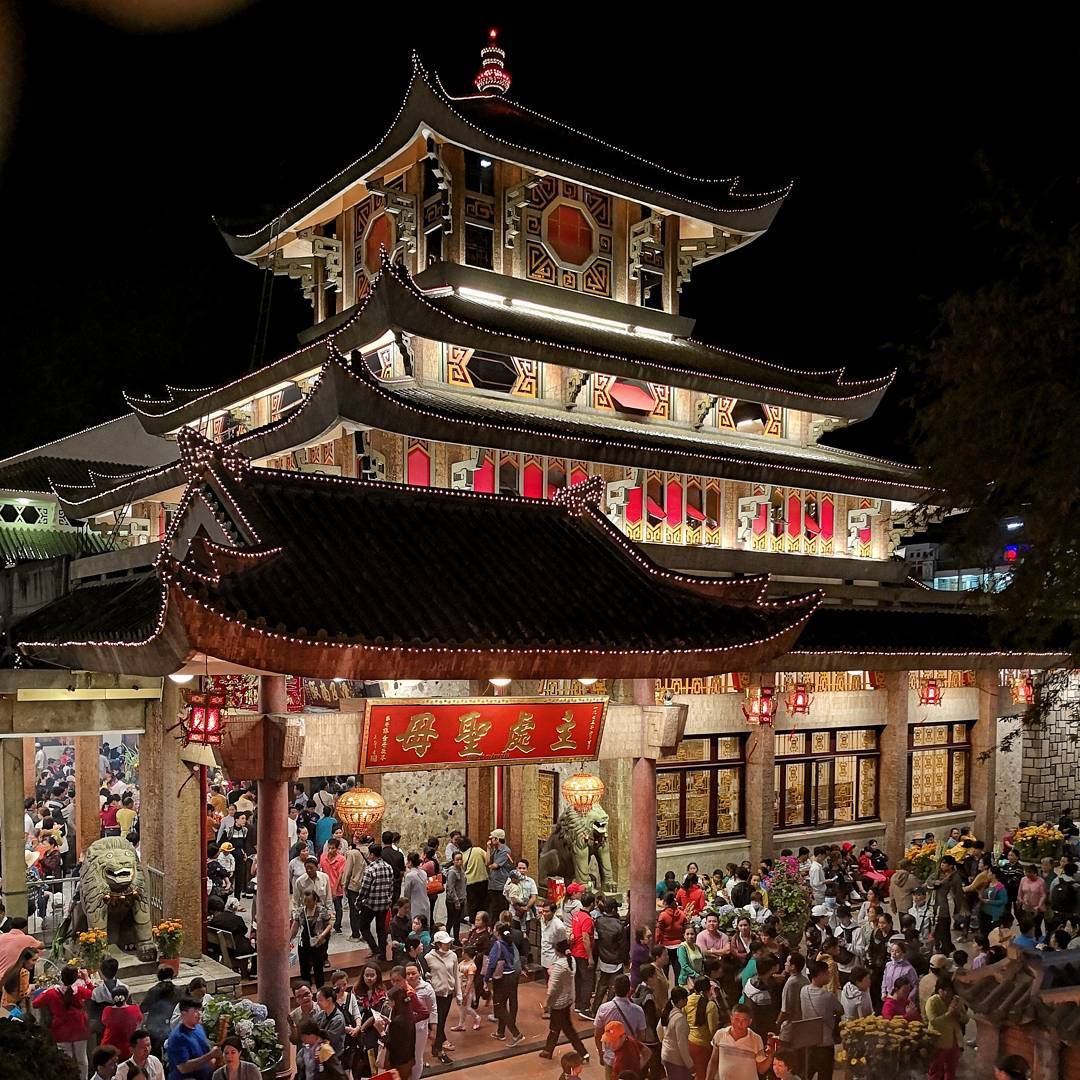 Temple Of The Lady of The Realm – An Giang / Photo: Zing News

Address: Sam Mountain, Châu Đốc, An Giang, Việt Nam
Opening hours: all day
Cai Rang Floating Market, Can Tho
Floating markets are unique cultural traits of a region with a complex network of distributaries like the Mekong Delta. However, the most renowned floating market is Cái Răng, which sits on the surface of Cần Thơ river. Nearly everything can be found in this unique market, from food to daily necessities. But it is the food sold on the water surface that makes Cái Răng floating market a worldwide known tourist attraction. In particular, after Gordan Ramsay introduced the bowl of hủ tiếu, a kind of Vietnamese rice noodle, which astonished him during his visit to Cai Rang floating market in the US MasterChef Season 4, Cái Răng market went viral on social media and became even more popular among tourists. Be sure to visit the market at 4:30 to 5:00 in the morning as this is its busiest time.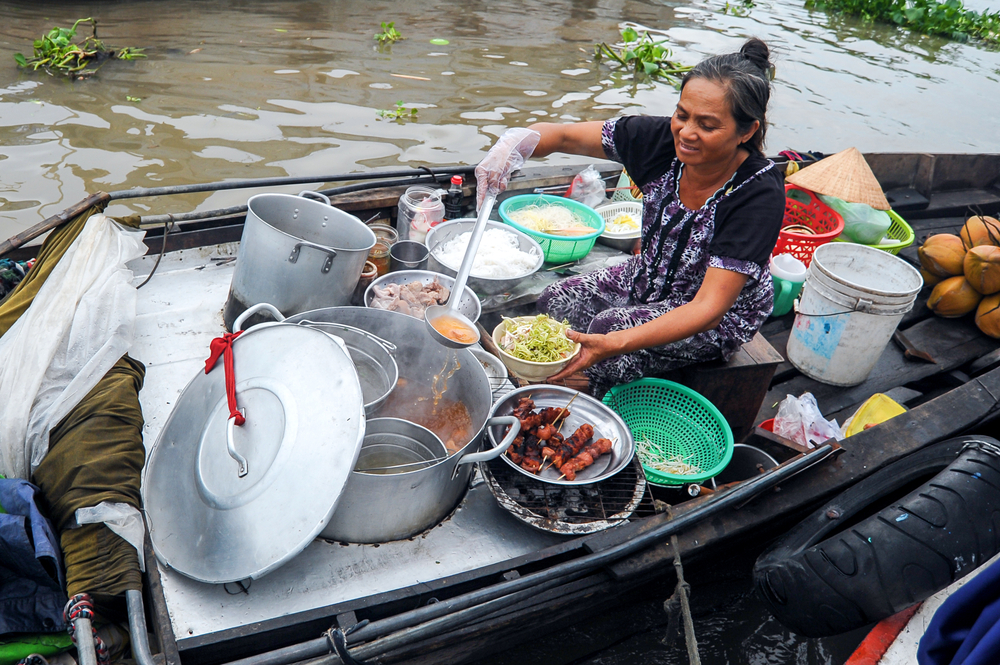 Food served on boat at Cai Rang floating market / Photo: Lano Lan – Shutterstock

Address: 46 Đường Hai Bà Trưng, Tân An, Ninh Kiều, Cần Thơ, Việt Nam
Opening hours: 4:00 – 9:00
Vĩnh Tràng Pagoda, Tien Giang
Vĩnh Tràng pagoda, located in the heart of Mỹ Tho city, Tiền Giang province, is one of the national heritage sites in this list. Vĩnh Tràng, which is a Mahayana Buddhist temple, embodies a confluence of Eastern and Western styles and its architecture bears an eclectic architectural trait that exemplifies the 20th-century era. Some of Vietnam's largest Buddha statues can be found in this renowned pagoda.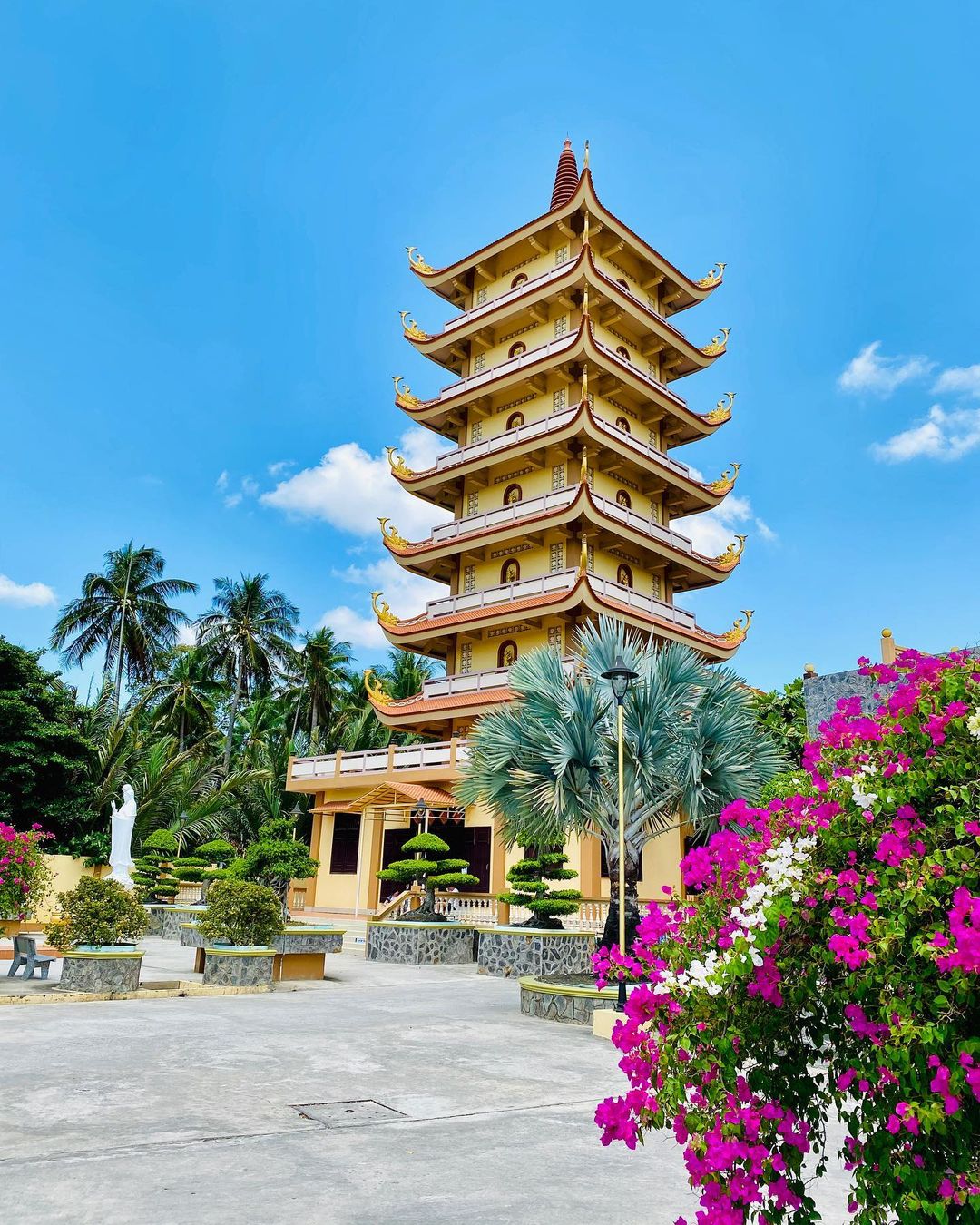 Vinh Trang Pagoda / Photo: Instagram @luss_v

Address: Mỹ An, Ward 8, Thành phố Mỹ Tho, Tiền Giang, Việt Nam
Opening hours: 06:30 – 18:30
Xiêm Cán Temple, Bac Lieu
The Buddhism has two major schools including Mahayana, which is commonly practised in the Sinosphere comprising of Vietnam, China, Japan, Korea, Mongolia, and Theravada, which is more popular in Southern Asian nations on which the Indian culture has clear influences consisting of Sri Lanka, Thailand, Cambodia, Laos, Myanmar. The Khmer people in Vietnam practice Theravada Buddhism rather than Mahayana Buddhism like their Kinh fellows. They have also erected some of the most architecturally special temples in Vietnam, including Xiêm Cán temple in Bạc Liêu province. This temple was constructed in 1887 and is up to 4ha in size. Not only is this temple a communal place for worship and education, it is also a museum with hundreds of century-old Buddha statues and an ancient 70-page Khmer book made from leaves.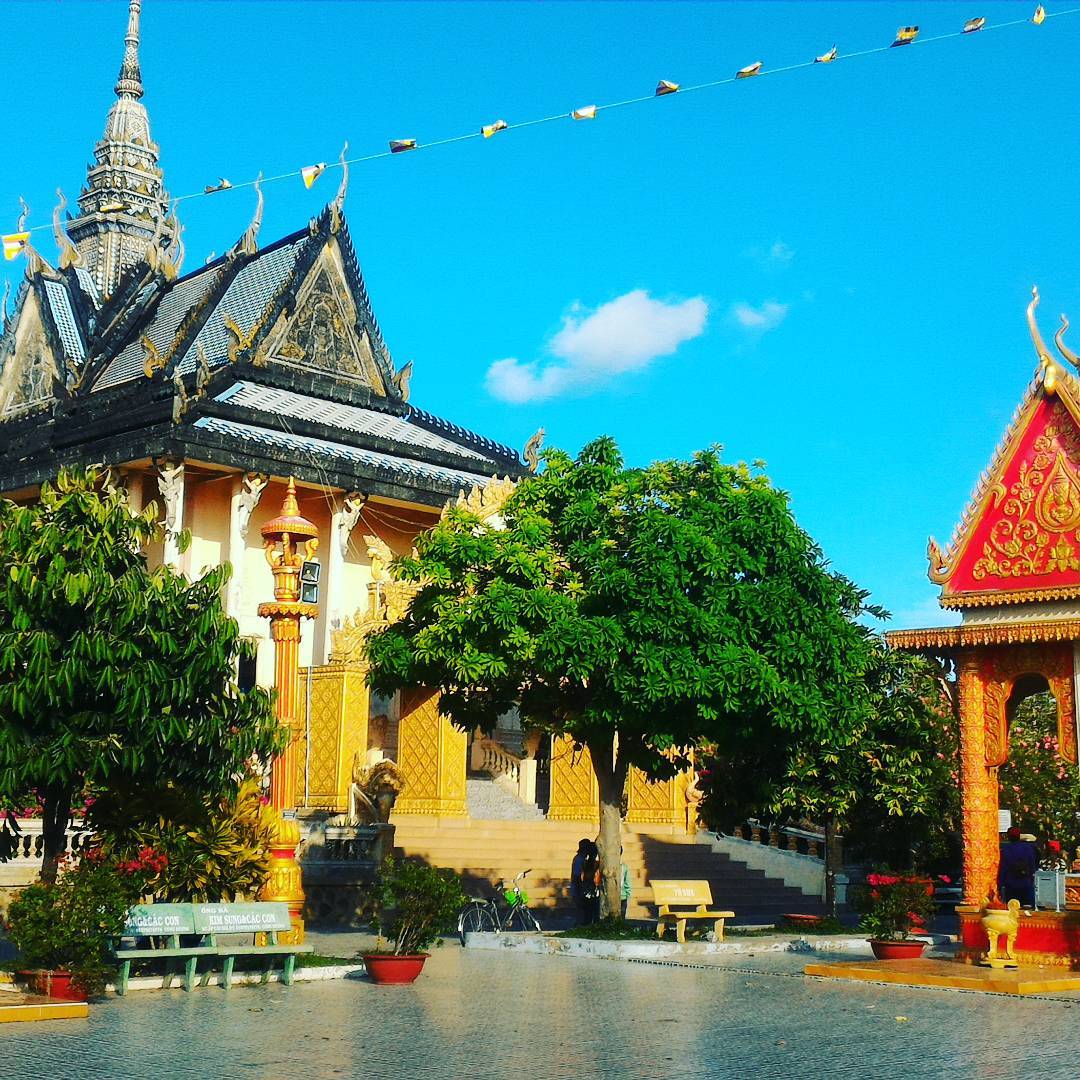 Xiem Can Temple, Bac Lieu/ Photo: Instagram @nhiennguyen7

Address: Road 31, Vĩnh Trach Đông, Bạc Liêu, Việt Nam
Opening hours: 06:30 – 18:30
Vàm Rây Temple, Tra Vinh
As mentioned, the Khmer make up the second largest proportion of the whole population of Mekong Delta, closely behind the Kinh people. In the province of Trà Vinh, the Khmer snatch up to 30% of the population. Therefore, it comes as no surprise that there are so many beautiful Theravada temples in this province, in which Vàm Rây temple is the most spectacular.
The overall design of the temple bears a resemblance to the Angkor Wat style – which is the classical Khmer style. The high peaked roofs of this temple are layered in odd numbers to correspond with certain Buddhist doctrines such as the three characteristics of existence, impermanence, suffering, non-self, or the seven factors of enlightenment. The edge of roofs often features a repeated flame motif with nagas, which are believed to protect Buddha and catch evil spirits falling on the building from above. The spires represent Mt. Meru, the sacred five-peaked mountain of Hindu, Jain, and Buddhist cosmology that is considered to be the centre of all the physical, metaphysical and spiritual universes.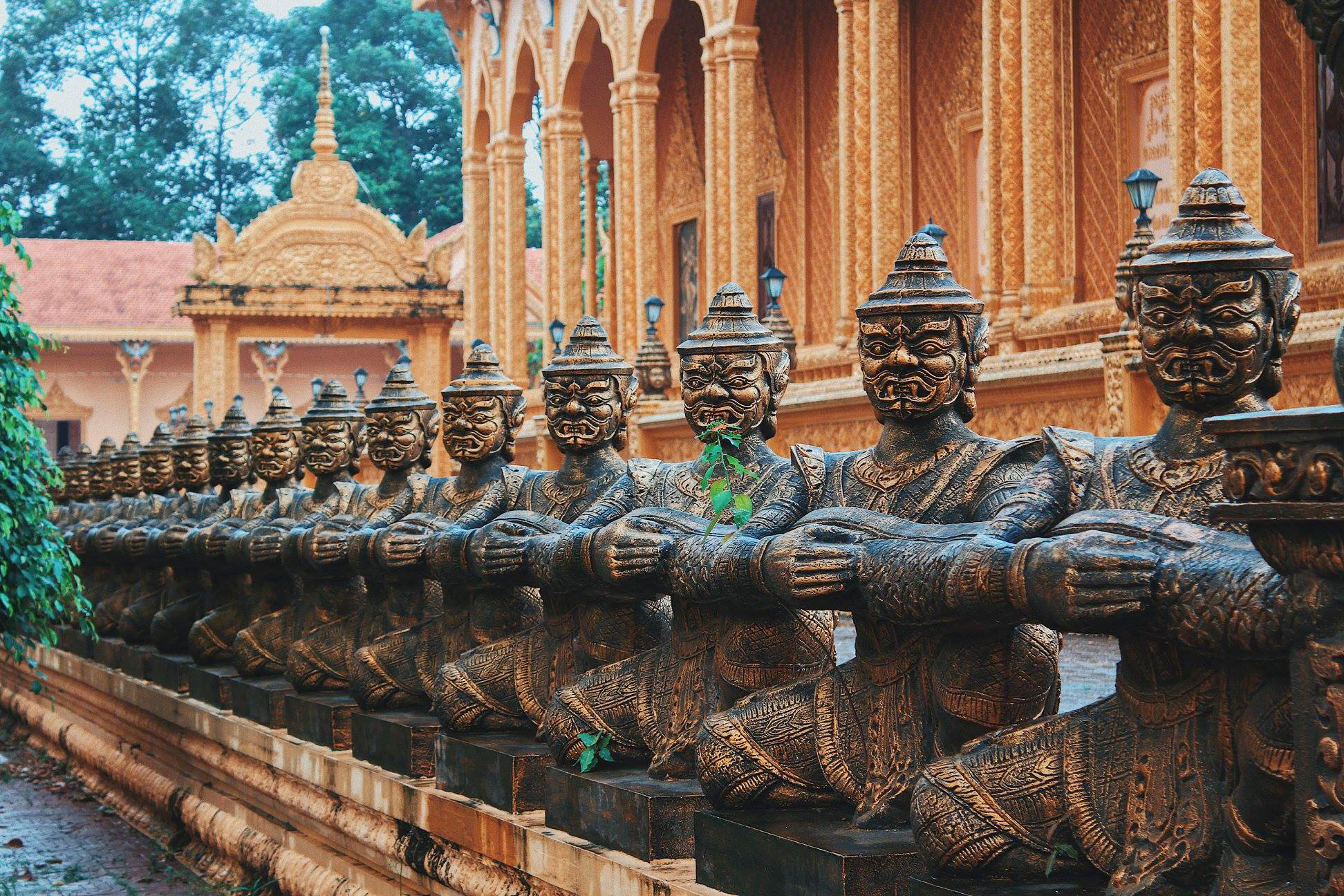 Vam Ray Pagoda / Photo: thamhiemmekong.com

Address: Hàm Giang, Trà Cú, Trà Vinh, Việt Nam
Opening hours: 06:30 – 18:30
Khmer Culture Museum, Tra Vinh
Khmer tourist attractions in the Mekong Delta are way beyond Khmer temples. The last Khmer destination in this list is the Khmer Culture Museum, which is located in Trà Vinh province. The museum currently displays more than 800 artefacts, images and documents that describe the life of the Khmer ethnic community in the Mekong Delta.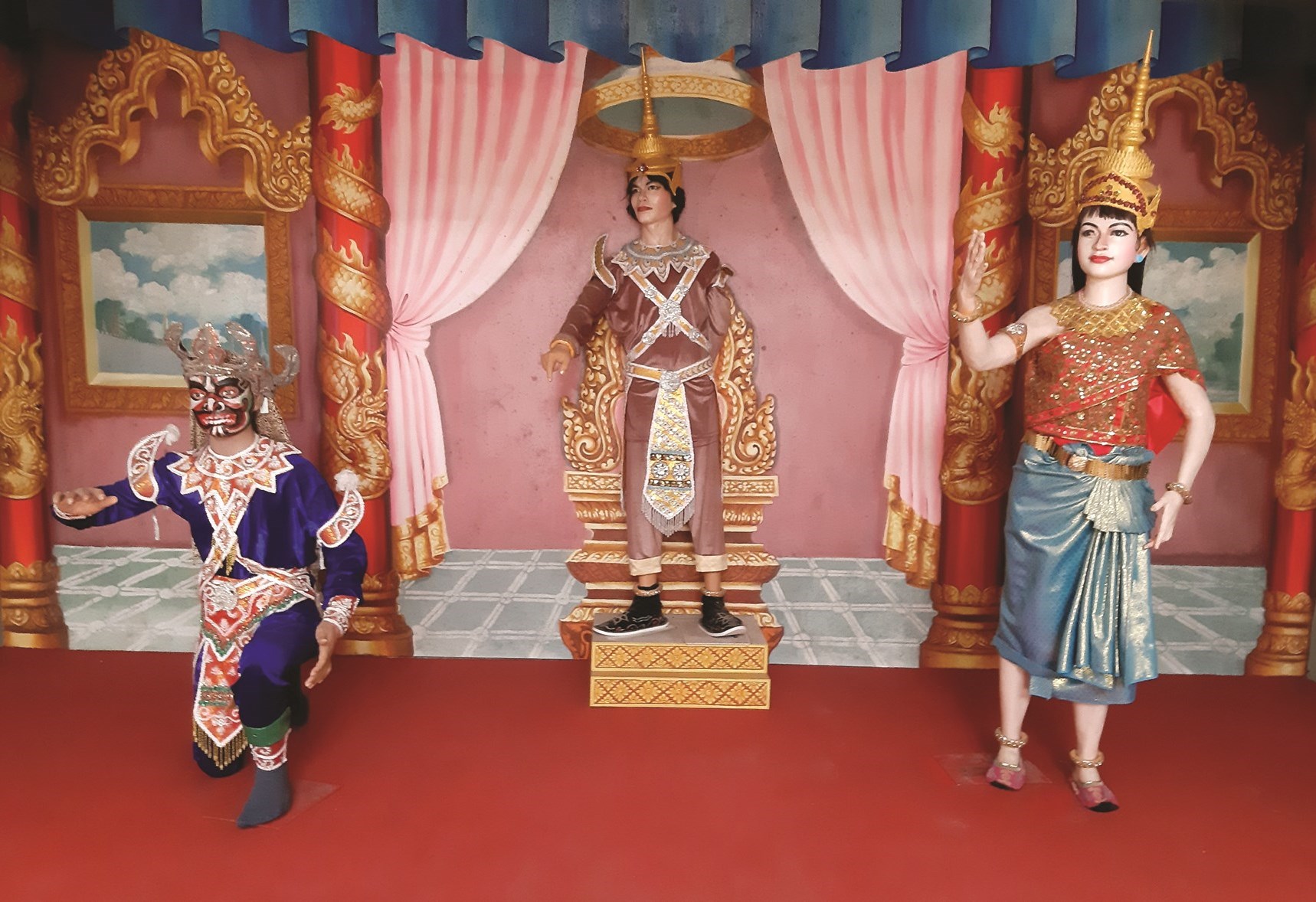 Khmer Culture Museum in Tra Vinh / Photo: baodantoc.org

Address: Nguyễn Du St., Ward 8, Trà Vinh, Việt Nam
Opening hours: 07:00 – 18:00
Thean Hou Temple, Soc Trang
Constructed in 1891 by the Teochew settlers in Sóc Trăng province, this Thean Hou temple is one of the earliest temples in the Mekong Delta. The temple is dedicated to Fujianese Mazu Goddess, who is believed to be the tutelary deity of seafarers and is worshipped by Taiwanese and Chinese communities living across Southeast Asian countries, especially Singapore, Vietnam and Malaysia as large numbers of the Chinese living in these countries are Hokkien. Her temple festival, which attracts not only the Chinese but also the Vietnamese, falls on 23rd of March in the lunar year.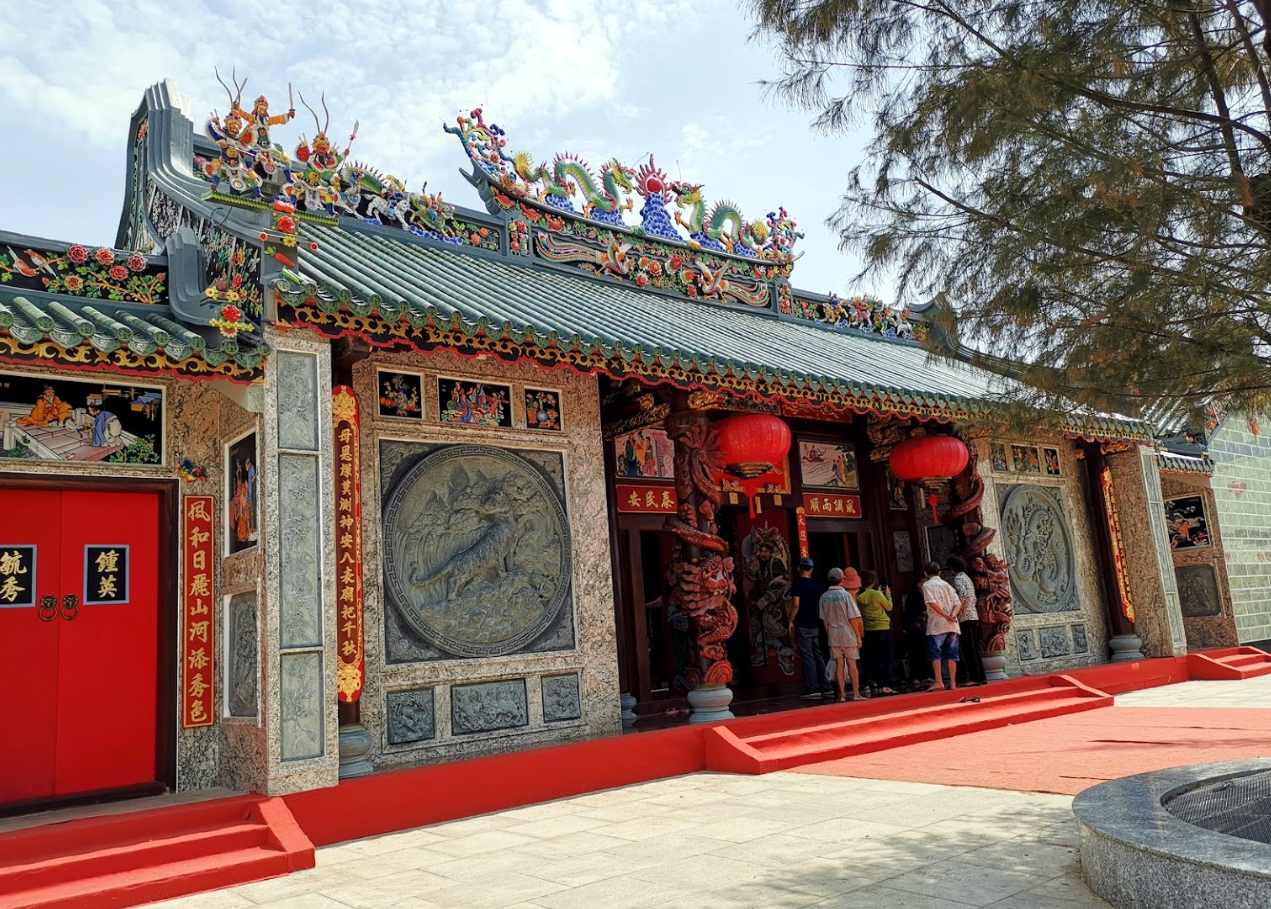 Thean Hou Temple in Soc Trang / Photo: thamhiemmekong

Address: Trần Hưng Đạo St., Vĩnh Châu, Sóc Trăng, Việt Nam
Opening hours: 07:00 – 18:00
Chăm Commune, An Giang
Last but not least, the Cham community also plays an important role in the Mekong Delta's cultural diversity. The Cham residing in this region mainly practice Islam and cluster together in one region. Da Phuoc, a Cham-majority commune, is emerging as a main tourist destination in An Giang thanks to the special cultural practices, lifestyles, and architecturally special stilt houses of the Muslim Cham. Don't forget to drop by the Mubarak mosque and the traditional craft village when you happen to be around the area.
Mosque in Da Phuoc, An Giang/ Photo: foody