All Travel experience & travel advisory to Khuon Than
Khuon Than located in Luc Ngan Distric, Bac Giang province about 120km from Hanoi. It would take 2-and-a-half-hour drive there by car. Khuon Than includes the Lake and the Forest where recently local people choosing for weekend escape and short family holidays. This is new destination for local visitors mostly and if you plan a trip to Khuon Than, you may find useful information in this articles.
Destination information:
Address: Khuon Than Lake, Kien Giao Community, Luc Ngan District, Bac Giang province.
Khuon Than is a lake of fresh water on the top of a mountains which cover an area of 240 Ha in Bac Giang province. The lake is surrounded by pine tree forest and dotted with lychee farms. There are several islands on the lake where you could camp or had picnic lunch.
Visitors should take a boat trip (there are some rowing boats and 1 motorized boat) around the lake and take a short walk on one of the island which is the highlight of the trip to Khuon Than.
How to get there?
From Hanoi, you drive to Bac Giang city on the National highway 1A. Then turn right for 43km of smaller road to Luc Ngan town. Khuon Than lake is 9km from this small town and this short drive to Khuon Than passing the Lychee farm orange farms.
This is less travelled destination and still remains the pure beauty. The traffic is good and cost of travelling to Khuon Than is very reasonable. You could make a day trip or 2day trip to Khuon Than with a lot more activities over here.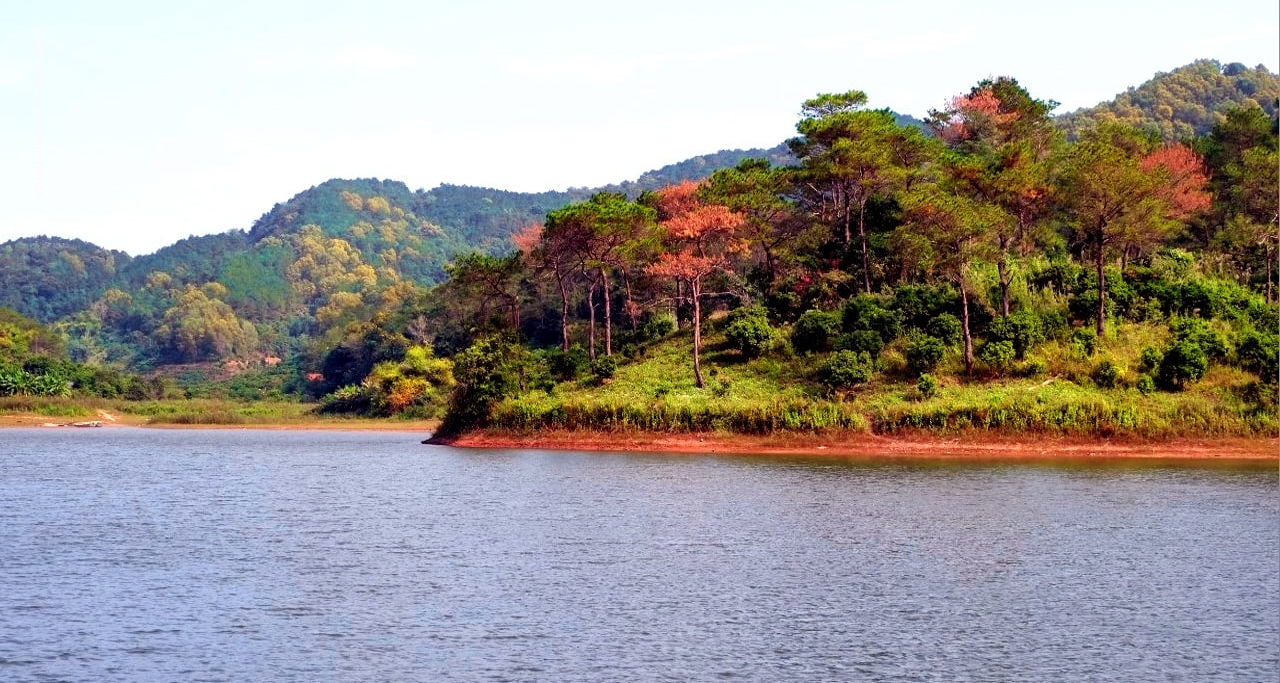 Accommodation in Khuon Than
Home stay and camping would be the better experience but if you would like the hotel and guest houses, Here are some suggestion (Note, these hotel & guest house are pretty basic)
During Tet holidays and some National Holidays Plus the harvest time of Lychee in June. These accommodation could be fully booked.
Quang Anh Hotel
-Address: QL31, Phượng Sơn, Lục Ngạn, Bắc Giang
-Tel: 097 745 25 87
• Xuân Hương Guest House
-Address: 433 Quốc lộ 31, Thị trấn Chũ, Lục Ngạn, Bắc Giang
-Tel: 0204 3882663
• Phương Hoa Guest House
-Address: Quốc lộ 31, Trù Hựu, Lục Ngạn, Bắc Giang
-Tel: 0915 101262
• Sài Gòn Hotel
-Address: Quốc lộ 31, Hồng Giang, Lục Ngạn, Bắc Giang
-Tel: 0987 168700
• Minh Huyền Guest House
-Address: quốc lộ 31, Phượng Sơn, Lục Ngạn, Bắc Giang
-Tel: 0204 3696 666
• Anh Tú Guest House
-Address: quốc lộ, Phượng Sơn, Lục Ngạn, Bắc Giang
-Tel: 098 864 06 00
• Hoa Sen Guest House
-Address: 34 Trần Phú, Thị trấn Chũ, Lục Ngạn, Bắc Giang
-Tel: 0204 3883472
• Anh Đào Guest House
-Address: Quốc lộ 31, Nghĩa Hồ, Lục Ngạn, Bắc Giang
-Tel: 0204 3695959
Best time to Visit Khuon Than?
The best time to visit Khuon Than is Autum and Winner from Sept till January of the next year.
Not much pollution  over here and the air is always clean and sky is blue. Fruits is available all year around. There are good orange, Dragon fruit, Guava… in this season while the Lychee season is in May and June.
There is fruit festival in Luc Ngan town each November which last for 4-5 days from November 20th.
What to do in Khuon Than?
There are 5 islands on Khuon Than Lake, Some of them covers with orchard farms and there are always green and nice. Take the boat on the lake and visit the island is highlight of the trip.
There are 2 companies are FLC and Khuon Than Join Stock Company has plan to build resorts and entertainment around the lake.
Soon in the near future, visitors could kayak on the lake, Swimming and sailing on the lake is also in the plan of Khuon Than Join Stock Company.
Short trek through the island is recommended, if you need to have picnic lunch on this nice trek, you should ask your guide to prepare the lunch in advance.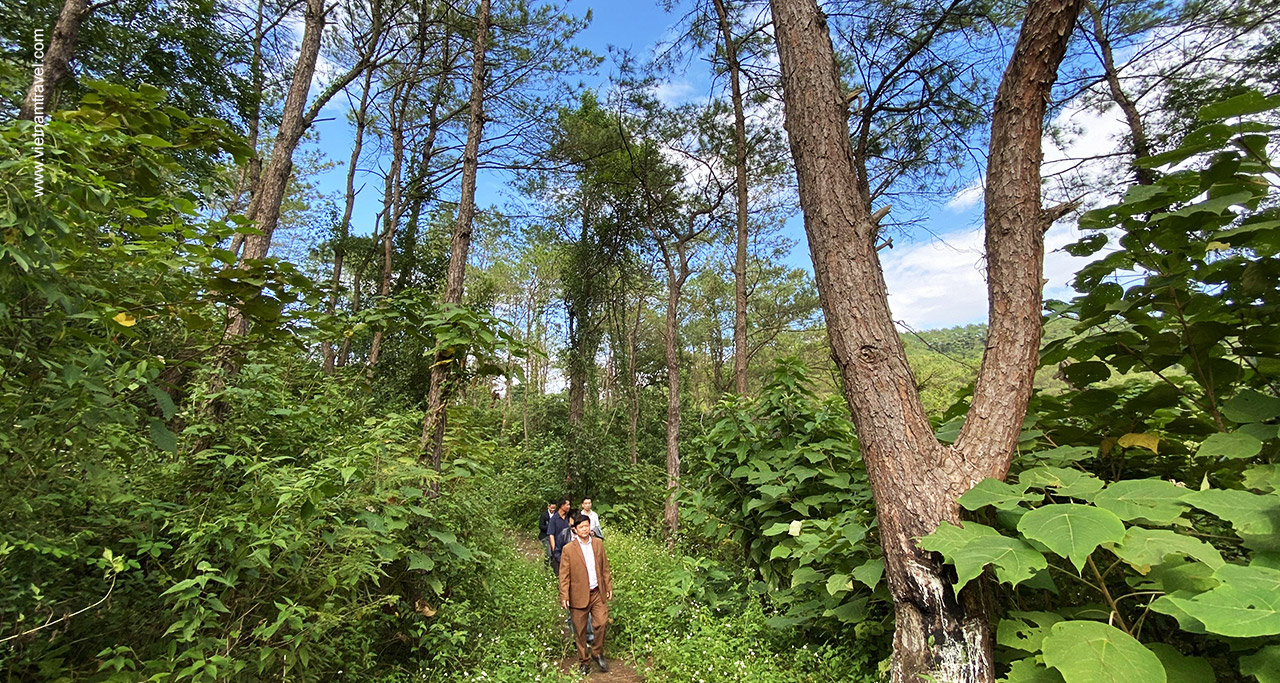 Biking through the orchards is great experience. Ask your local organizer to prepare things in advance.
Take the fruits in the farm. There are so much of fruits in all seasons of the year. Your family would have nice experience and good picture having beautiful tropical fruits in these farm.
Luc Ngan is famous for premium lychee of Vietnam. Most of the fruits here is for export to Taiwan and China, Lychee cover the most of the land in Luc Ngan. During the Summer (May and June) Visitors could have great opportunity to try this specialty of Bac Giang province.
Tours that May Capture Your Interest:
Luc Ngan also a west gate of Yen Tu Mountains. From Luc Ngan, professional mountains hikers could access Yen Tu peak on a long hard trek.
Khuon Than, Bac Giang is a new destination, this place is good for a weekend escape for local and expats from Hanoi and also good for those who love the countryside and the typical culture of people in Red river delta. For more information and useful travel advisory, please contact Vietnam Travel today.