The noodle named Pho
"Bánh phở", the backbone of many dishes of "phở", is a kind of fresh noodle, made from rice flour. It is white, thin, flat and tastes slightly buttery and sweet like boiled rice.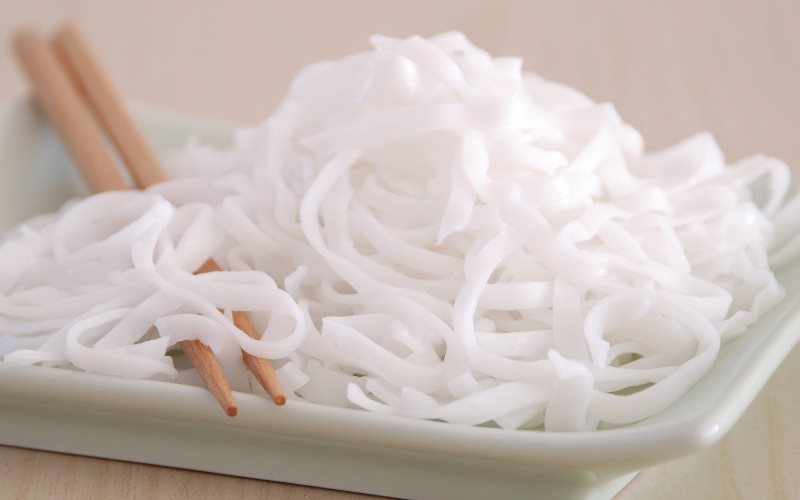 Photo: noinaupho.vn
Varieties of Pho
Based on the way of cooking, "phở" dishes are divided into four types: "Phở nước"- noodle with broth, "phở xào"- stir fried noodle, "phở khô"- dried noodle, and "phở trộn"- mixed noodle. Moreover, each kind has a wide range of different dishes, that makes up the variety of "phở"'s flavor.
"Phở nước"
This is the traditional and the most popular among different kinds of "phở". The most renowned dish of "phở nước" is "phở bò"- Vietnamese beef noodle soup, which is originated from the northern province of Nam Dinh. A bowl of "phở nước" consits of "bánh phở" which has been plunged into boiling water for a short time, sweet broth made of long-simmered ox bones (or chicken bones, in the south of Vietnam), sliced meat (beef, chicken or shrimp), all topped with onions. The dish is accompanied with lime, chili/ chili sauce, chili-garlic vinegar. Hanoians love to enjoy "phở nước" with some "quẩy"- fried bread sticks. Meanwhile, people living in the south usually have "phở" together with a number of raw vegetables like Vietnamese basil, coriander, mung bean sprout, ring onion soaked in vinegar and a bowl of fat broth served to order. "Phở nước" is prefered to be served hot.
Other kinds of "Phở" including "phở xào", "phở trộn", "phở khô" have appeared for some recent decades. "Phở xào" is made of "bánh phở" stir-fired with beef and some vegetable. "Phở trộn" is a kind of salad made of "bánh phở" mixed with some herbs, raw vegetable, stir-fired beef and topped with roasted peanuts.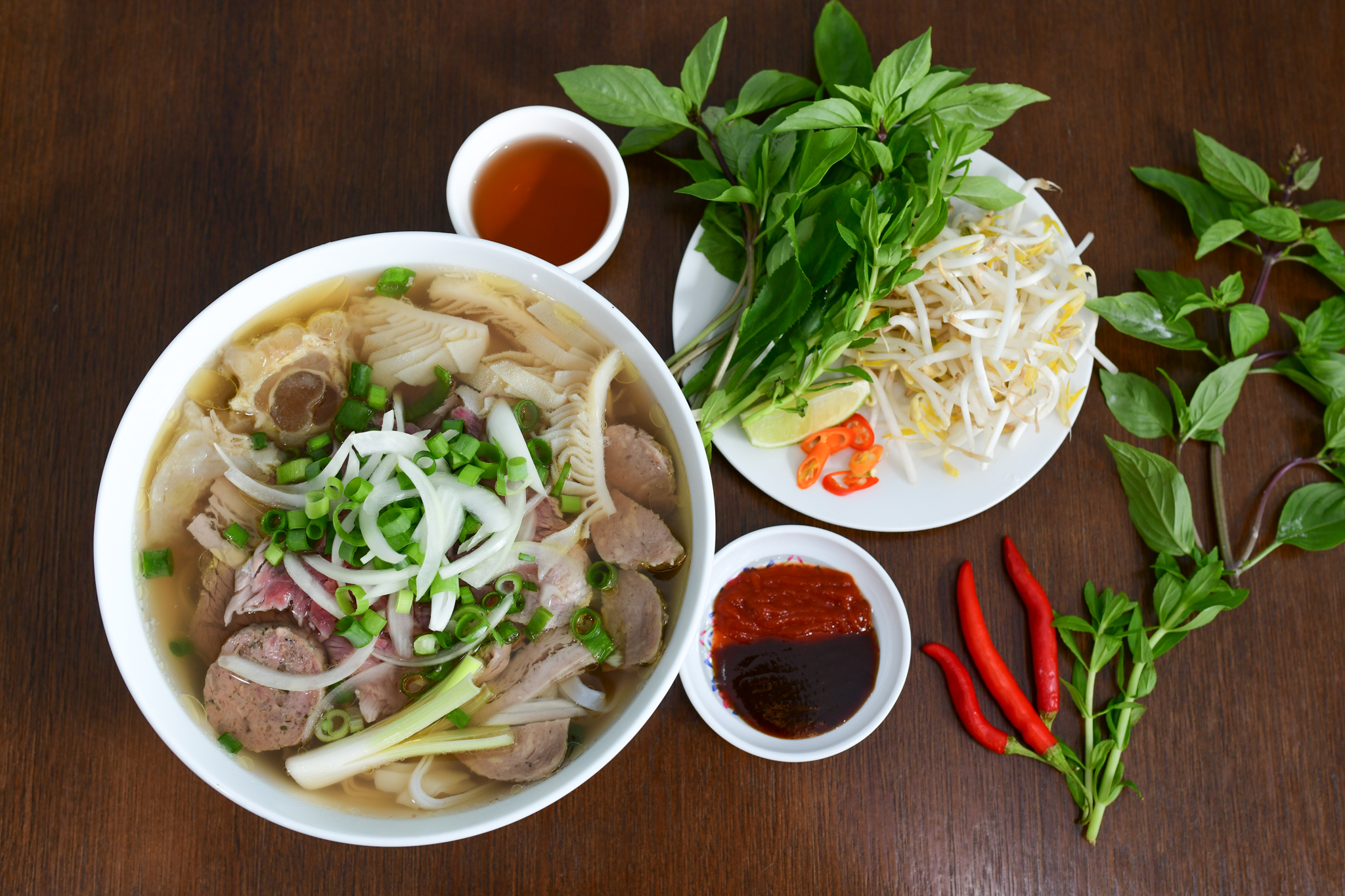 Photo: vietqld.com.au
Pho Xao
A plate of stir-fried Pho will be filling for the whole afternoon
Like its name, "phở khô" or "phở hai tô"- two bowl noodle is served with two bowls. One bowl offers "bánh phở" mixed with fried ground pork, fired onion, and some kinds of raw vegetables like lettuce, mung bean sprout; the other offers sweet broth with sliced beef. While "phở xào" and "phở khô" are preferred to be served hot or warm, "phở trộn" is a cool dish which is much favored in hot summer days.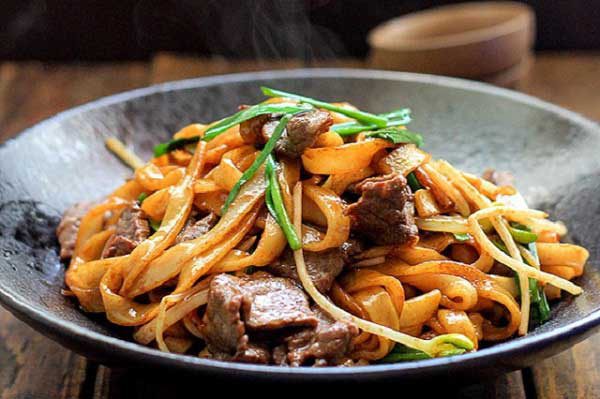 Photo: daubepgiadinh.vn
Read more: What Time Is It In Vietnam?
Story about Phở
"Phở" is a popular dish in the north of Vietnam and properly the second most popular food among Vietnamese (after boiled rice). Nam Dinh is said to be the homeland of "Phở", however, Hanoi is where this delicious food is largely consumed and becomes famous specialty. "Phở" is favorite breakfast, lunch or late night snack of many Hanoians and becomes a must-try food for any tourist comes to the city.
About 50 years ago, "phở" was brought from the north to the south of Vietnam and new dishes like "phở tôm"- shrimp noodle, "phở khô Gia Lai"-dried noodle were born. After 1975, many Saigoneses immigrated to the US, Canada, Australia, and brought "Phở Sài Gòn" to the Western. Nowadays, prestigious restaurant chain like "Phở 24" which operates in Vietnam and many countries all over the world makes it known internationally.
Today, instant "phở" can be easily purchased in any grocery or supermarket. Cooking this kind of "phở" requires a little amount of time (just few minutes), and people can enjoy "phở" anytime, anywhere they want (they only need a bowl and boiling water). However, people still prefer to enjoy "phở" at roadside restaurants because of better flavor, lively atmosphere and their habit somehow. There are a few varieties of this dish, mostly on the types of cooking and the kind of meat involved. It never hurts to learn some of the word when ordering the dish, not only to present yourself as a food-savvy but also to make you more approachable to the local.
Pho bo: Pho with beef
Pho ga: Pho with chicken
Pho moc: Pho with small balls of ground pork or beef
Pho xao: stir fried pho
Pho sot vang: pho served with a thick stew instead of beef or chicken broth
Pho chua: a unique type of pho that could only be found in Northern mountain area such as Lang Son. It is served not with broth, but a mix of fish sauce and peanut and lemon.
---