Located in the Southern, Phu Quoc – one of the largest & most beautiful islands in Vietnam is definitely one of the best destinations in Vietnam to visit and explore.
Phu Quoc diving at the pristine & blue clear beaches is a great experience for all beach lovers and sea-exploring divers. The beaches in Phu Quoc are not the best place for diving on the planet, however, this pristine island with a diverse aquatic system and colorful and rare coral reefs offers you nice experiences on your beach vacation at this pearl island.
Phu Quoc diving season: in the dry season from November to May when the seawater is warm and clear for undersea exploring trips. Scuba-diving & snorkeling services, offered by professional diving centers that have PADI certificates and experienced trainers & guides, are all available on this beautiful island.
– Snorkeling Phu Quoc is suitable for most tourists who want to have an interesting experience with swimming and easy diving.
– Scuba-diving in Phu Quoc is an exciting thing to do for those who are passionate about adventurous experiences. Having a deep dive into the sea, you can immerse yourself in the sparkling life under the sea. Phu Quoc island is the best place in Vietnam to take a diving course or tour with professional operators and trainers with PADI certificates. Phu Quoc diving prices depend on diving services and tours. Snorkeling is cheaper than scuba diving. In general, your experience deserves your payment. It is highly recommended to take a tour with experienced tour operators and include travel insurance.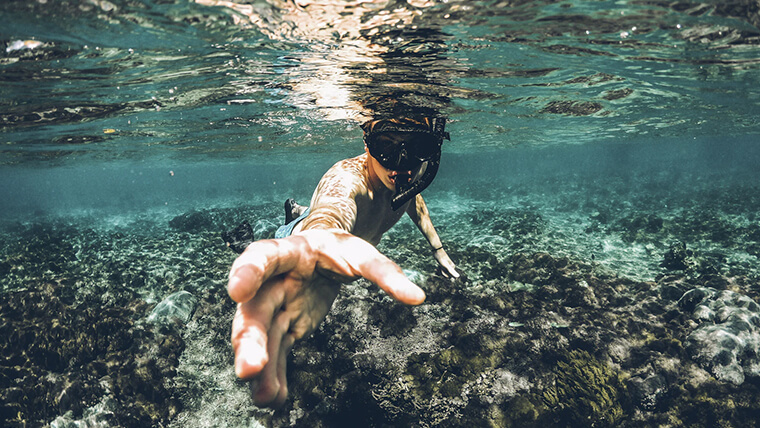 Diving in Phu Quoc (Source: David Henrichs)
I – Where are the best Phu Quoc dive sites?
In Phu Quoc island, both northern and southern beaches are the best places for scuba diving as well as snorkeling.
– The Southern area: An Thoi archipelago with 15 small islands such as Mong Tay island, Tho island, May Rut island, are nice places for having the best snorkeling in Phu Quoc and scuba diving tours. This beach area offers visitors clear water, rich coral reefs, and the most colorful fish species.
– Northern area: The North of Phu Quoc Island – home to pristine islands & beaches, a rich marine system with countless fish, shrimp and aquatic species, diverse coral reefs is the best snorkeling beach in Phu Quoc.
– Rach Vem area: located in the north of the island, Rach Vem is a worthwhile scuba diving area because everything here is quite pristine, the coral and marine ecosystems are intact and diverse.
– Ganh Dau area: a sparsely populated area, with a clear blue sea, living coral, and many marine animals.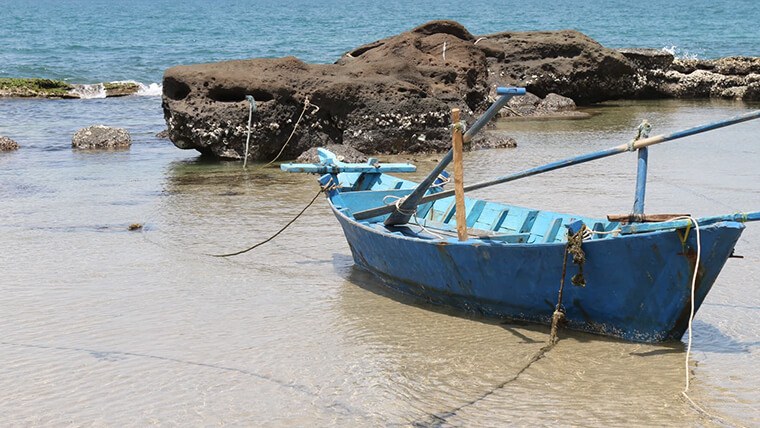 Ganh Dau beach (Source: Marlene Bezem)
II – Best diving in Phu Quoc island service providers
The diving service providers offer both scuba diving and snorkeling for tourists. There are numerous tour operators and agencies supplying high-quality & great diving services with full standard equipment and experienced trainers.
Rainbow Divers:
Offering many Phu Quoc diving PADI courses and tours.
– Address: No.11 Tran Hung Dao street, Duong Dong town, Phu Quoc island
– Contact: +84 375 288 732
– Tour price: $150 / pax
Flipper diving club Phu Quoc:
Offering tours and courses for scuba diving & snorkeling,
– Address: No.60 Tran Hung Dao street, Duong Dong town, Phu Quoc island
– Contact: (+84) 773-994-924 or (+84) 939 402 872
– Opening hours: 7am – 7pm
– Tour price:
+ Snorkeling: $30 – 37 / pax
+ Scuba diving: $103 – 170 / pax
Vietnam explorer diving center:
– Address: Group 2, Hamlet, Suoi May, Kien Giang province
– Contact: 0395 333 727
– Tour price:
+ Snorkeling: $30 / pax
+ Scuba diving: $60 / pax
Other Phu Quoc diving centers & tour operators:
Phil Hai Diving Club:
– Address: Ong Lang beach, Phu Quoc island
– Contact: 090 524 81 15
SEAMEN DIVERS:
– Address: No.141 Tran Hung Dao street, Kp7, Phu Quoc island
– Contact: 096 447 46 60
III – Tips for scuba diving and snorkeling in Phu Quoc island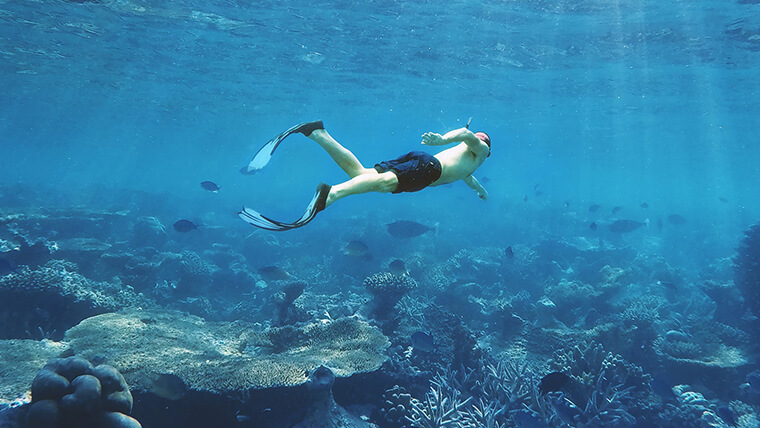 Snorkeling in Phu Quoc (Source: Ibrahim Razzan)
The ideal time to participate in diving activities in Phu Quoc is from mid-October to April next year. However, to ensure the safety and continuity of the itinerary, you should check the weather in Phu Quoc regularly and have a well-prepared plan. A sunny day with calm waves is the best condition for a driving tour.
When participating in scuba diving in Phu Quoc, to be safe and have a wonderful experience, you should:
– Follow the instructions of the instructor
– Warm-up before diving
– Swim slowly with groups, do not swim or dive alone
– Do not drink alcohol before diving
– Check carefully your equipment before diving into the water
That is a guide to snorkeling & scuba diving in Phu Quoc island. Along with Nha Trang and Da Nang, Phu Quoc is one of the most ideal places for diving in Vietnam. It is hoped that useful information about snorkeling as well as scuba diving in Phu Quoc island is helpful for your traveling plan.