Vietnam offers a variety of romantic destinations and experiences for your honeymoon trip.
Vietnam is a perfect choice for your honeymoon trip, with its stunning scenery, rich culture, and diverse cuisine. Whether you prefer relaxing on a beach, exploring a city, or immersing in nature, Vietnam has something for every couple. Learn more about the most ideal places for your honeymoon trip in Vietnam and what to do in this article.
With its incredible culture, hospitable locals, exquisite Vietnamese Cuisines and a wide range of natural marvels, Vietnam is always in the top recommended destinations for honeymooners. And there are endless stunning places to visit that promises unforgettable & meaningful honeymoon experiences. With our professional experiences working in tourism industry, we have picked some of the best honeymoon destinations for you to consider for your best lifetime.
Sapa: Heavenly terraced rice fields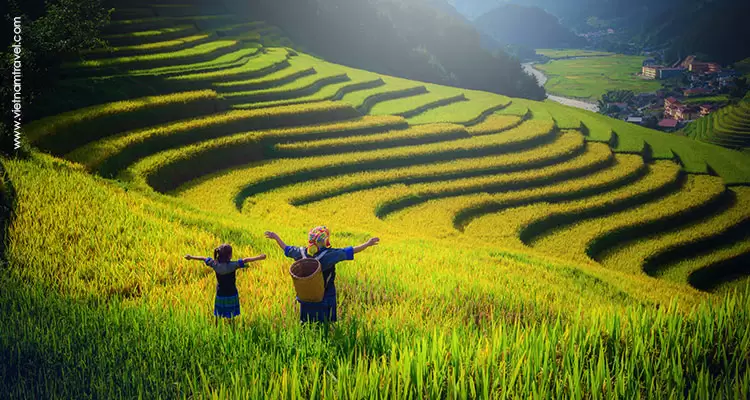 Nobody coming to the northern mountain part of Vietnam can deny the majestic beauty of Sapa. It is undoubtedly among the best honeymoon destinations in Vietnam and can be enjoyed all year round. This foggy town is surrounded by spectacular mountains, colourful valleys and amazing terraced paddy fields. Sapa is also known as the home of various ethnic minorities such as Hmong, Red Dao, Giay, Xa Pho and Tay capturing fascinating cultures, languages and clothings. What else can be better for your honeymoon trip which you not only enjoy majestic natures but also wallow in diverse stimulating cultures. Whether you visit Muong Hoa Valley, dip in the Love Fountain , ascend the Heaven Gate or join a dance in the "Love Market", you may encounter flowers blooming everywhere entire year.
Ha Long Bay: Astonishing World Heritage site by UNESCO
The main reason for international visitors heading to the North is witnessing Ha Long Bay, a World Heritage site recorded twice by UNESCO. This area is an impressive complex of white sand beaches, limestone islands, blue water, luxuriant vegetations and mysterious grottos of stalactites and stalagmites. That is why the Ha Long Bay trip guarantees to offer you many romantic excursions. Embarking on an overnight cruise must be the best choice so that you can enjoy your honeymoon at the fullest experiences. Watching the sunrise and sunset over the bay, kayaking on emerald water, taking a dip in the sea or exploring magnificent caves will bring to you most romantic feelings. Especially, a customized dinner with candles, delicious seafood dishes in in the middle of ocean can be arranged only for you and your sweetheart. It is highly recommended to take a 3 day 2 night cruise package for your honeymoon holiday in Halong Bay.
Ninh Binh: The best tranquil province for honeymooners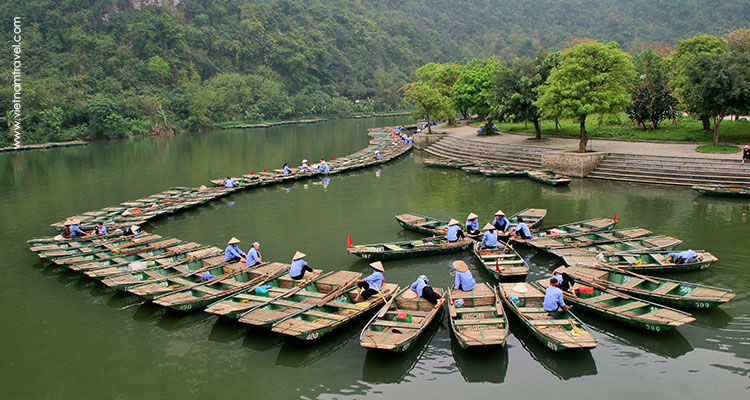 Being chosen as the main filming location for the 'Kong: Skull Island' in 2016, Ninh Binh wows honeymooners by splendid landscapes together with charming historical sites. Coming to this ancient capital land, you and your sweetheart will be taken on a paddling boat through impressive grottos and fertile rice fields in Tam Coc Bich Dong, Trang An or go on a pilgrimage to Bai Dinh pagoda – the second largest ones in South East Asia. Another option for couple to explore Ninh Binh is bicycling to peaceful villages and taking beautiful pictures of limestone mountains dating back to millions years ago.
Hue: For A Royal Romance In The Imperial City
For whom want to visit an actual and well-preserved Oriental palace, Hue certainly offers all these ancient imperial citadel complex, temples and tombs ruled by the last feudal dynasty of Vietnam. To experience an unique royal trip, you can take part in a royal banquet dinner.  You will dress up like royal lords and women, enjoy imperial court music and relish subtle dishes served with intricately-carved garnishes. Hue also boasts long coastlines of white sand beaches such as Canh Duong, Thuan An, Ham Rong. One more reason that Hue wins hearts of visitors is the friendliness and kindness of local people who always give hands on in-need strangers without any hesitations.
Hoi An: Ranks the 2nd position in Top 10 Destinations For Couples In Asia by Luxeinacity's travel experts.
Located in the centre of Vietnam, Hoi An is a fine blend of Japanese, Chinese and Vietnamese culture and architecture. Hoi An still preserves its original beauty of 1,068 ancient houses, 19 majestic pagodas, 43 divine shrines, 5 assembly halls, 11 dated wells, 1 central bridge and 44 antique tombs. The old world charm demonstrates in not only daytime but also nighttime. At any time of the day, you can take a small sampan in company with river flow to witness local lives differently. When the night falls, the whole town is glowed by colourful traditional lanterns in many shapes and sizes. Undoubtedly, it is time to hold your sweetheart's hands and walk around these dreamy streets to immerse your simple but profound love.
Dalat: The Valley Of Love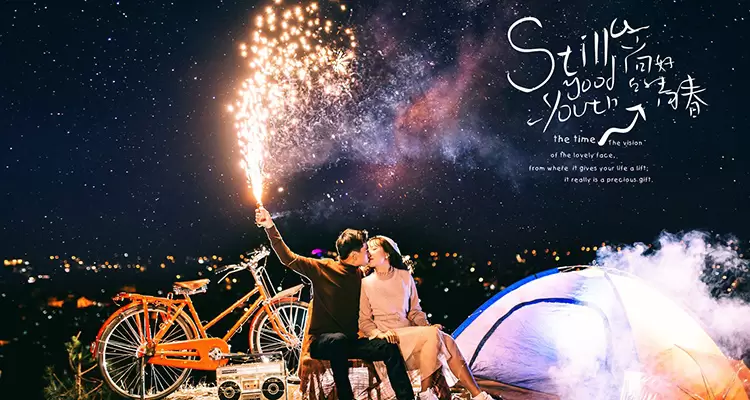 Thanks to its cool climate, you can visit Dalat all year round. Visitors admire Dalat because of green plateau fields, hills, pine forests, waterfalls, the colonial houses and building and the luxurious resorts. Notable attractions are Ponguar Waterfall, Linh Phuoc Pagoda, Crazy House, Central Flower Park, Old Train Station, and Emperor Bao Dai's Summer Palace. Waking up here, you can take a sip of morning coffee or ride a giant swan-shaped paddleboat at dreamy Xuan Huong lake, hand in hand through colorful flower paths to make your love be more passionate. A visit to Da Lat Market guarantees you an opportunity to observe bustling local shopping area presenting a wide range of local goods
Nha Trang – Where mountains meet the sea
Instead of offering a dreamy and romantic beauty as Da Lat, Nha Trang brings couples to a wide range of the most wonderful white sand beaches and the clearest water. Another must-do experience in Nha Trang is drowning in hot mineral springs, mud pools or under running water massage thousand rays. Vinpearland is always an ideal dating spot with long cable and hundreds of games under international standards. After delighted playing time, you can pay a visit to Tri Nguyen Aquarium, relax by Ta Gu, Yang Bay waterfall or discover the mysterious Ponagar tower. Nha Trang is regarded as "Gold Coast of Vietnam" that propose high-end shopping boutique, beach resorts and beachfront restaurants. Nha Trang is just a perfect stopover for some island hopping tours including diving, snorkeling, seafood dining, swimming or simply lazing around at the beach.
Mui Ne: Desert By The Sea
Mui Ne has been transformed conveniently from a quiet fishing village into a major surf & beach destination. The enormous red & white sand dunes formed by oceanic wind over the beaches create an unique landscape of desert by the sea. After walking along the muddy Fairy Stream, passing by some spectacular limestone cliffs and forest, you will reach a vibrant waterfall at the end. Mui Ne is one of the closest beautiful beaches to Ho Chi Minh City, about 4 hours drive. Honeymooners can enjoy beach vacation in Mui Ne at the end of their Vietnam holiday before flying home.
Phu Quoc: Paradise Island in Southern Vietnam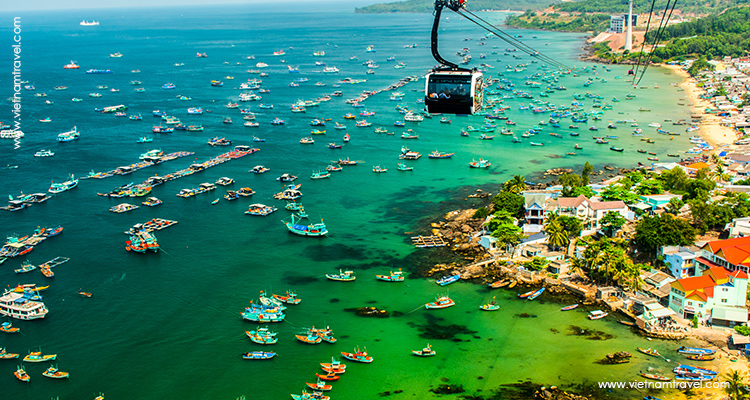 If you want to spend your romantic time in a private area, Phu Quoc is one the best honeymoon destinations you should choose. Though it is an isolated island, Phu Quoc can be accessed easily by boat or by plane. You will be amazed by the vibes of this island, crystal blue water, smoothness of golden sands together designing charming beaches, especially the "Starfish Beach". It is the most beautiful one in Phu Quoc with pristine white-sand beach, shady coconut trees and karst cliffs overlooking towards the sea. Phu Quoc on the other hand provides a wide choice of things for you and your partner like sunbathing, falling asleep on long picturesque beaches, snorkeling under fantastic marine life or watching breathtaking sunset view of the island at high-end beach resorts. The peaceful paradise is also a favorite spot for nature lovers with jungle trails, lush mountain hikes and unique wildlife biodiversity. It is lovely to buy fresh seafoods, tropical fruits at relatively low prices and have a dinner when the sun has set.
Though the complete list is long, above are the favourite spots voted by honeymooners. Whether you want to visit ancient town, rural province, mountainous area, majestic bay or fantastic beach, our travel experts will customize your perfect honeymoon trip regarding to your special travel interests.