Top 8 must-try dishes in Hoi An
Hoi An was once a major Vietnamese trading port, and its specialties are influenced by Chinese, French, and Japanese cuisine. Continue reading for our list of must-try dishes in Hoi An.
Mi Quang (Vietnamese Turmeric Noodles) 
Mi quang is made up of yellow rice noodles, bone broth flavored with fish sauce, black pepper, shallot, and garlic, and finished with various meats, herbs, and local greens. Traditional meat toppings include chicken, pork, or beef slices, but many eateries now offer squid, boiled quail eggs, snails, and frogs. Mi quang, like most noodle and rice dishes in Vietnam, is loaded with fresh herbs and other ingredients like basil, peanuts, coriander, sliced banana flowers, and sesame rice crackers.
Cao Lau (Rice Noodles With Barbecued Pork, Greens And Croutons) 
Cao lau is the signature dish of Hoi An, consisting of chewy udon-like rice noodles, Chinese barbecued pork slices, beansprouts, croutons, and fresh herbs in a pork-based gravy. This local delicacy is only available in Hoi An because the noodles can only be cooked with water from well-hidden ancient Cham wells, while the fresh greens come from Tra Que Vegetable Village. Cao lau can be found at any Vietnamese restaurant in Hoi An. Certain restaurants add peanuts, rice crackers, scallions, lime, and chilli jam to their cao lau.
Banh Mi (Vietnamese Baguette) 
Banh mi is a traditional Vietnamese dish that should not be missed. It is quick and delicious. This flavorful baguette sandwich is made with pickled vegetables, pâté, soy sauce, fresh basil, chillies, and hot peppers. Depending on the restaurant or food stall, you can also select from a wide range of meat stuffing for your banh mi, such as heo quay (roasted pork belly), cha ca (fried fish with turmeric and dill), cha lua (boiled sausages), xiu mai (meatballs), thit ga (boiled chicken), trung op la (fried egg), thit nuong (grilled pork loin), and xa xiu (fried (Chinese barbecued pork).

Com Ga (Chicken Rice) 
Com ga is a filling dish made with fragrant rice, shredded village chicken, fresh herbs, black pepper, and chili jam. It's a popular dish in Southeast Asia, but it's supposed to be made solely with top-quality rice and farm-raised chickens in Hoi An. The rice is also baked in wood-fired clay ovens with a blend of pandan leaves, chicken stock, and turmeric, giving it a characteristic pale yellow appearance.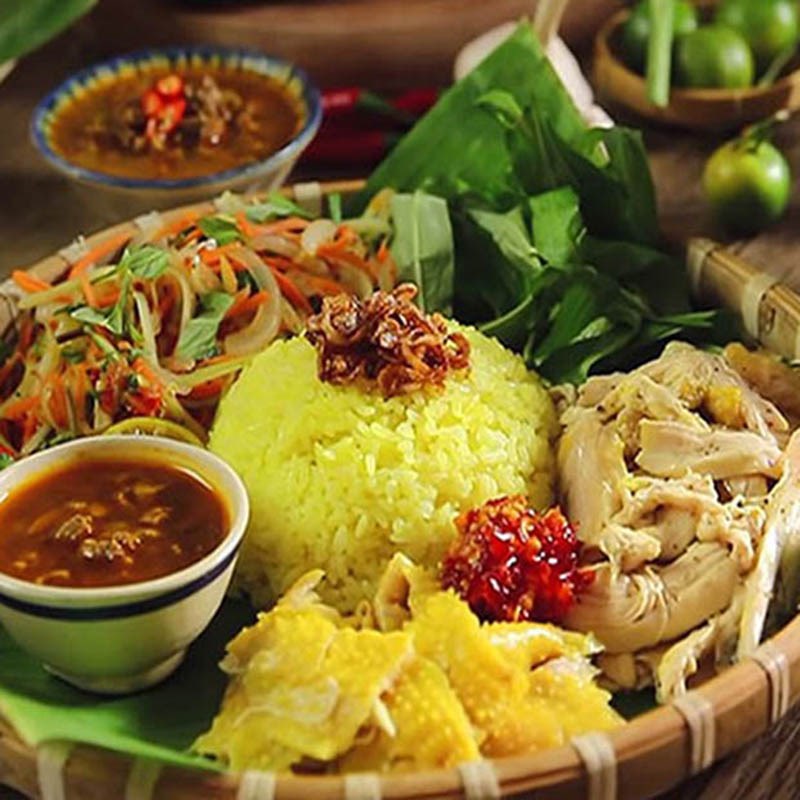 Bun Thit Nuong (Vermicelli Noodles With Grilled Pork) 
Bun thit nuong contains white rice vermicelli, freshly chopped leettuce, cucumber slice, beansprouts, pickled daikon, broken peanuts, basil and mint. Then, the dish is surrounded by sweet and peppery pork slices which are roasted over a charcoal stove. Although the dish is substantial by itself, you pick for green pepper, fresh lettuce and peanut gravy on one side to add extra flavor to your bun thit nuong.
Hoanh Thanh Chien (Fried Wonton Dumplings) 
Hoanh thanh chien, with its salsa-like seasoning, may look like Mexican nachos, but it's genuinely a fried wonton dumpling with a wide range of meat fillings. The wonton is made with rice flour and stuffed with diced pork, shrimp, eggs, and various spices before it is deep-fried until yellow. Hoanh thanh chien is then finished with a mixture of sautéed pork, corn, shrimp, tomato roulade, and coriander leaves.
Banh Bao Vac (White Rose Dumplings) 
Banh bao vac is a Vietnamese appetizer that looks like fragile white roses on a tray. Each dumpling is produced by encasing shrimp or pork filling in flattened rice dough and steaming it. Banh bao vac is meticulously put on a flat dish, covered with shallots, and served with a dipping sauce made from shrimp broth, chilies, lemon, and sugar once soft and translucent.
Banh Dap (Vietnamese Rice Crackers) 
Banh dap is a distinctive traditional food offered in the Village of Cam Nam, 10 minutes away from the historic town of Hoi An Antiquity. Priced at only VND 8,000, the moist rice paper is placed over a crunchy one before laying on mung bean paste, chopped spring onion, and fried shallots. Finally, the whole ensemble is covered by another crispy paper. It is also called smashing rice paper, as banh dap is crushed into pieces on the table before it is enjoyed with a sour chili fish sauce.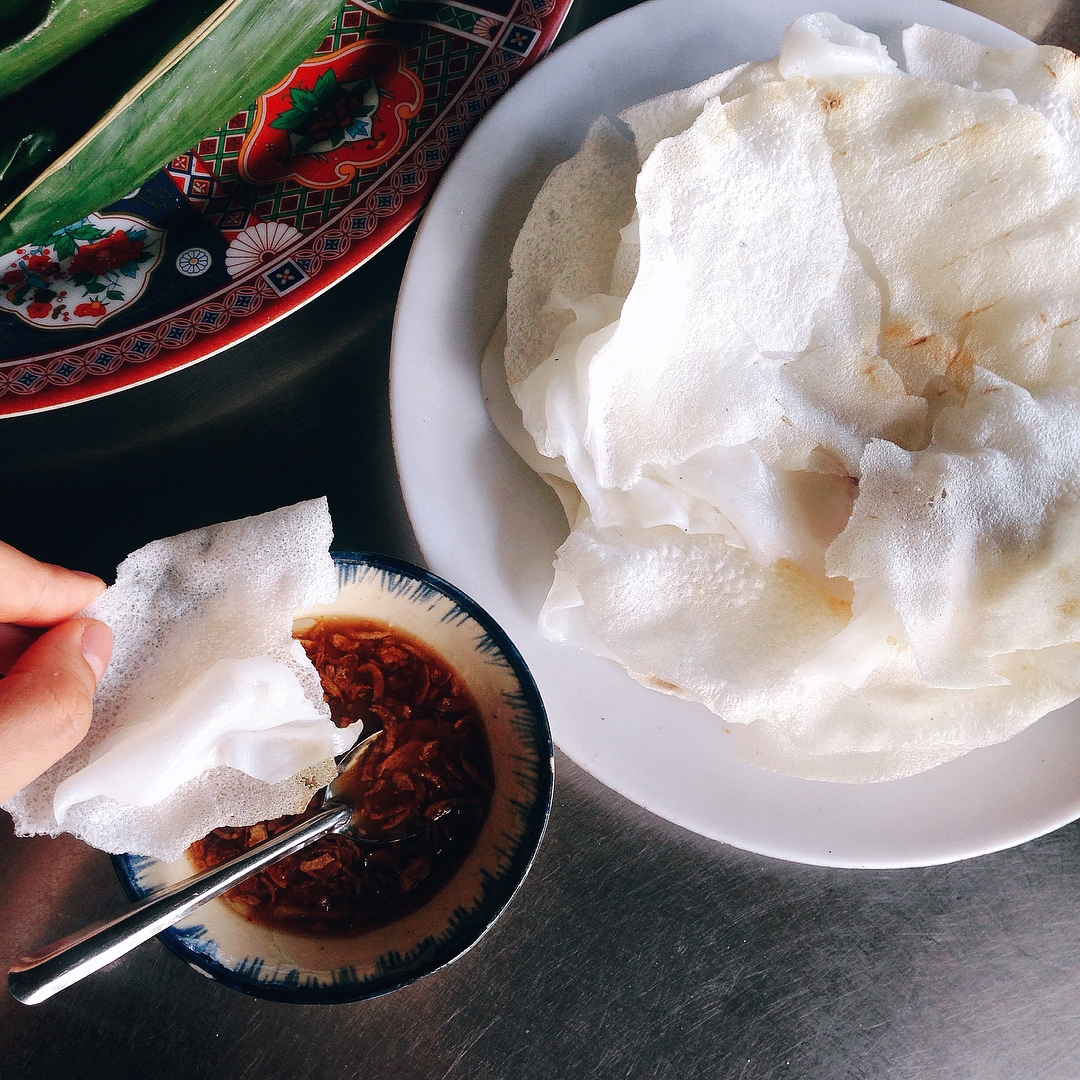 ---
Read more: Top 5 things you should not miss when you're in Danang