BEST LUXURY CRUISE: STELLAR OF THE SEAS CRUISE
High-class travelers with an appreciation for a value-for-money cruise vacation should take Stellar of the Seas into consideration. Just like an opulent floating hotel on the picturesque Halong Bay, Stellar of the Seas is characterized by extravagant design, oversize sundeck, and a bunch of cutting-edge amenities.
Designed with a sense of style, cabins onboard are surprisingly hi-end and roomy with a balcony/ sun terrace in every room. Yet, Stellar of the Seas has more than just lavish staterooms. As with any larger vessels, the ship comes with a panoramic bar, a sumptuous beauty spa & massage, a seasonal swimming pool, and especially a mini-golf course. The restaurant is all about the finest dining experiences with a light breakfast, a set menu lunch, and pool-side BBQ dinner.
What makes Stellar of the Seas even more tempting to tourists is its well-researched itineraries with diverse time variations from 2d1n to 5d4n exploring the best parts of Halong Bay – Lan Ha Bay.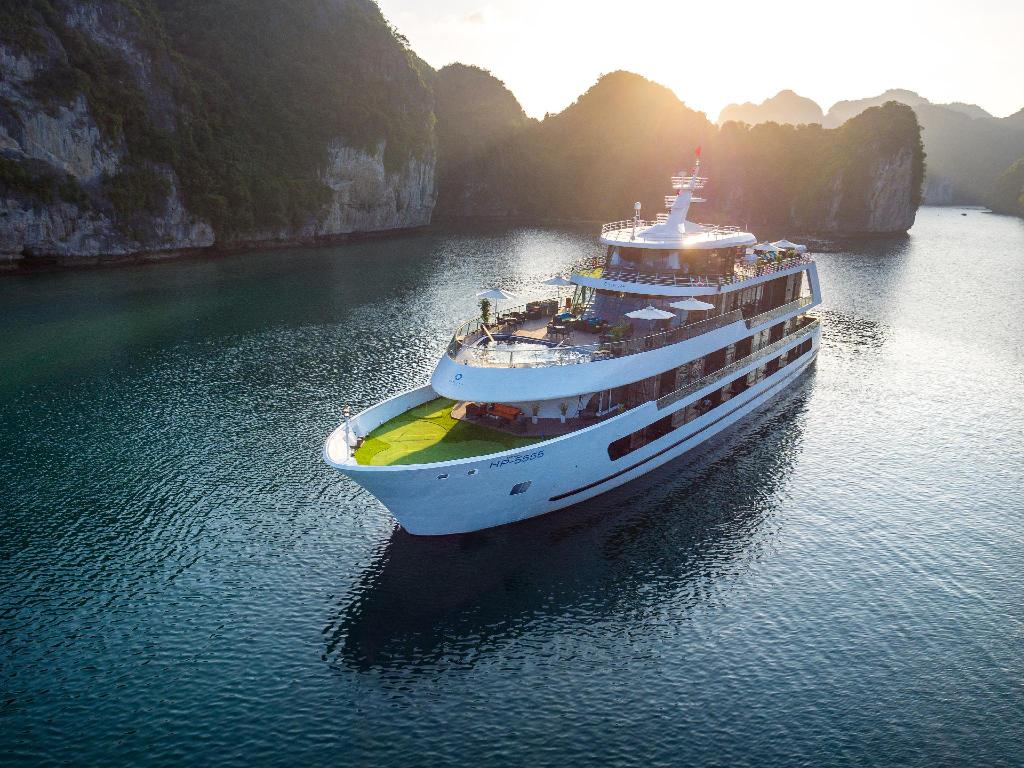 Stellar of the Seas Cruise

BEST LAN HA BAY CRUISE: HERITAGE CRUISE BINH CHUAN
Guests can expect the best things when they embark on Heritage Binh Chuan Cruise, a new, elegant boutique cruise on Lan Ha Bay.
The ship itself is gorgeous and royal, taking inspiration from Mr. Bach Thai Buoi's ships who played a significant role in the cruise industry. An intimate feel embraced the whole 20 cabins which are tastefully designed with French Indochina classic charms in harmony with Vietnamese touches. Every stateroom is outfitted with an oversized balcony/sun terrace, a minibar refilled every day, and an en-suite bathroom.
The onboard experience is full of joy with plenty of modern facilities and amenities such as sundeck & La Piscine, L'Art de L'Annam Gallery, White Lotus Spa, Bach Thai Buoi Gallery, a wine cellar, a pool bar, and a souvenir shop.
On a pampered voyage, visitors have a glimpse of pristine sceneries on Lan Ha Bay, take a dip in Ba Trai Dao Beach and explore Dark & Bright Cave on a kayak.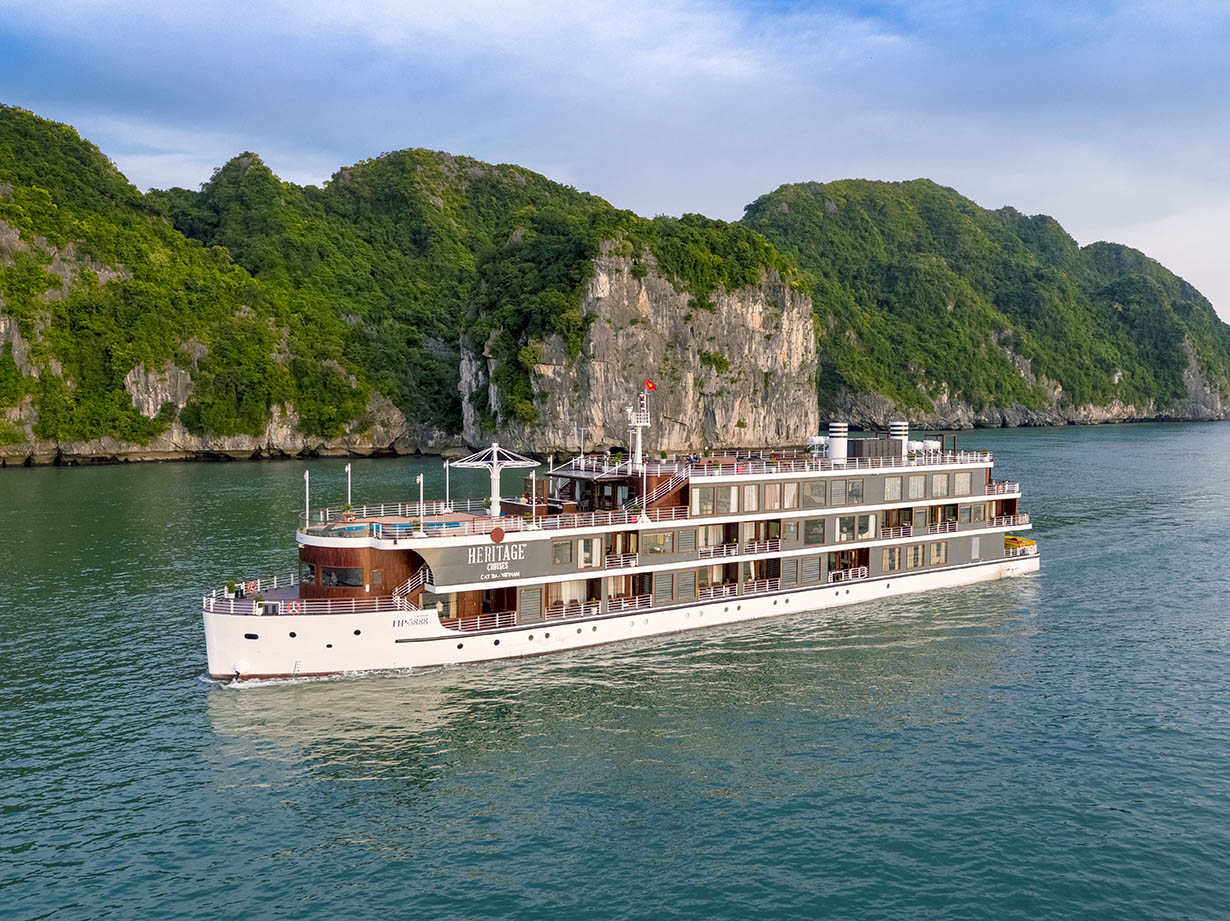 Heritage Cruise Binh Chuan Cat Ba

BEST DAY CRUISE: JADE SAILS
If you're looking for a smart day cruise to fully discover Halong Bay instead of a luxury overnight cruise with nice interior design to rest your head, then look no further than Jade Sails Day Cruise. This state-of-the-art day cruise is unrivaled in terms of the longest traveling time ever of 8 hours, unique modern yacht style design, and 5-star services. The food menu is primarily traditional Vietnamese food staples. Cooking class is an opportunity to learn how to make Vietnamese spring rolls while chilling time in the sunset party is unforgettable with the magnificent sunset and great cocktails.
A wonderful day tour to Lan Ha Bay cannot be complete without admiring the idyllic splendors of Dark & Light Cave on a kayak or bamboo boat and swimming in a calm area.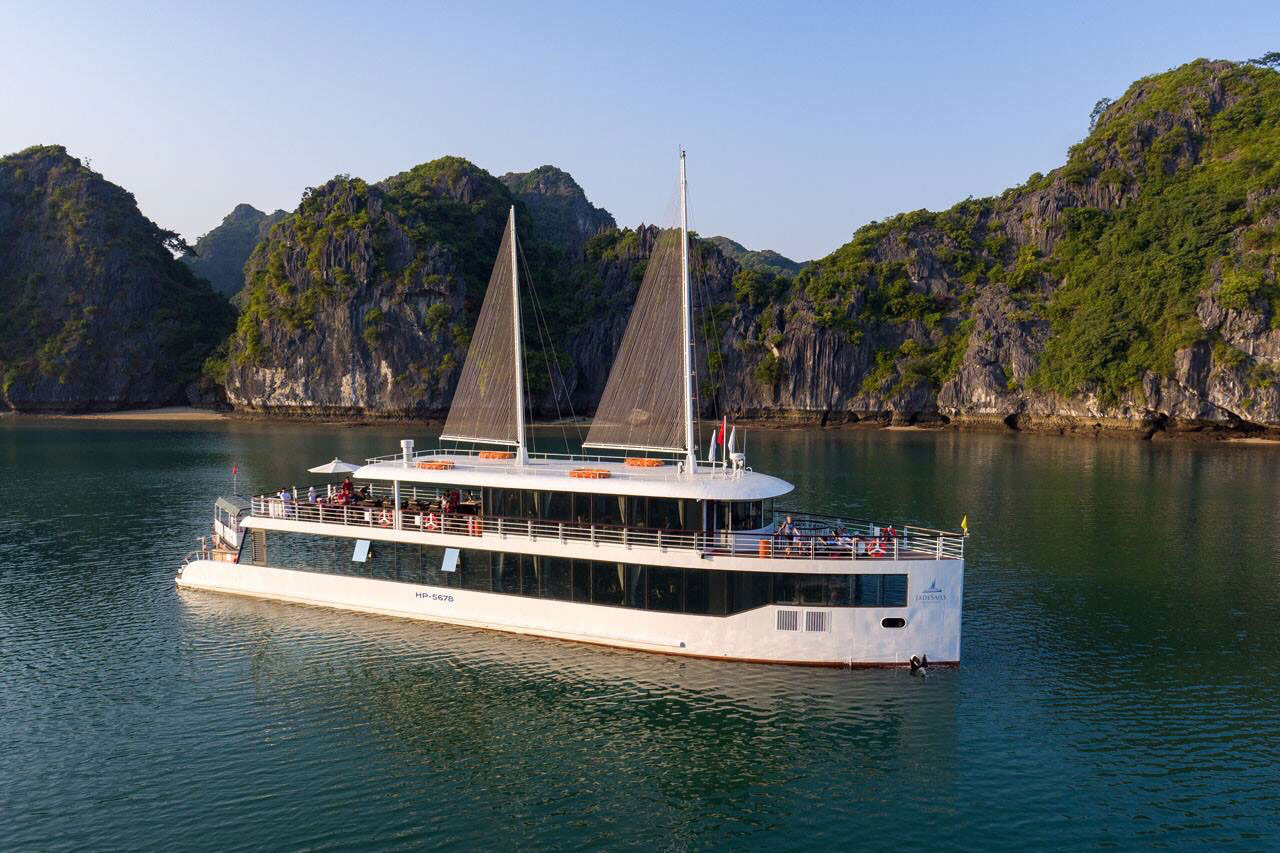 Jade Sails

BEST VALUE CRUISE: GLORY CRUISE
There is probably no other cruise that can match up with Glory Cruise at the price that it is offering its service. At approximately $110 (or even lower during promotion period), the cruise takes you to fishing village where you can see no busy traffic or high rise building. Instead, the fishermen amaze you with their traditional cultures and daily activities, carrying out mostly on herds of boats and rafts. You can choose to take part in the on board cooking class or discovering Bat Cave by kayaking. The night can be spent relaxing at the bar or squid fishing on the deck. There is also a visit to Sung Sot cave on the cruise itinerary.
While bringing you to popular Halong Bay destinations on a budget, the cruise food can get repetitive and the range of extra services is limited. However, this cruise is perfect for those who want to experience the wonder of Halong Bay without the additional cost of unnecessary frills.
2020 updates: Glory is a very poppular budget-mid-range cruise and it can become fully booked any time in a year.
Glory Legend Cruise

BEST NON-WOODEN CRUISE:  PRESIDENT CRUISE
Although most of the junks and cruises are made from wood (or most of their body are from wood) there are some larger vessel made of steel like a cruise one normally see. The advantage of these cruises are that they are larger with more facilities, bigger cabins and provides more stability while sailing.
President cruise is one of its kind, offering an exquisite trip to the bay with its 46 cabin vessel.
Kayaking, biking, swimming and cave exploring will keep you busy and food is a special highlight. Being one of the biggest cruises in the bay, President Cruise is well equipped with a full range of amenities. There is also a Spa and Jacuzzi area for therapeutic massages or unwind time after a long day of excursion.
The hefty price tag may be a splurge but it is worth it to see many unusual locations in just one trip.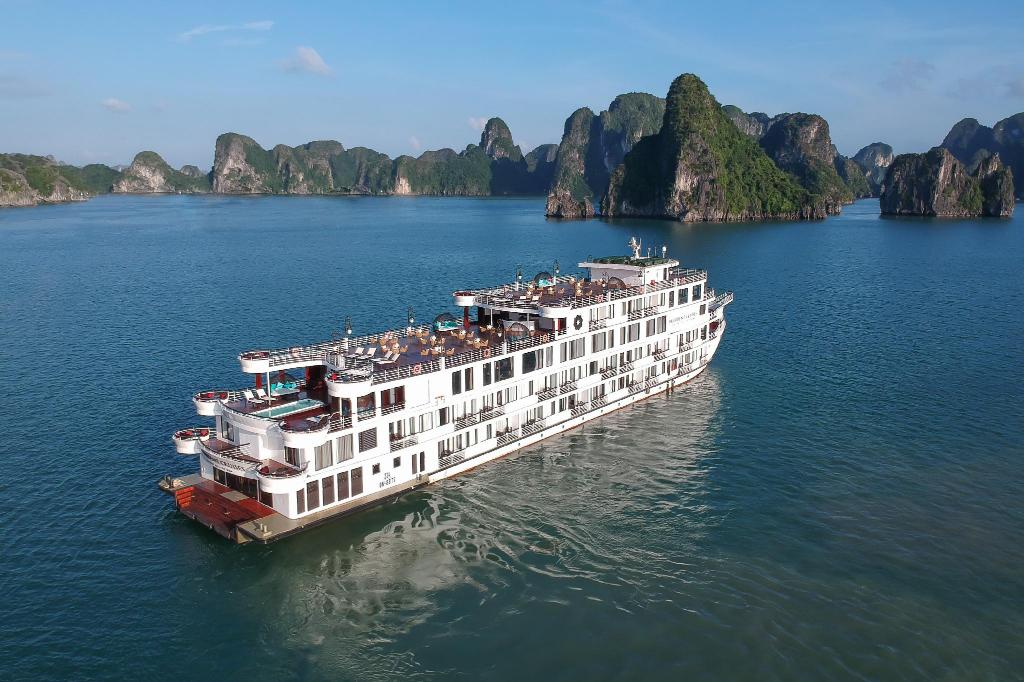 President Cruise

Tips for how to book a Halong Bay cruise:
There are as many websites to book Halong bay cruise as there are actual cruises at the pier. The main idea is that always select a reliable vendor with a competitive price.
Local agents are often the one offering the best price and more importantly, the best insiders' knowledge of Halong bay travel. Some maintain their own collection of the best Halong cruises which come from both the agent's experience and guest feedbacks. The advantage is also that as they work with a number of providers, local agents will be able to advise you the most suitable cruise trips based on your needs.
Most cruises will maintain their official website such as Paradise cruise (www.paradisecruise.com), Au Co (www.aucocruises.com). However, always double check to make sure you are on the official website as there are many replicas run by agencies which do look as if they were real. Booking a trip via the official website means that you can discuss any special request or concerns with the cruise directly. However, the price is usually highest on official website.
Online travel website: The local online agency Halongbaytours.com is a good source if you plan to book your Halong cruise trip. Besides you can consider the popular platform such as Expedia or Booking. However as information is displayed in hotel setting, the information may not be as resourceful as the former one and you will have to compare and decide on your own which cruise you will take.
Lunar New Year Updates: Many cruises in Halong bay will close on Tet Holiday and some are still running but adding service surchage with special new year eve party.
Visit Halong Bay – a locally operated online source for Halong Bay travel – offers an alternative to cruise rating and review – see their full cruise listing for details
---
Vietnamonline247.com – vietnam travel guide
Read more: Top things to do in Halong