Vietnamese Cakes – A Closer Look At Vietnam's Most Varied Food
Vietnamese cuisine culture encompasses an enormous range of cakes with different styles and flavors. Although all kinds of cakes, pies, savory pastries, crepes, bread, and things of the sorts, are called "Banh" in Vietnamese, the translation of any of these foods alone cannot explain fully and exactly the immense diversity of this special Vietnamese food item.
Interestingly, their names are called by their ingredients, shapes, meanings, the original places or even the methods of making them. It can take time to list all of Vietnamese "Banh", hence this article will try to providing you with a brief but as in-depth as possible overview about delicious Vietnamese cakes.
Vietnamese cakes come in different purposes
Unlike Western countries where cake is often served as dessert, Vietnamese cake in most cases are considered main dish, especially breakfast (see 9 most popular breakfast food in Vietnam). Vietnamese baguette (Banh Mi) is a popular example. Vietnamese baguette is familiar to all Vietnamese people, from the youngster to the elderly, from students to office workers, as it is one of the fastest and cheapest food to alleviate hunger. This distinctive Banh Mi is crusty and rather hollow, often kept warm to be served freshly hot and the stuff is tailor made due to your personal taste, be it roasted meat, pate, omelet or peanut butter.
Another breakfast dish with Vietnamese cakes is rice crepes (Banh Cuon), a specialty from Northern Vietnam. One of the most famous versions of this cake is called Banh Cuon Thanh Tri in Hanoi. Made with thin and delicate sheet of steamed rice, filled and rolled with minced pork and mushroom, this dish is served with Vietnamese Pork sausage (Cha lua), fried onion, bean sprout and elegant fish sauce.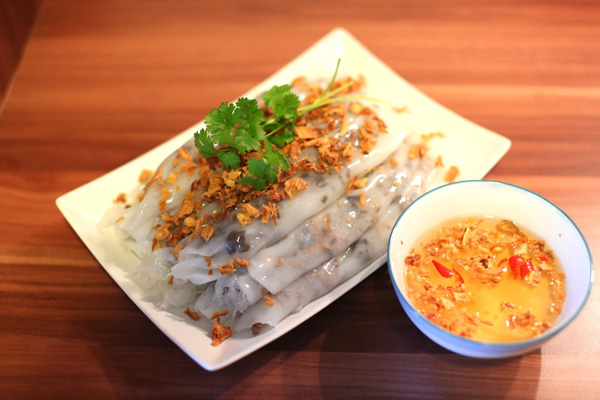 Photo: beptruong.edu.vn  – rice crep cake
On the other hand, the green bean cake (Banh Dau Xanh) is usually served as snacks, just like tea biscuits, when drinking tea. The sweet flavor of the cake blending in with lotus tea is a perfect match when we enjoy a sip of tea. This combination really has the power of bringing people closer in a warm atmosphere. And to stress the difference among Banhs, Banh Dau Xanh is made purely of sugar and mung bean powder – imagine the making of macaroon elsewhere in the world!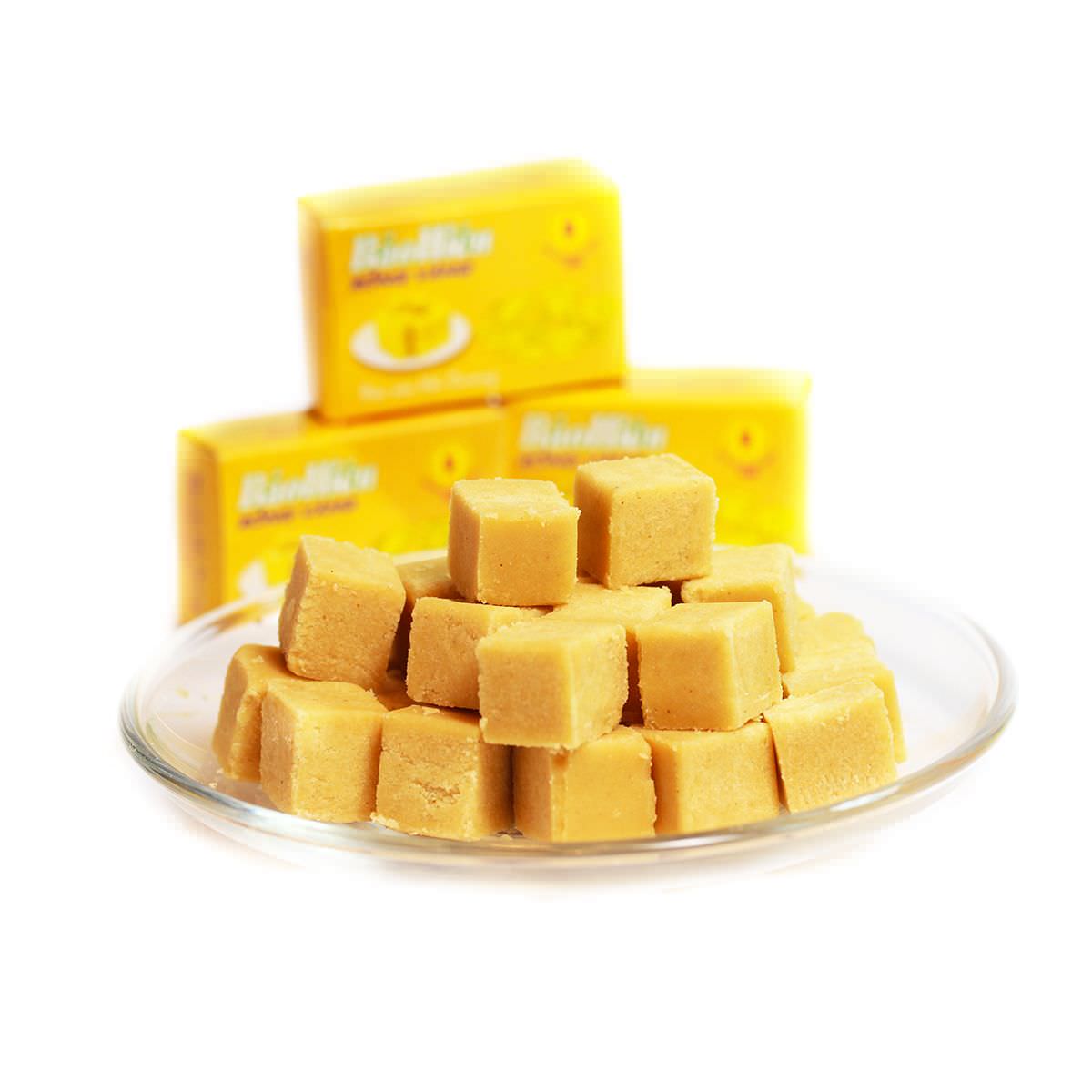 Photo: blog.beemart.vn
These dishes are one of the most salient features of the Vietnamese traditional cuisine, a proof of the versatile role of Vietnamese cakes (Banh) in daily life- they are not only used as snack or dessert, but also an important dish in mostly main meals.
Vietnamese cakes come in different meanings
Vietnamese cake are not purely culinary things, they are also embedded in Vietnamese cultures and spirits. Two of the most popular cakes in Tet Holiday are Banh Chung (Chung Cake or Square Rice Cake) and Banh Day (Day Cake), symbolizing the Sky and the Earth respectively. Banh Chung made from glutinous rice, green bean, pork and other ingredients has the square shape, wrapped by Dong leaf and Giang strings. Banh Day made from glutinous has a round shape but a simpler recipe. Since the origin dated back to Hong Bang dynasty, these two indispensable elements of Vietnamese ancestors altar have been the souls of Vietnam Lunar New Year, as it is the way Vietnamese people worship the ancestors and homeland to express their gratitude and look forward to a happy new year.
Another meaningful cake is Banh Phu The (or Xu Xe), which can be translated as Conjugal cake. This cake is made from tapioca flour, pandanus, green bean, coconut and other ingredients. It has the jelly-like texture, with the transparent cover revealing the yellow mixture inside, and is wrapped by two square boxes. Appearing at the wedding, this cake is the symbol of a solid and eternal marriage, as sticky as the promises made by both of the bride and groom.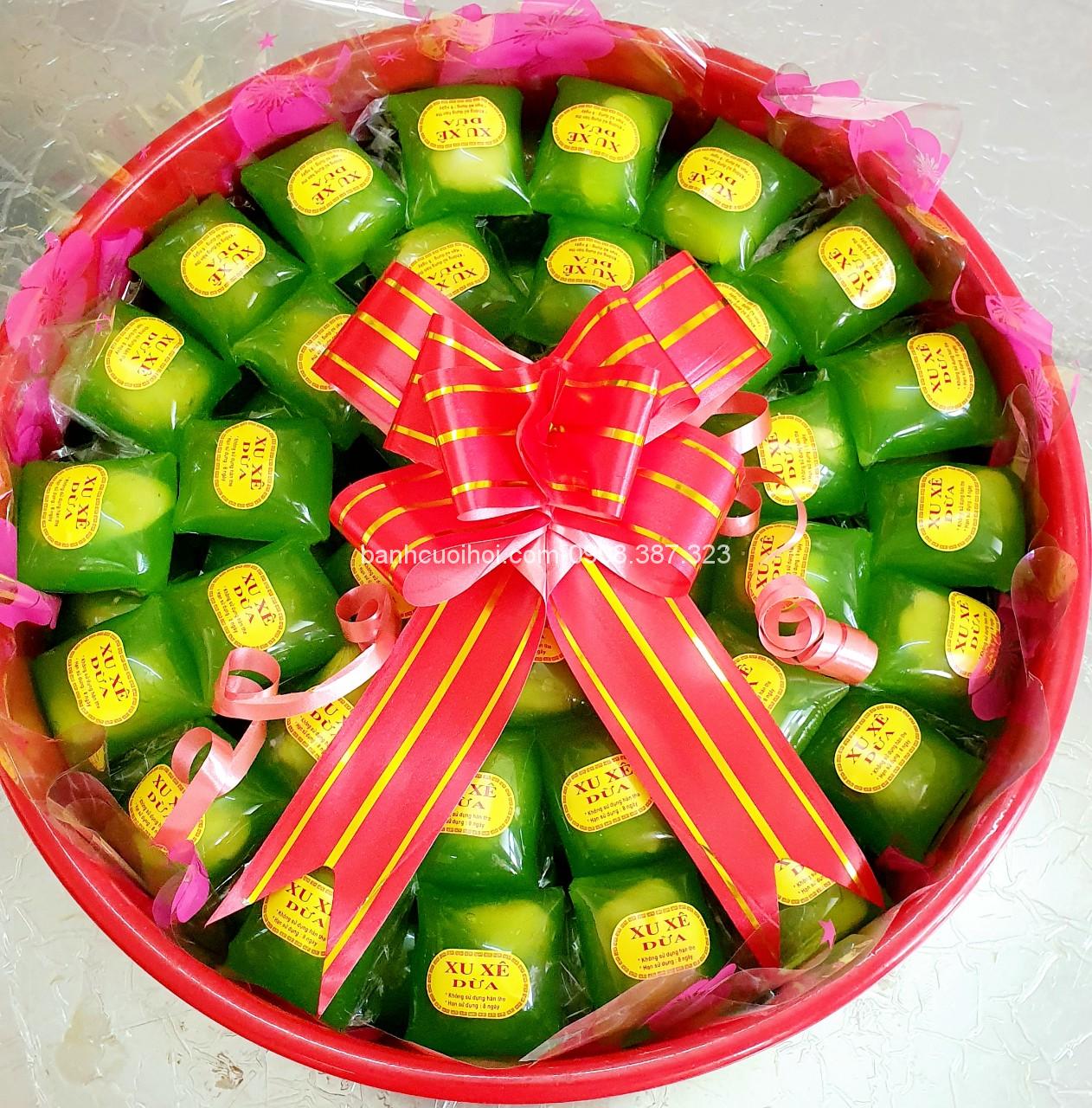 Photo: banhcuoihoi.com 
Vietnamese cakes come from different regions
Due to the different characteristic of geography and culture, each region of Vietnam is proud of unique and special cakes. While Hanoi in Northern Vietnam has Banh Khuc (Khuc Cake), Soc Trang Province in the South of Vietnam also has its own specialty, Banh Pia (Pia Cake). Banh Khuc is a rice ball made of glutinous rice and cudweed, stuffed with pork and green bean and is an important part of childhood of most of Hanoians. Banh Pia is a claim to fame pie of Soc Trang, located in the South of Vietnam. It is made from wheat flour, durian and egg yolk. One of the main features of this round pie is that it is covered by many layers made from wheat flour.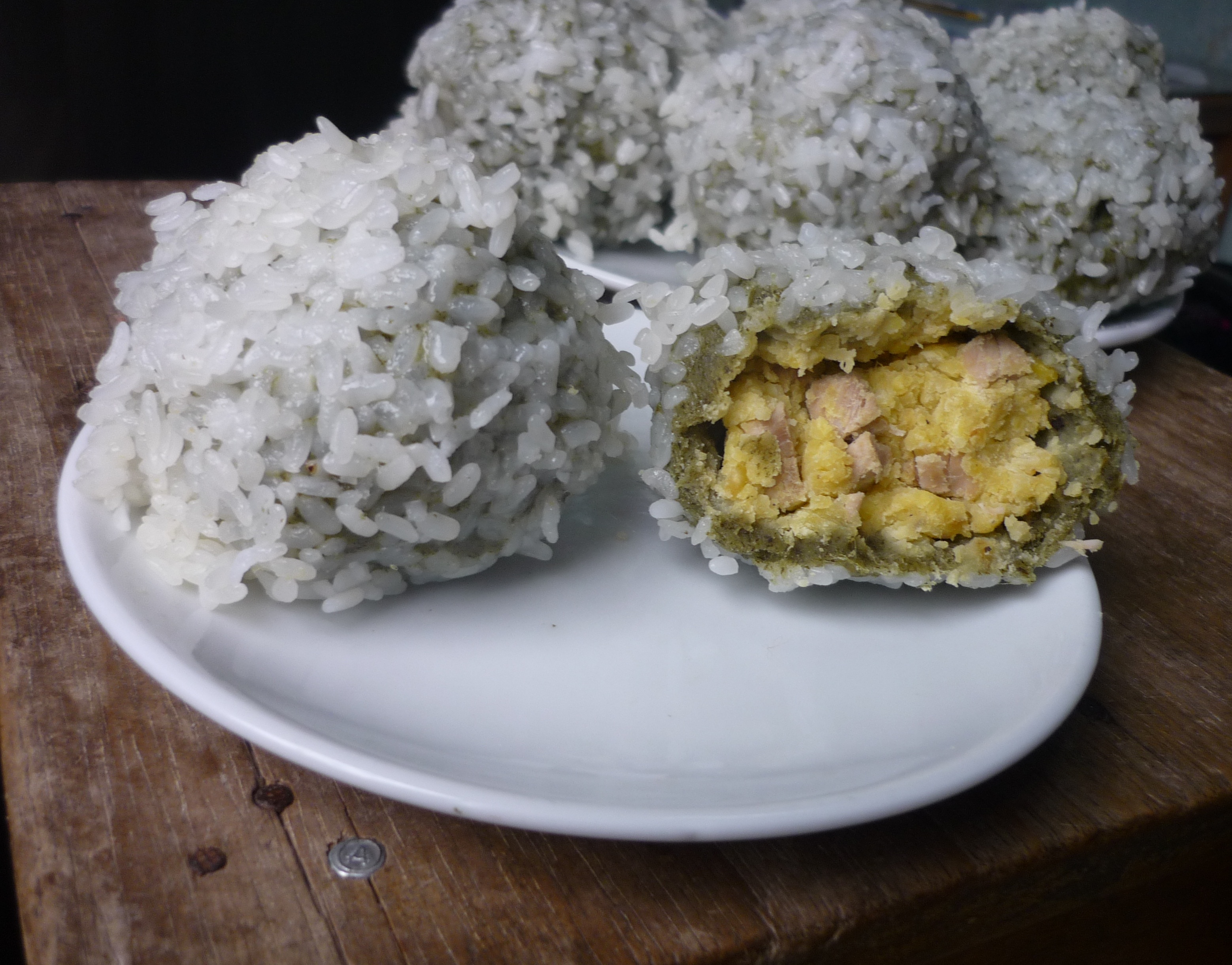 Photo: vi.wikipedia.org – banh khuc
Back to the center of Vietnam, here we have Hoi An white rose cake (banh vac), which is named according to its beautiful and fragrant rose shape. It is made from rice, filled with minced shrimp and spices. Due to the complicated and meticulous method of making it, this dish itself is a dumpling, served with a sauce made of shrimp broth, chili and lemon.
Vietnamese cakes come in different flavors
The enormous range of Vietnamese cakes is a real feast of colors to eyes and taste to tongue. From regions to regions, cities to cities, Banh Vietnam appears everywhere, from the sweet flavor to salty one. In the sweet cakes category, we have green sticky rice cake (or Banh Com), which is made from young green sticky rice (Banh com) and green bean. This delicious cake is actually a gift of Hanoi, and the most famous place producing the best Com is Vong village.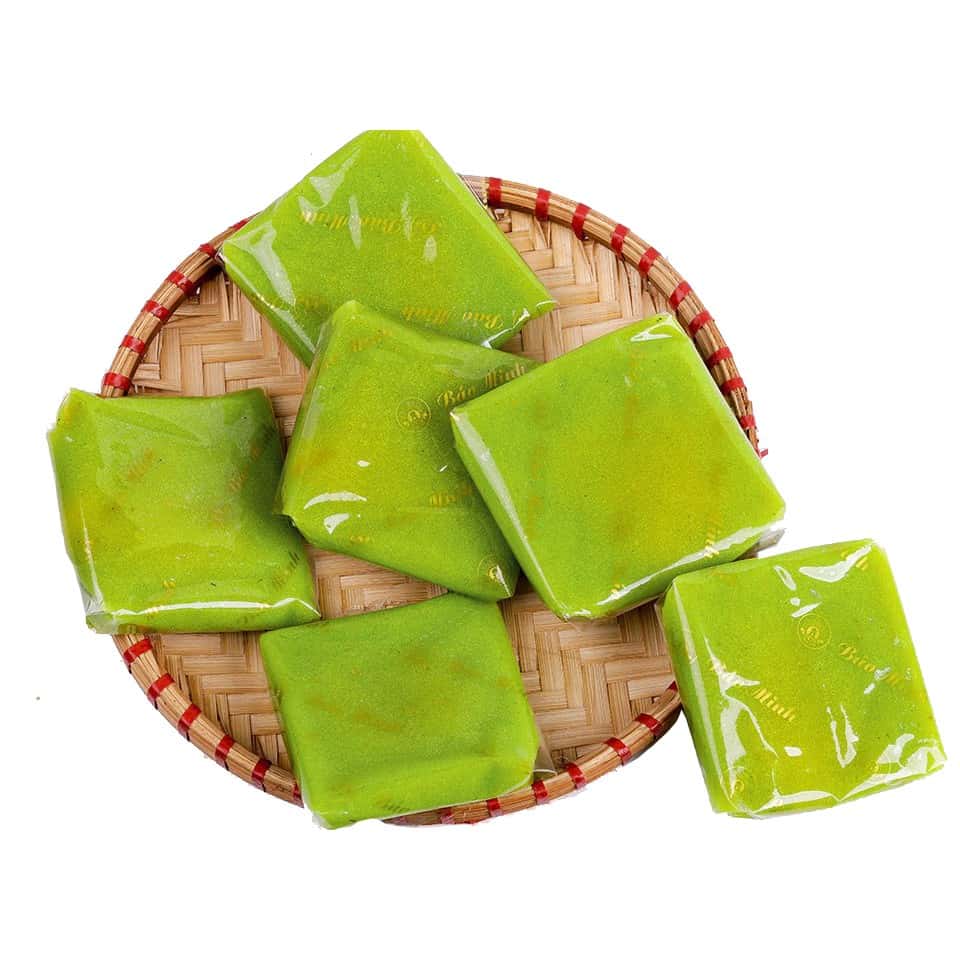 Photo: anhtuankhang.vn – banh com
And that's would be a mistake of we not include the traditional Banh Hue, which are Banh beo, Banh nam, Banh loc, in the salty cakes category. These cake are made from rice flour (but tougher when making Banh Loc), shrimps, pork and spices and often served with fish sauce made from chili and garlic. These distinctive cakes bring about the fame of Hue traditional cuisine and have stolen the hearts of many gourmet people not only in Vietnam, but also from other countries.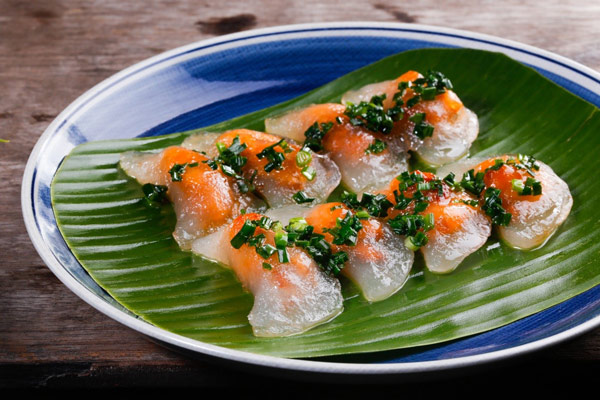 Photo: beptruong.edu.com – banh loc
Vietnamese cakes come in different versions
Vietnamese cakes are not only diverse in styles, types, purpose and also in versions of one kind. Take Banh It (Little cake) as an example. Banh It La Gai is a specialty of Binh Dinh province. This cake is made from sticky rice, green bean, a special ingredients called "La Gai" (Thorn Leaf), wrapped in banana leaf. The sweet cake looks like a black ball, covered the yellow stuff inside. Another version of Banh It is Banh It Tom Thit (Little cake with pork and shrimp) of Hue imperial city. This plain cake is also made from sticky rice, stuffed with minced pork and shrimps) and is served with fish sauce.
Another example to look at is Banh Xeo (Vietnamese Crepes) and Banh Khoai (Khoai Cake). Xeo Cake is popular in cities in the south of Vietnam or Quang Binh, while Khoai Cake (Pancake) is a special dish of Hue City. These two types of cakes both look like crepes with the layer made by rice flour and are stuffed with pork, shrimps, bean sprouts and other ingredients. Both are served with fish sauce and fresh vegetables. However, the Pancake of Hue city is smaller but thicker than Xeo Cake.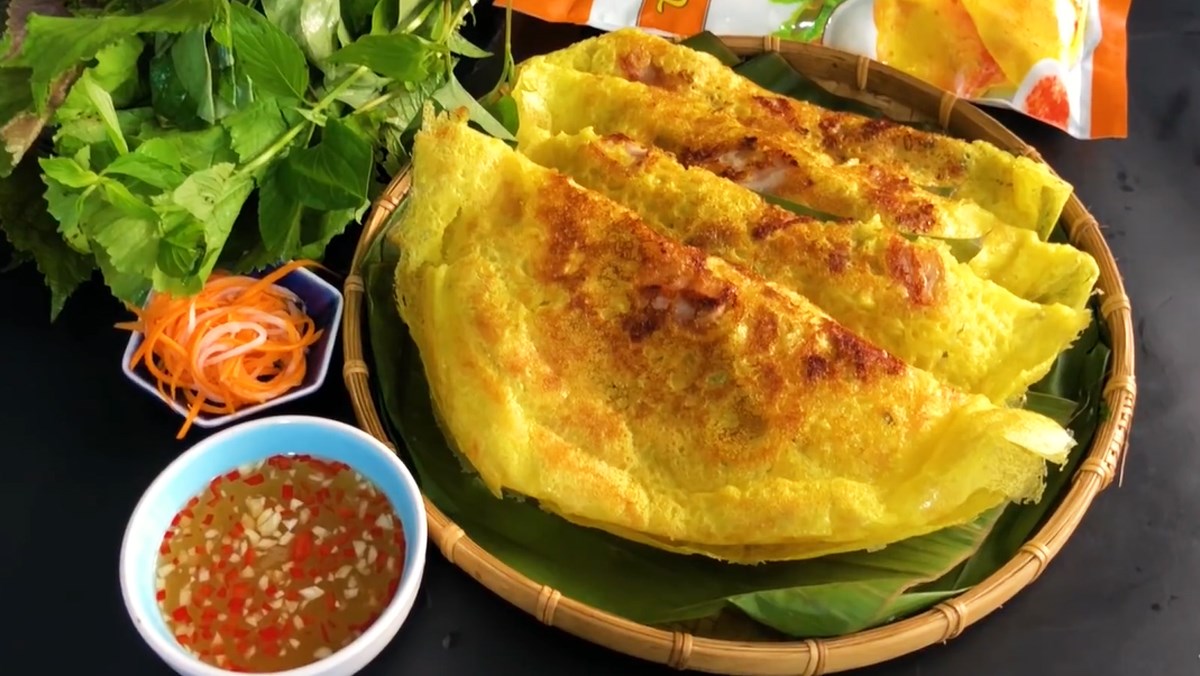 Photo: dienmayxanh.com – xeo cake
This is just a quick glance at how versatile Vietnamese cakes are, even between cities in the central region or between the central region and the southern region.
There are so many more cakes to introduce, even more dishes to describe. Once traveling in Vietnam, be sure not to miss the chance to discover the whole world of Vietnamese cakes by yourself. A cake to try, a taste to last forever!
---
Vietnamonline247.com – Vietnam Travel Guide