Vietnam's Most Beautiful Restaurants
El Gaucho West Lake
Schools of massive crystal chandeliers brilliantly light up overhead as guests tuck into the one-floor open space of El Gaucho in Somerset West Point Hanoi. Brick-exposed walls, soaring multi-level glass windows, and wooden vintage-looking furniture characterize this top-notch Argentinian steakhouse. Meanwhile, the vivid surrounding is chock-full of verdant gardens, laid-back villas, and hi-end shops, meaning that guests can soak up a calm atmosphere and urban vibrancy simultaneously.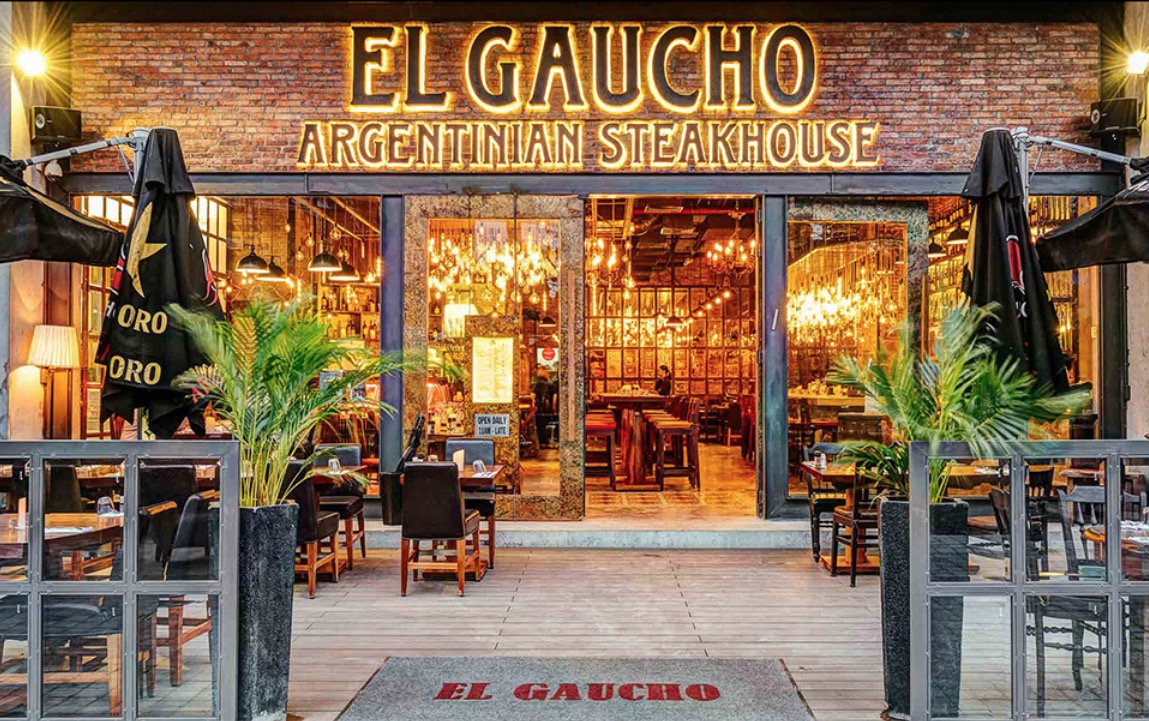 Photo by @Duy Truong
While the restaurant's opulent interior is a feast for the eyes, an abundance of premium naturally-raised beef sourced from Victoria, New South Wales, and individual farms in the US satisfy all peckish steak lovers. Paired with modern approaches on preparation, steak classics in this restaurant are interspersed with creative ingredients and complex additions. Additionally, El Gaucho also serves burger, chicken, pork, and fish specialties on request.
Address: lot G2, ground floor, Somerset West Point, No.2 Tay Ho Street, West Lake District, Hanoi
La Villa French Restaurant
Owner – Chief Thierry has created a practically surreal French gastronomy hub in a calm street in Thao Dien Ward. Wind through flourishing tangle of trees, your eyes will stumble upon a white-hued, contemporary villa. The spacious interior takes on French art-deco, brimming with round tables, leather chairs, and bright curtains. In the softly lit space, guests can listen to light jazz music and marvel at a range of Victorian artwork. Notably, a sunlit pool in the outdoor garden will ease your fatigue before you indulge in delectable and meticulously-prepared dishes.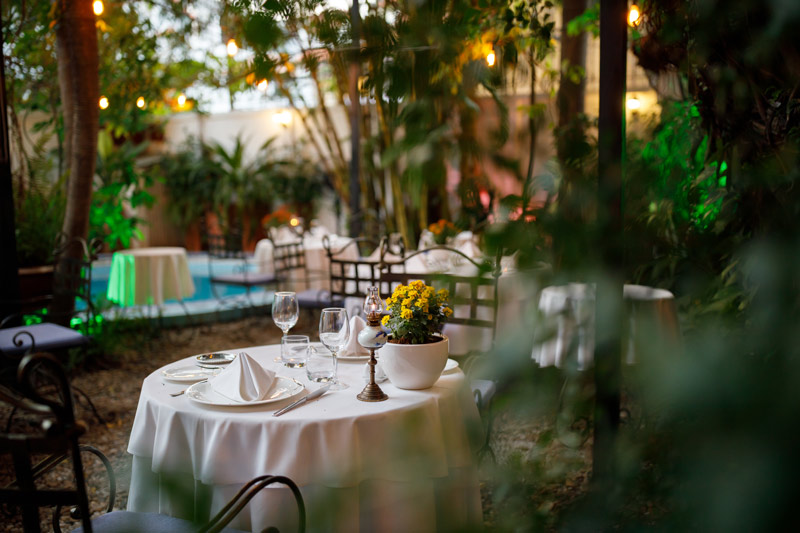 Photo by Facebook /LaVillaFrenchRestaurantHCMC
The restaurant's à la carte menu offers a vast selection of French favorites. A plate of foie grass terrine couple with a glass of Soleil Gascon makes up a perfect appetizer. Meanwhile, for main courses, you can choose from a gorgeous display of roasted Canadian lobster and grilled shredded vegetables. Address: 14 Ngo Quang Huy Street, Thao Dien Ward, District 2, HCMC
Hoi An Sense Restaurant
On an exquisite rooftop in a busy residential area of District 1 sits Hoi An Sense restaurant. Like a time capsule to your travel, every corner in this warm yet pared-back restaurant evokes the old Saigon ambiance, dating back over 20 years. Formerly Hoi An restaurant, Hoi An Sense features a sophisticated architecture of 300-year-old Lim wooden materials, a colorful array of hanging lanterns, and a stunning fish pond. Be unexpectedly captivated by the ancientness of a Vietnamese wooden house and ingenuity of local craftsmen.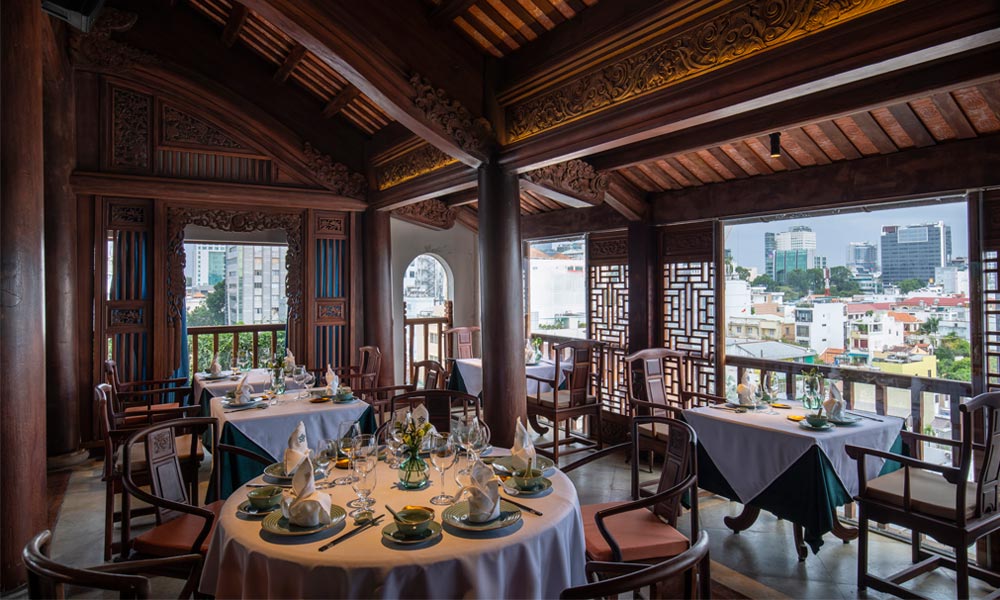 Photo : hoiansense.com.vn
Even though, an absolutely refined experience is given on quintessential a la carte, set menu, and fantastic wine list. Meals in this oriental-inspired restaurant start with lavish and signature Vietnamese cuisines. Highlights are homemade rice flour rolls and 'Cao Lau Pho Xua' (Hoi An traditional noodles).
Address: rooftop, 12 Phan Ke Binh, Dakao Ward, District 1, HCMC
Nha Trang View Restaurant
The elegant coastal neighborhood of Nha Trang City is home to Nha Trang View restaurant, a world-class seafood and breakfast café restaurant. Designed to resemble a beachside house, the open-air pavilion provides great dining by the waves that never fails to be romantic and enchanting. The setting includes a beautifully landscaped garden, a small penjing, and beachfront wooden dining tables under the shades of palm groves.
Photo : baokhanhhoa.vn
Gut-busting seafood here is at its best just because the restaurant specializes in creative variations on the classics. To be found there are dozens of brilliantly-executed dishes from slipper lobster, black tiger prawns, king crabs, snails, and cockles. Few things can be more appealing that savor a sumptuous meal with lots of fresh air and admire sunrise or sunset by the breath-taking beach sceneries.
Address: Lau Ong Tu, Tran Phu Street, Nha Trang City (100m away from Tran Phu bridge towards the south)
Wakaku Restaurant
Patrons would love to gaze out Wakaku restaurant, a Japanese gem in Hoi An, inset of the original Japanese house, adorned with classic architecture elements. From marble flooring to backrest chairs around square tables, and multi-colored Japanese lanterns spreading across the ceiling, designers enliven the vast indoor restaurant.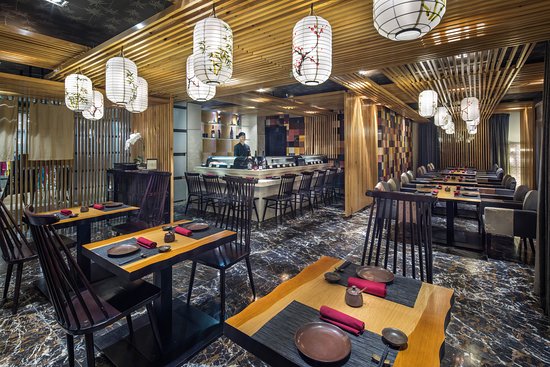 Photo : foody.vn
Being a firm favorite in-house dining destination for both locals and expatriates who have a strong passion for Japanese cuisines, Wakaku presents a fabulous selection of fresh sushi, divine sashimi, grilled skewers of meat as well as an extensive list of sake wines, sake cocktails, and Japanese plum wines.
Address: 39 Dao Duy Tu Street, Cam Pho Ward, Hoi An Town
Read more: Vietnam map for travelers: Top 14 destinations to satisfy your wanderlust