Sapa is one of the loved tourist destinations in Vietnam because of its year-round cool and temperate climate, and unique indigenous culture. This place has a lot to offer to travelers. A bunch of nice things to do in Sapa offers you a great experience in visiting the natural beauty and unique culture of the local ethnic minorities. From Hanoi, it takes about 5 hours to get to Sapa by sleeping bus or 7 hours by overnight train. It is highly recommended to spend 3 or 4 days fully experiencing this land. Let's discover more about the highlights of Sapa valley with the Local Travel Idea.
I – Things to do in Sapa: Exploring the rich & unique tribe's culture
There are tons of activities in Sapa and around town that you can do. For cultural exploration and experience of the life of local people, you can choose one of the five stop-off points below. Each of them will give you a different experience about the life of the ethnic minority here or discover new dishes as well as traditional craft villages.
1 – Sapa History Museum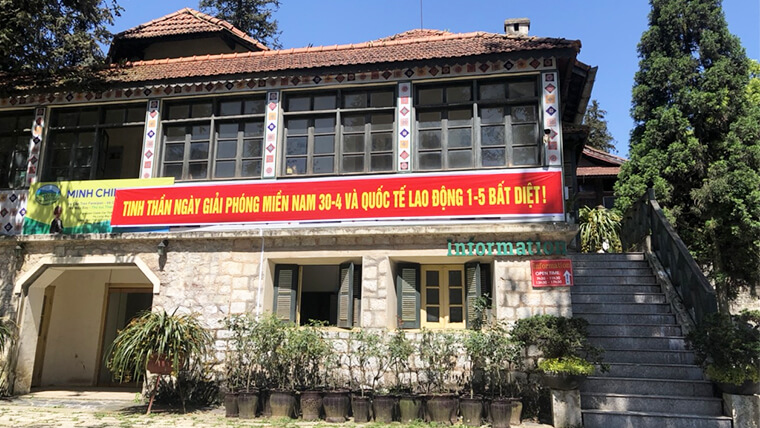 Sapa museum – Source: Laocaitourism
Sapa History Museum at No.2 Fansipan Street, Sapa Town with an area of 200m2 here fully reproduces daily activities, houses, crafts,… of 6 ethnic groups living in Sapa. Moreover, it also sells and displays a lot of handicrafts such as brocade fabric, hand embroidery,… Each item costs about 100,000 – 300,000 VND ($4.4 – 13.2).
2 – Sapa must do: Discovering local villages of ethnic minorities 
Sapa trekking on your own to the local villages is an amazing thing to do. Not only explore the living space, admire the unique natural scenery here, but you also have the opportunity to enjoy traditional dishes, local specialties or discover the production process of brocade silks in particular villages. For more experience and convenience, you should prepare a motorbike to move between villages easily. Visiting the villages and trekking through the winding hills are the first best things to do in Sapa.
Cat Cat Village
Cat Cat Village is a famous landmark with terraced fields, flower streams, and beautiful small paved roads. Moreover, there are also streets selling products made by Hmong people such as steel knives, bamboo cooked rice, baked foods, buffalo meat upstairs kitchen, herbal salt, silver jewelry,…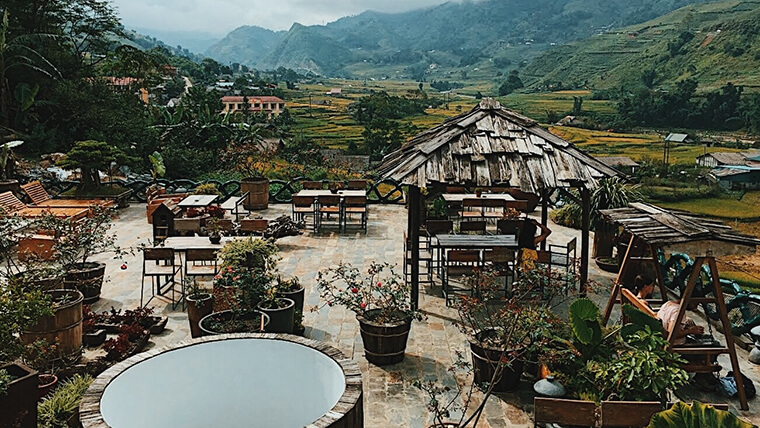 What to do in Sapa – Ta Van village (Source: Anh Van)
Ta Van Village
Ta Van Village is where there is Muong Hoa stream flowing through and characteristic terraced fields. Ta Van village is endowed by Mother Nature with many charming and beautiful landscapes. It is a very enjoyable experience to take a walk and enjoy the fresh air in the village. Standing on the top of the hills and admiring the daily life of the people here is also one of the most fun things to do in Sapa.
Sin Chai Village
This is one of the villages which still retains its inherent pristine beauty and is not negatively affected by tourism. Therefore, if you want to explore the lifestyle and daily living style of Hmong people, this is an extremely ideal stopover. Especially in the rice harvest season, the yellow fields as they unfolded will bring an unforgettable experience.
Ta Phin Village
This village is quite far from Sapa town. Trekking to Ta Phin Village may take at least 2 days, but it is definitely one of the best things to do in Sapa in December or January when the weather is cold. Especially during the holidays held in the Red Dao community's living place, which is famous for traditional brocade weaving. Particularly, visiting here on exactly 3 days of the Dance Holiday, you will have the chance to see the "Nhi-ang Cham Dao" dance of the Red Dao to wish for a good life, less fatigue. The dances must be performed under the guidance of the elder master "Chai Peng Pi" with 14 different styles of dance.
3 – Top activities in Sapa: Shopping handmade items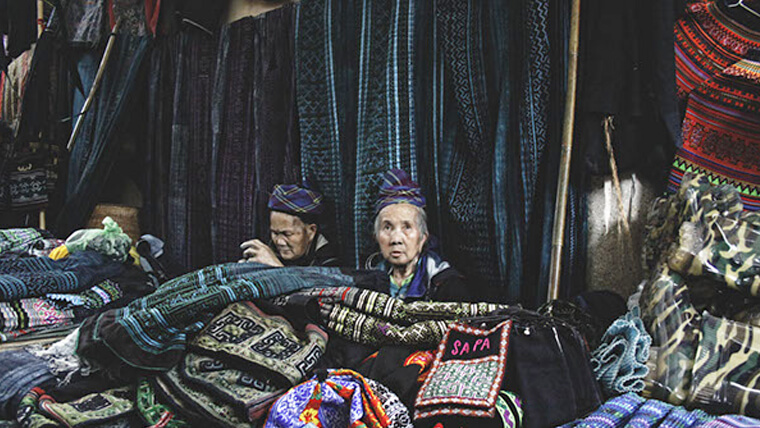 Handmade items in Sapa – Souce: Bianca Theron
The people of Sapa are famous for their hard work and extremely skillful hands, so their handicrafts always attract domestic and foreign tourists. Among them, the most famous are knife forging, silver carving, brocade weaving, sewing – embroidery souvenirs, drums, wooden rings or combs,… These products are also quite popular, and you can buy them at one of the following places:
Sapa Night Market
One of the best things to do in Sapa at night is to visit the Sapa night market. located in the center of town and usually opens from 7pm – 11pm daily. Not only displaying and selling fresh agricultural products, green vegetables, and fruit, the night market is also famous for its delicious barbecue street, unique taste, and prices from only 5,000 – 30,000 VND / item ($0.22 – 1.3)
Sapa Love Market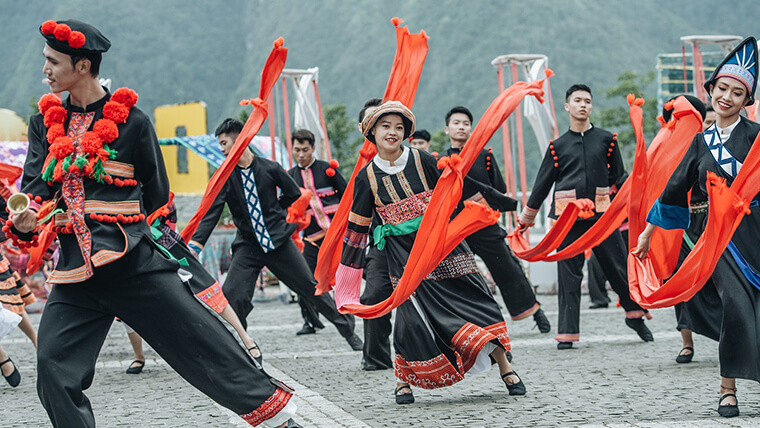 What to do in Sapa Town – Love market in Sapa – Source: Quy Nguyen
It takes place every Saturday and Sunday at Sapa Stone Church's square with tons of handicrafts, souvenirs, brocade fabrics,… This is also where men and women of the local villages look for their partners through singing, the sound of lip lutes, the sound of leaves, khenes, drums,… The love market is also an opportunity to admire the most beautiful and colorful traditional costumes of the people here.
Craft villages
Most of the local villages in Sapa (Cat Cat Village, Ta Van Village,…) still remain their traditional handicrafts intact and these products are often sold here every day.
II – Things to do in Sapa: Enjoying the local food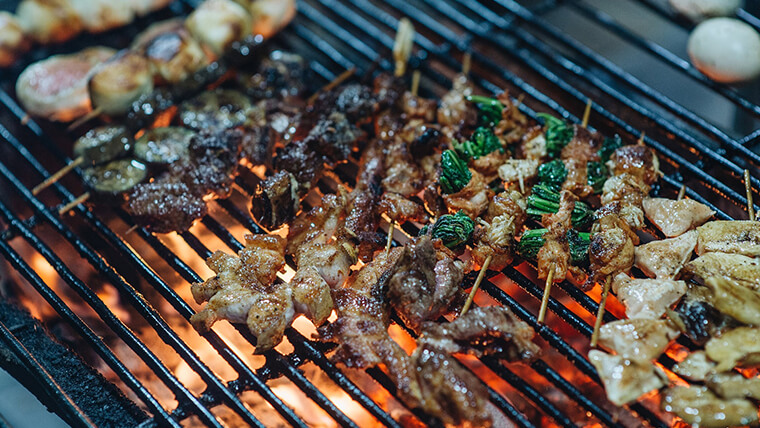 Barbecue – Source: Quy Nguyen
Here is a list of certain dishes you should try when coming to Sapa:
1 – Drinking Ban Pho wine
Ban Pho wine, also known as Bac Ha wine, is cooked with typical leaf yeast with characteristic sweetness and aroma, not spicy and acrid like other types of wine. There are some popular names such as corn wine, Meo apple wine, San lung wine. The main material for leaf fermentation is Hong Mi (Pa) cotton powder. The price is about 100,000 – 500,000 VND / bottle ($4.4 – 22).
2 – Enjoying grilled dishes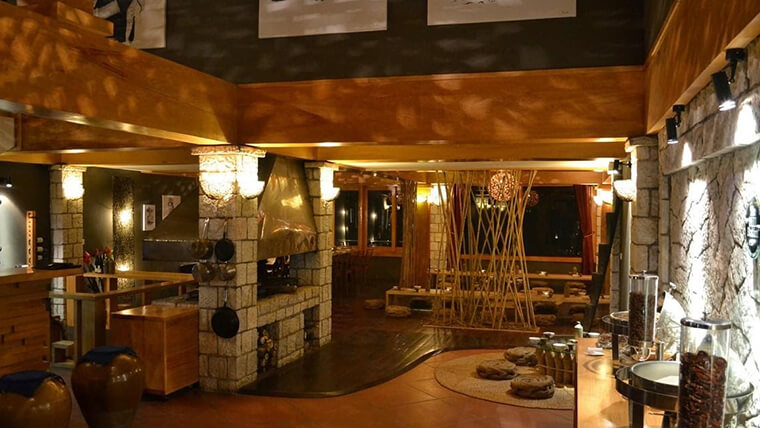 Hill Station Signature restaurant – Source: Sentour
What to do in Sapa when it rains? The perfect recommendation is to sit in a cozy place and enjoy the delicious grilled foods. Sapa is famous for its BBQ with grilled meat served with the typical local ingredients such as bitter cabbage, guava seeds, bile,… creating a distinct flavor and good-smelled meat. These ingredients make the taste of grilled meat different from other foods. Especially, enjoying the hot skewers of grilled meat in a space filled with white fog is an unusually attractive feeling. The food price often ranges from 30,000 – 110,000 VND / dish ($1.32 – 4.83).
3 – Drinking coffee at foggy restaurants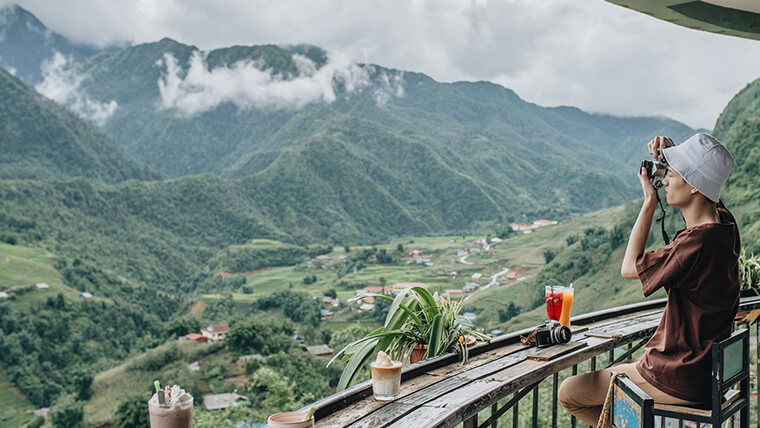 Beautiful view coffee shop in Sapa – Source: Kenh14
You can enjoy warm tea or coffee in a chill atmosphere of the air-open coffee shops:
– Gem Valley Coffee Shop – Cat Cat Village
– Viettrekking Home Spa Coffee Shop – No.33 Hoang Lien Street, Sapa Town
– Fansipan Terrace Coffee Shop – No.67 Fansipan Street, Sapa Town
III – Fun things to do in Sapa: Exploring the natural landscape
Sapa sightseeing and nature exploring activities are great parts of your trip. You should not miss one of the below tourist spots in Sapa:
1 – Ham Rong Mountain
Walking to visit Ham Rong mountain, you will feel the fresh space and the harmony between nature, heaven, and people. There is a sky gate, the natural Thach Lam rock garden, and a sea of clouds waiting to be discovered.
2 – Silver Waterfall
The large Silver Waterfall has step-by-step soft water flowing with the green scenery of the mountains and forests. It still retains the pristine beauty of the mountains, making it a favorite place for travelers who love to explore and be close to nature. Visiting this waterfall is definitely one of the best things to do in Sapa.
Entrance fee: 20,000 VND / person ($0.9)
3 – Love Waterfall
Love Waterfall or Tinh Waterfall is located in the middle of the Hoang Lien Son mountain range, so it is likened to a "soft silk strip" of mother nature. The large streams of water pouring down from the height of 1,800m above sea level create an extremely eye-catching white layer.
Entrance fee: 45,000 VND / person ($1.98).
4 – Conquering Tram Ton Pass – top things to do in Sapa for adventure-holics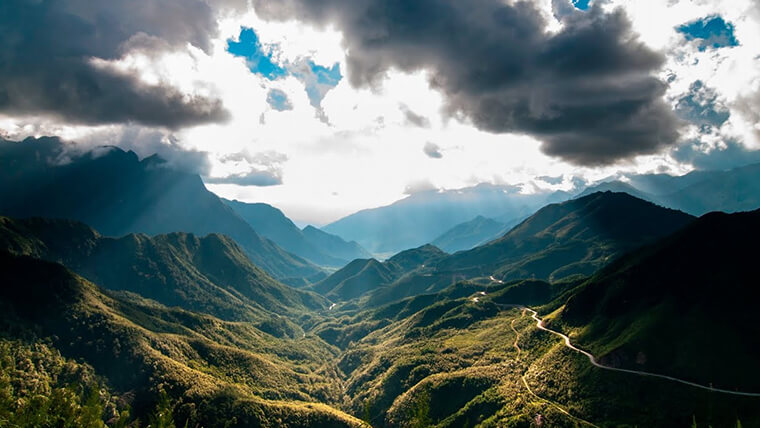 O Quy Ho Pass – Source: Phuot TV
Tram Ton Pass or O Quy Ho Pass is known as "The biggest and most beautiful pass in Sapa".  It is noticed by tourists by its beautiful scenery like a "painting" of the mountains that overlap with a green color to the horizon. This is also the living place of some ethnic minorities, keeping the inherent traditional craft villages. Standing on the pass, you feel as if you're floating in the middle of the sky and you can also capture the eyes of all the majestic beauty of nature.
5 – Muong Hoa Valley – an ideal place for a Sapa trekking tour
Coming to Muong Hoa Valley, you are overwhelmed by its scenery, where the Muong Hoa Stream gurgles and runs over in curved shape, as well as ancient rocks with strange sculptural shapes. You should come here during the rice ripe season when the scenery on your trip is a very interesting experience with terraced fields.
6 – Hoang Lien Son National Park
Hoang Lien Son National Park houses hundreds of rare and precious plant and animal species on an area of up to 29,845 hectares, including a part of the Hoang Lien Son mountain range and Fansipan peak. You not only explore nature but also have a chance to learn about the life, festivals or daily activities of the local people, which are the best things to do in Sapa besides trekking.
7 – Explore Tien Cave
Tien cave is known as a miniature Ha Long bay, associated with the relic of Ba Co Temple. The cave is located on the Chay river, both sides are cliffs and cool air. The stalactites or natural stones, which each person has different interesting associations about their shape, give Tien cave an irresistible beauty.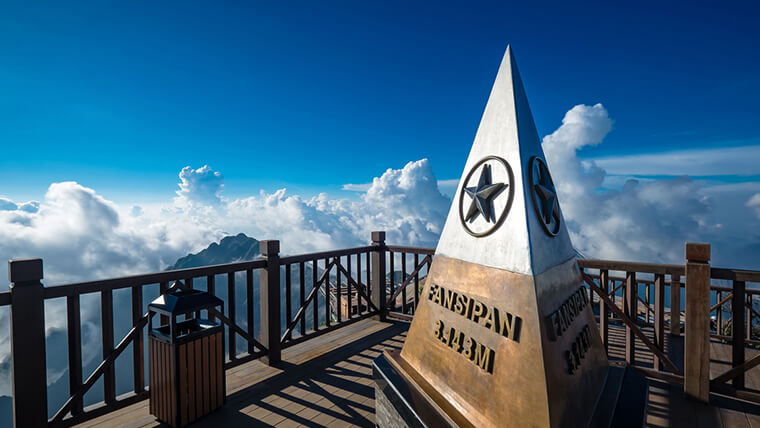 Fansipan peak – Source: VnExpress
8 – Take the cable car to the Fansipan peak – one of the most popular Sapa things to do 
On the top of Fansipan, you can experience the landscape of Kim Son Bao Thang Pagoda and visit the 19.8m Buddha (13.5m statue and 6.3m lotus pedestal). From the peak of Fansipan, you can take a full view of Sapa if it is on a sunny & dry day. Or, it will be an amazing sea of clouds at the height of 3,143m above sea level.
– Visiting Fansipan peak by Sun Group cable car with a return ticket of 750,000 VND/person ($33).
– For climbers, you can conquer the Fansipan peak in about 1-2 days. It is highly recommended to hire a local porter.
In general, there are a lot of fun things to do in Sapa Vietnam. What are you waiting for? Let's plan a trip to discover Sapa – Vietnam right away. Wish you an exciting trip to Sapa with our recommendations.